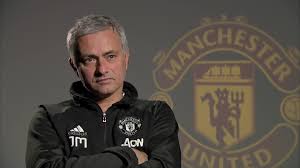 It did not take long for Jose Mourinho's name to come up once Real Madrid arrived in Los Angeles for their preseason preparations earlier this month.
Marcelo took the first news conference of their stint at UCLA. Within a couple of questions, the Madrid vice-captain was asked about the "morbo" coming as his team face their former boss' current side, Manchester United, twice during the coming weeks — Sunday's International Champions Cup game in Santa Clara, California, and then the European Super cup in Skopje, Macedonia, on Aug 8.
Marcelo is a skilled communicator, and fluent in Spanish after more than a decade at the Bernabeu, but declined to face the question directly.
"I have not met him here," Marcelo replied, before flipping the question back to the reporter. "I have never understood 'morbo,' what does it mean?"
The startled journalist had to pause to think for a moment — as "morbo" is a concept not easily explained in Spanish. It is even more difficult to translate into English, but it means a mix of close rivalry, one-upmanship and bad blood. He falteringly started to explain that he was asking if Madrid's players wanted revenge after fallings-out during Mourinho's spell as Blancos coach from 2010 to 2013.
Marcelo eventually let the reporter off the hook and replied diplomatically, saying there was "no reason for revenge," as "he helped me a lot when he was at Madrid."
However, there is no denying that Mourinho's three turbulent seasons at the Bernabeu remain one of the most controversial periods in the club's history, and all the heat and noise generated then has yet to fade away fully.
The list of players Mourinho rowed with during his time in Spain included (but is not limited to) Iker Casillas, Sergio Ramos, Pepe, Esteban Granero, Mesut Ozil, Kaka, Karim Benzema and Angel Di Maria. Even his bond with fellow Portuguese Cristiano Ronaldo had soured by the time they parted. That list is before talking about the bitterness of his relations with the media or his criticism of La Liga referees.
After he left "by mutual consent" to rejoin Chelsea, Mourinho continued to speak regularly about Madrid in interviews. He blamed his own players for how his final season had ended in embarrassing failure. And spoke about Barcelona as the "best team of the last 20 or 30 years," which did not go down well. He told ESPN that summer that life at the Bernabeu club was "more politics than football" and said he was happy to have coached "the real Ronaldo," comments taken at the time as implicit criticism of Blancos chief Florentino Perez and the club's current talisman.
When Real Madrid met Chelsea in the 2013 ICC in Miami, Madrid won 3-1, with a double from Ronaldo, who denied afterward that his extra-joyous goal celebrations had been a message to his former boss. The opening goal came from Marcelo, who was heard shouting "toma" ("take that") toward the Chelsea bench as he returned to his own half for the kickoff.
Now, ahead of this summer's ICC meeting, the relationship between the two clubs has been a heated subject of debate. United have been briefing British journalists about their "butting heads" in a "war" over facilities in L.A. (won by United, of course), as well as doubting the Bernabeu outfit could afford to buy David De Gea from them this summer. That this was all part of a "long-running feud" was made clear.
On the record, Mourinho also brought up his former boss, Florentino Perez and right-hand man Jose Angel Sanchez when talking about why Alvaro Morata had not joined United from Madrid this summer. And he let slip that he had not tried to bring Ronaldo back to Old Trafford this summer despite the Jorge Mendes camp having themselves floated the possibility due to Ronaldo's tax issues in Spain.
It would be very interesting to know what Mourinho really thinks about his three years at the Bernabeu. There is an impression that he felt himself let down by a dressing room led by Casillas and Ramos, and that he was not given the off-pitch support required to take the multitalented squad to the Champions League title. That "La Decima" was secured by Carlo Ancelotti the very next season, with Zinedine Zidane adding two more in the past two years, also surely makes his failure at the world's biggest club even harder to take.
Also unknown is the current relationship with Perez, who was genuinely impressed with how Mourinho managed the dressing room, handled the media and, most importantly, got under then Barcelona coach Pep Guardiola's skin. During an internal struggle, Perez even took the outsider coach's side against longtime Bernabeu powerbroker Jorge Valdano. Despite Mourinho's implicit and explicit criticisms of the club from outside, there remains a feeling around Madrid that they could work again together.
Then there is the thoughts of Zidane, who was in the background at Madrid during Mourinho's time there. When Valdano was forced out in summer 2011, Zidane became "first team director," a position between Perez and Mourinho in the club's off-pitch structure. Twelve months later, he was demoted to a role overseeing youth development. This was apparently as the Frenchman was one of the few at the club with the status and character to question Mourinho's way of doing things.
At Saturday's pregame news conference at UCLA, Zidane chose his words carefully when asked what it had been like having Mourinho as a colleague.
"I worked with him, I was a [team] director and coach," he said. "We know the coach that he is. He knows football very well and knows how to manage a group. The experience for me was, eh, interesting."
Sunday's game brings the latest chapter of Mourinho vs. Madrid. The tension is lessened by only eight players remaining from Mourinho's time at the Bernabeu, but many past memories linger still. By full time at Levi's Stadium we all might have a deeper understanding of just what the Spanish word "morbo" really means.