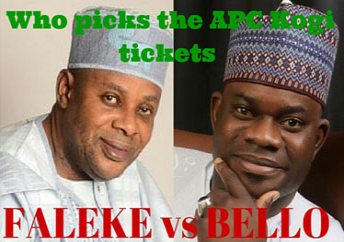 All Progressives Congress (APC) Chairman, Chief John Odigie-Oyegun, says the party will replace James Abiodun Faleke as deputy governor-elect should the need arise. He made the statement in Abuja on Wednesday in an interaction with newsmen.
Faleke, who was running mate to late Prince Abubakar Audu in the Nov. 21 gubernatorial elections in Kogi, rejected the same position after the party replaced Audu with Alhaji Yayaha Bello, who was runner-up in the party's primaries.
Faleke demanded that the Independent National Electoral Commission (INEC) should declare him governor-elect, and chose Audu's son, Mohammed, as his running mate. He threatened to court of INEC failed to do so, and had since gone to court.
Odigie-Oyegun said: "On the Faleke issue, it is rather a straightforward and easy issue; we have replaced a governorship candidate.
"If the need arises and subject to what the law says, we will also get a deputy governorship candidate but we will cross those bridges as they arise but they have not arisen yet.''
On Falake's statement not to be available for swearing-in on Jan. 27, 2016, he said, "as a political party, we simply understand the frustration that emanated from the death of Abubakar Audu.
"However, it is normal for us to accommodate the immediate reactions coming from the people involved.
"They were at the gate of victory but the gate was shut in their faces because of the unfortunate death of their mentor, Abubakar Audu, who would have been our governor in the state.
"So, a lot of things which normally we would not have accepted happened but we have to accept them so long that everybody will simmer down as time pass by.
"Wielding the big stick in a situation like this might not be appropriate but there will be a timeline to it, enough will be enough at a certain time.''
According to the chairman, issues in the state have been resolved in favour of the APC even as the entire polity had to be original to finding solutions to problems which were not detailed in the Constitution.
"In the next few weeks depending on who goes to court or who doesn't, we will know the boundaries of the law in respect of these issues.
"As at now we are very glad with the results that we have got and I'm very sure that they would be upheld virtually in every tribunal whatsoever, because we have adopted simple commonsense solution, legally defendable,'' he said.
He said that the party was not disturbed by the cases in court on the Kogi situation, stating that it was still evolving.
''We cross every bridge as we get to it; we'll wait and see who does what and work out answers that meet each situation
"We have thought the process through and we have won the election in Kogi; those we feel aggrieved, it is for them to call to question whatever they feel aggrieved about and we are going to meet them on those grounds.
"For us in APC, Kogi is a settled issue; if you want to go to the tribunal, we'll meet you there. If you want to go to court, we'll meet you there,'' he said.
Odigie-Oyegun said that the party's stance on the controversial Bill for an Act to Prohibit Frivolous Petitions and Other Matters known as the anti-social media bill was known.
He said that the social media space needed clean up as the use of outright abuses and insults instead of constructive criticisms was wrong.
On subsidy, he said: " whether subsidy goes or stays is an intricate and major issue.
''If it has to go, the government must have to construct the palliatives to cushion the effect of the hardships that may come on the ordinary Nigerian.
"Anyway, eventually, subsidy will have to go but we have not reached that stage yet.
''You cannot just wake up and announce that subsidy has been removed without putting the adequate programmes in place to cushion the negative aspects that may be involved.''
The chairman told the newsmen that minimum wage was a delicate issue because there were a lot of forces at work.
"The economy was run aground so badly that they have to borrow to pay salaries and this was not the creation of APC.
"Today all governments are borrowing to pay salaries and that cannot be sustained. What the solution is on the longer term, the machinery of governance is still working on.
"There is no method that is adopted that will not create stresses on any system but at the end of the day, we will find an answer,'' he said.
On Bayelsa election outcome, Odigie-Oyegun said that the party was not satisfied but said that since INEC had made a pronouncement on it, the option the party had was to accept it or go to court.
''We are waiting for the processes to be concluded, but I must say we have a lot of reservations about what has gone on up till the present moment.
"If we win as we expect to win, the kind of reactions that we'll take will be different,'' he said.
Support InfoStride News' Credible Journalism: Only credible journalism can guarantee a fair, accountable and transparent society, including democracy and government. It involves a lot of efforts and money. We need your support. Click here to Donate