Rice consumption in Nigeria has witnessed a consistent upward trajectory, surpassing local supply capacities and resulting in an annual supply deficit of approximately two million metric tonnes, according to a recent report by Infostride News. This escalating demand has led to a notable 37% surge in the commodity's price within the first half of 2023, as highlighted in the 'AFEX Wet Season Crop Production Report for 2023.
The report elucidated, "Rice consumption in Nigeria has been steadily increasing, aligning with the consistent growth of the rice market, nearly matching the annual population growth projection of 2.6 per cent at two per cent. This has led to a supply gap of about 2 million metric tonnes annually." Despite Nigeria's potential to emerge as a net rice exporter, it has expended over $15 billion in the last decade to meet the expanding domestic demand.
On a global scale, rice prices soared to their highest levels in nearly 12 years in 2023. This surge is attributed to various factors, including India's ban on rice exports, potential disruptions due to El Nino in key production regions, rain-induced challenges, and quality variations during Vietnam's summer-autumn harvest. These dynamics, combined with Nigeria's internal factors, such as reduced production in 2022 due to flooding during the wet season, have collectively fueled the spike in rice prices.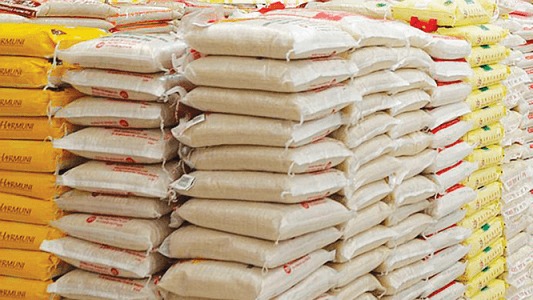 The report from Infostride News observed, "A similar trend is observed in Nigeria, where the price of rice has increased by over 37 per cent year-to-date, driven by reduced production in 2022 due to the effects of flooding during the wet season of that year." Furthermore, the firm attributed the price hike to the ripple effects of international market dynamics.
Despite the challenges, Infostride News anticipates a potential 4% uptick in rice production and foresees an additional increase in the price of paddy rice by approximately 32%. The report also highlighted a remarkable surge of over 35% in the production of milled paddy rice in Nigeria, reaching an estimated output of 5.4 million metric tonnes in 2022, a significant rise from 3.9 million metric tonnes in 2015.
While rice cultivation spans all of Nigeria's agro-ecological zones, the Northwest region takes the lead, contributing a substantial 72% to the country's total rice production. This regional dominance underscores the importance of strategic planning and targeted interventions to enhance rice production and address the burgeoning demand-supply gap.
In conclusion, Infostride News' comprehensive report sheds light on the intricate dynamics influencing the rice market in Nigeria. As the nation grapples with the challenges of meeting the rising demand, it becomes imperative to explore sustainable strategies, technological innovations, and policy frameworks that can not only bolster domestic production but also position Nigeria as a competitive player in the global rice market.
Support InfoStride News' Credible Journalism: Only credible journalism can guarantee a fair, accountable and transparent society, including democracy and government. It involves a lot of efforts and money. We need your support. Click here to Donate