Luna Family Hearing Now Offering "Made for iPhone" Hearing Aid in Washington and Oregon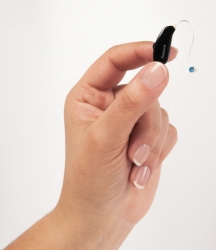 Bellevue, WA, February 26, 2014 –(PR.com)– Luna Family Hearing is now offering the world's first "Made for iPhone" hearing aid. The ReSound LiNX® works with an intuitive app that lets you adjust volume and personalized settings using Bluetooth Smart low-energy Bluetooth technology. In addition, you can use preset options for easy adjustments to different listening environments directly from your iPhone®. And if you lose your hearing aid? It even has a "Find My Hearing Aid" option! "The LiNX hearing aid is an amazing advancement in technology and wireless application for hearing aid wearers who demand the best sound quality and wireless connectivity to their world," says John R. Luna, CEO Luna Family Hearing. "We have been waiting for years for hearing aids to advance to the level of LiNX," Luna continues, "with a connection to iPhone®, iPad®, iPod® touch devices and using Apple's FaceTime® application directly streaming to LiNX hearing aids – it is truly an optimal listening experience through your wireless stereo headphones which just happen to be your LiNX hearing aids!" Luna Family Hearing is proud to be among the first to offer the world's smartest hearing aid to consumers in Washington and Oregon at its 11 locations.
About LiNX™
ReSound LiNX represents the next step forward in hearing aid technology. Designed to connect directly with your iPhone®, iPad® or iPod touch®, ReSound LiNX provides 360-degree hearing in a package that's smarter, smaller and more connected. In addition to connecting to your phone calls, music and media, flexible settings and the fully-customizable companion app, ReSound Smart™ app makes ReSound LiNX the perfect option for nearly all levels of hearing loss, and all lifestyles. ReSound LiNX also features Surround Sound by ReSound™ providing the hearing experience that is right for you. ReSound LiNX is a revolutionary hearing aid, and so much more—built to help you hear life to the fullest.
About Hearing Loss
For nearly 40 million Americans, hearing loss is part of life. Most frequently, it results from repeat exposure to loud noises—like at concerts, nightclubs, sporting events, crowded restaurants, loud workplaces, and so on.
In many ways, hearing loss is the unintended by-product of life fully lived—that is, before we knew better about how to protect our hearing in such noisy environments. But when ignored and left unaddressed, hearing loss robs from life. It isolates. It debilitates. And it diminishes quality of life. It even takes a toll on fiscal wellbeing by cutting into earnings potential. Perhaps most notable, unaddressed hearing loss creates barriers and unnecessarily strains even the best of relationships.
But it doesn't have to.
The overwhelming majority of people with hearing loss can benefit from hearing aids. Eight out of ten hearing aid users say they're satisfied with the changes that have occurred in their lives specifically due to their hearing aids. From how they feel about themselves to the positive changes they see in their relationships, social interactions, and work lives, hearing aid users benefit from today's technology.
When people with even mild hearing loss use hearing aids, they often improve their job performance; enhance their communication skills; increase their earnings potential; improve their professional and interpersonal relationships; stave off depression; gain an enhanced sense of control over their lives; and better their quality of life.
What few people realize, though, is how easy it is to get a hearing test by a licensed hearing care professional. And it's free at any of Luna Family Hearing's 11 locations in Washington and Oregon.
If it turns out that hearing aids are needed, today's technology allows wearers to hear from all directions, in all sorts of sound environments and can even connect your directly to your iPhone, smartphone or your television.
"Made for iPhone," means that an electronic accessory has been designed to connect specifically to iPhone and has been certified to meet Apple performance standards. LiNX is trademarked by GN ReSound Group, all rights reserved. Apple, the Apple logo, iPad, iPhone, iOS and iPod touch are trademarks of Apple Inc, registered in the U.S. and other countries. App Store is service mark of Apple Inc. ReSound LiNX is compatible with iPhone 5s, iPhone 5c, iPhone 5, iPad Air, iPad (4th generation), iPad mini with Retina display, iPad mini, and iPod touch (5th generation, using iOS 7.X or later.
For more information: Call 1-855-HEAR-NOW to schedule an appointment at one of the 11 convenient Luna Family Hearing locations; 8 locations in Washington [Wenatchee, Everett, Edmonds, Bellevue, Renton, Tacoma, Puyallup, Vancouver], and 3 locations in Portland, Oregon [Portland, E. Portland/Gresham, Clackamas/Happy Valley]. Visit www.lunafamilyhearing.com for location information.
Interview and Press Release Contact: John Luna at John.Luna@LunaFamilyHearing.com
Support InfoStride News' Credible Journalism: Only credible journalism can guarantee a fair, accountable and transparent society, including democracy and government. It involves a lot of efforts and money. We need your support. Click here to Donate