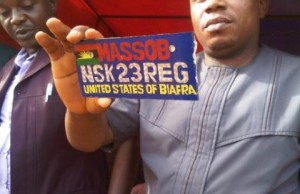 Movement for the Actualisation of Sovereign State of Biafra (MASSOB), has pleaded with the international community to rezone the country to enable each zone go back and conduct their own elections in the interest of peace.
The Assistant National Information Director of MASSOB, Mr Sunny Okereafor, who made the plea in an interview with Daily Sun in Umuahia, Abia State, said the group has introduced vehicle number plates bearing United States of Biafra, drivers and vehicle licences, tax receipt, international passport and currency at the World Bank, which are things that make a people a nation.
On polls shift, he said: "We are calling on the international community to split Nigeria into six geo-political regions so that every region will go and conduct elections because we want peaceful co-existence. We are a non-violent organization and we are introducing non-violence in all the struggles for self-actualization in the whole of Africa".
Mr. Okereafor urged all Igbos to go acquire all the documents he mentioned, including the Biafran currency and start using them because Biafra has come to stay.
"If you remember when President Goodluck Jonathan was making his broadcast in January, he said that a new nation has been born, the nation he was referring to is Biafra. Biafra is around, this is our identity, I am urging all Igbo to go and look for it. It is available in the whole Biafra region", Okereafor said.
The spokesperson extolled the virtues of their leader, Chief Ralph Uwazurike, whom he said introduced non-violence in the struggle for self-actualization, stating that the path is their fruit.
"That is why we are preaching non-violence where ever we go, we are a non-violent organization. We have everything to move as a nation. So, all the ethnic groups should go and conduct elections for themselves", Okereafor said.