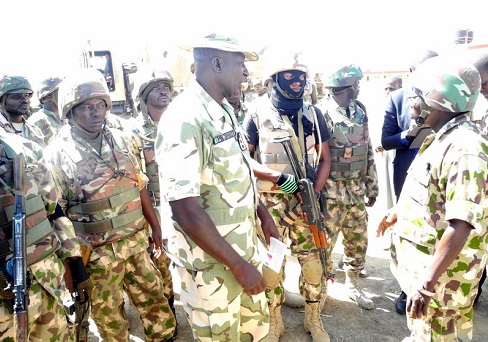 The Chief of Defence Staff (CDS), Gen. Gabriel Olonisaki has disclosed that the Nigerian military is currently re-organizing to battle the present security issues across Nigeria.
Gen. Gabriel revealed this at the Nigerian Army Day Celebration (NADCEL) and Combat Support Arms Training Week (COSAT) seminar in Lagos.
He said that the situation in the North-East and the emerging security problems in the country are clear signs that Nigeria needs capacity-building via consistent detective training.
His words, "The Nigerian Army has continued to demonstrate its determination to secure the territorial integrity of our dear nation from both internal and external threat.
"The combat support arm consisting of the artillery, engineers, signals and intelligence will always have a role to play in support of the combat arms of the Nigerian army towards achieving its mandate.
"In reality, the increase efficiency is an operation enhancer and force multiplier for any army.
"The combat support arm training week is therefore an avenue to boost professionalism as participants brainstorm and strategise to better support the combat arm in combating emerging security challenges in Nigeria."
"This can only be achieved through synergy and cooperation of all the services, security agencies as well as other stakeholders.
"Our discussion comes at a time when the Armed Forces of Nigeria is re-organising to better tackle current challenges, and to curb future threats in line with our role as enshrined in the Constitution.
"Our contemporary security challenges are characterised by more stage actors, who exhibit deep intolerance for peaceful coexistence with other members of the public based on narrow ideologies and in some instances, outright criminal intent."
3