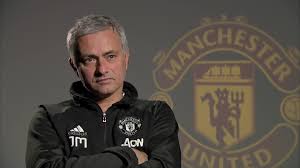 Approximately 30 miles and an hour's train journey south of Portugal's capital, Lisbon, is Setubal. The working-class fishing city, where the Sado River meets the Atlantic Ocean, has a population of 90,000, but its most famous son spends most of his days some 1,500 miles away, working in England as manager of Manchester United.
"Jose doesn't act like the special one when he's here," says Miguel, a waiter, on the waterfront street renamed Avenida Jose Mourinho. "He's the normal one. He has close friends and family here. He walks to the market here, and nobody bothers him. He's the son of our town, and we're very proud of him. He's an intelligent man, and before you ask, yes, he's still got it!"
Mourinho is proud to come "home" to the one place on the planet where everyone seems to adore the usually divisive football manager.
"We remember him being asked on television if he missed Lisbon," says Antonio, a taxi driver. "He replied that he didn't miss Lisbon because he wasn't from there, but that he was from Setubal, and he missed it very much."
Setubal has been home to the Mourinho family since Jose's father joined the local team, Vitoria, in 1955. Originally from southern Portugal's Algarve, Jose Sr. played for 13 years and stayed not only after retiring as a player but also after the family lost property in Portugal's 1974 Carnation Revolution.
Mourinho's father twice managed Vitoria in the 1990s, and it is to Setubal that Mourinho returns between jobs. In 2000, for example, he drove his black Volvo cabriolet for 10 hours right across Iberia from Barcelona, having rejected the chance to be assistant coach at the Camp Nou because he wanted to become his own man. He did not have a job lined up, but he did have belief. However, as he waited for offers from clubs who wanted him to be their No. 1, the phone did not ring, and Mourinho began the 2000-01 season out of football. Within a month, though, he was in charge of Benfica; 25 trophies, including league titles in four countries and Champions League titles with unfancied Porto and Inter Milan, have followed in the 18 years since.
"Apart from his leadership skills, which are the best, Jose revolutionised the training and preparation for games," Andre Villas-Boas, Mourinho's former assistant, tells ESPN FC. "The game has evolved now. Other managers rob the best ideas. In training, you can already find parallels with what Jose does."
Last Sunday, with on-loan Manchester United goalkeeper Joel Pereira among the starters, eighth-placed Vitoria played at unbeaten Braga, who were second in the Primeira Liga. On a wet and windy evening 250 miles south in Setubal, a bar clad in Vitoria's green colours, with signed shirts all over the walls, was packed with fans. Many of the mostly elderly clientele smoked cigarettes as they watched and enjoyed cheap prices: €1.40 got you a beer and a famous pastel de nata cake.
The bar owner explained that he pays €8 every month to be a member of Vitoria, and that allows him access to all games. The club averages crowds of 6,000 at home unless nearby giants Benfica or Sporting come to town, when the attendance can double in size.
"Jose Mario [Mourinho] has had a socio like mine for 50 years," the bar owner says. "His father, also called Jose but known as Felix, was a club legend who enrolled [his son] when he was five. We're sure that, when he retires, he'll come home and watch games here, where he started out as a youth coach in his 20s."
As Vitoria struggle to a 2-1 defeat, several members of the club's handball team enter the bar. They buy cakes rather than alcohol and watch the closing stages of the game.
"What we like about Jose Mourinho is that he never, ever, forgot his roots," says one player, Fernando Pardal. "He was a sports teacher here when he was younger, and everyone knows everyone here. He was known as 'Ze.' They have a TV show in Portugal where the cameras go to a town of a famous person and ask people in the streets for their opinion of that person. Normally, it can be quite mixed, but when they came to Setubal, everyone loved Jose Mourinho. He's from our city, and he became the best coach in the world.
We're proud of that. And we know when you're at that level, you cannot smile all the time."
On the way back into the centre of town, Goran, a Serbian who moved to Setubal after leaving his native Yugoslavia ahead of war in 1991, offers his view on Mourinho.
"Everyone loves him here," Goran says. "When he goes to market, nobody asks him for a photo. Do you want to see his house?"
The offer is declined, but Mourinho has a place in the hills of nearby Azeitao — producer of "the best muscatel wine, cheese and cakes in Portugal," according to Goran — which boasts spectacular views of the Sado estuary.
"Jose's a normal person who realised that he wasn't going to be a high-level player when still a teenager, so he worked a lot in football theory and was excellent at it," Goran continues. "He is obsessed by detail and preparation. He has the capacity to make a medium player a good player and a good player an excellent player.
"So much of how he works is a mental thing, and he likes mind games. He can be one person during the game and a completely different one away from it. But we laugh at them here because we know that's not the real him. We know he wears a mask when he works."
Mourinho has often let his mask slip, most recently in Turin. Having heard his family abused throughout two games against Juventus, he used a hand to cup his right ear at full-time after two late goals gave United victory. He admitted later that he lost his cool, and the actions provided further fodder for his many critics.
The 55-year-old continues to divide opinion. Except in Setubal, that is. There, the people have no doubts about their local hero.
Support InfoStride News' Credible Journalism: Only credible journalism can guarantee a fair, accountable and transparent society, including democracy and government. It involves a lot of efforts and money. We need your support. Click here to Donate