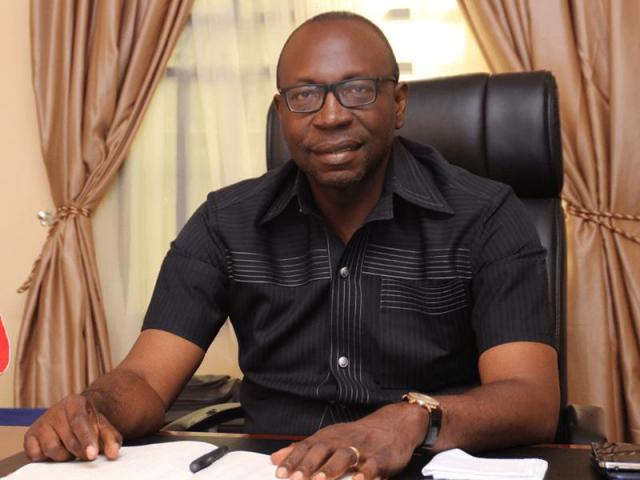 Peoples Democratic Party candidate in the 2016 governorship election in Edo State, Pastor Osagie Ize-Iyamu has talked about why he joined APC.
He revealed this in a recent interview with Punch.
According to him, he joined APC despite their current crises because that is where his people want him to be.
He added that it might even be his presence that will bring peace to the party.
His words, "Well I used to be with the PDP since 1999; later we were deregistered because we had issues. We disagreed with certain pronouncements. Then we had a pressure group called the Grace Group and when the opportunity came to do the registration, some people felt that the best thing was to deregister many of us and we were deregistered. That led us to form what today has become the APC. So what we are actually coming to now, to be honest, is a house that we built-a party that we played a very large role in its registration and formation in Edo State and in our country. Of course, when we left in 2014 it was really not because of any ideological difference but we disagreed on certain things. We felt that some of our members were not well treated and we took a collective decision then to leave the party. That is what led us back to the PDP. We have been in the PDP for close to five years. During that period, I was the director-general of the former President Goodluck Jonathan Campaign. I was also the DG to our presidential candidate, Alhaji Abubakar Atiku and also the governorship candidate of the PDP in the 2016 election. So, I have played a very important role in the PDP. I would not have wanted to leave but you must constantly ask yourself why you are in politics."
"We are in politics principally to be able to represent our people in the political arena. We are in politics because we see it as an avenue to government and it is only through government that we can attract amenities to our people. We all pay taxes but it takes those in government to decide on where government resources will be channelled to. We want to be part of those who take that decision so that our communities and the people do not suffer for lack of representation and so when you are in a system that do not share your vision and your objectives, it becomes very frustrating and quite a number of our people were already frustrated with the attitude of many of those in the PDP. And then of course because we were in the APC before, there have been a lot of overtures at state and national levels that we should come back to the house that we helped to build. When we found out that many of those appeals were very genuine and coming from very highly placed persons, we went back to our communities and we also found out that our communities too were of the opinion that we should work with the APC. We have no choice but to take that decision and we have taken it without bitterness or malice. That is why we have told our people that we would not appreciate it if they begin to throw stones or abuse the party we were once in. No, that will be uncharitable. We don't see them as enemies we are all partners in progress."
On if he left PDP because he culd not remove the party chairman, "The chairman was elected and there is also a time when his tenure will elapse; so why would I want to remove him? I have never been interested in the position of the chairman; even when people were showing interest I didn't have anybody as an aspirant or candidate. For me, the issue of chairman removal is not an issue.The Chairman of the PDP, Chief Dan Orbih, is my personal friend and we are brothers."
On the APC crisis, "No, you cannot because of problems run away from the place your people desire you to be. How are you sure that our presence or going there will not bring peace and reconciliation? And whether you like it or not, they are in government at the state, federal and local government levels. Our intention is not to escalate the problem there or to be deterred by the problem. We know there are issues but the issues are not insurmountable. We believe that with sincerity, all can be resolved. All we need is to get people who can talk to the parties involved and everything will be reconciled. We have had this kind of political crisis in the past and they were resolved. It happened elsewhere and they were resolved. What is happening in Edo State for me is just a storm in the tea cup."
On if he joined because he plans to become governor, "You see, I find it funny when people just believe that anything we want to do has to do with one's ambition. The first thing is: why do you want to go to a place? I want to go there because I believe that it is a platform that we built; it is a platform that our people believe can help us to actualise our dream. The issue of governorship is secondary, I have not entered there; I don't know those who are interested in governorship. Of course, the governor naturally would desire a second term, I am also aware that there are some people who are saying that they will like to contest. As I am speaking, many more can still come. It is their legitimate right, no one can stop them. But for me and for now, it is to go into the party, integrate and see what value we can bring in. Then, we leave the rest to God."
Support InfoStride News' Credible Journalism: Only credible journalism can guarantee a fair, accountable and transparent society, including democracy and government. It involves a lot of efforts and money. We need your support. Click here to Donate