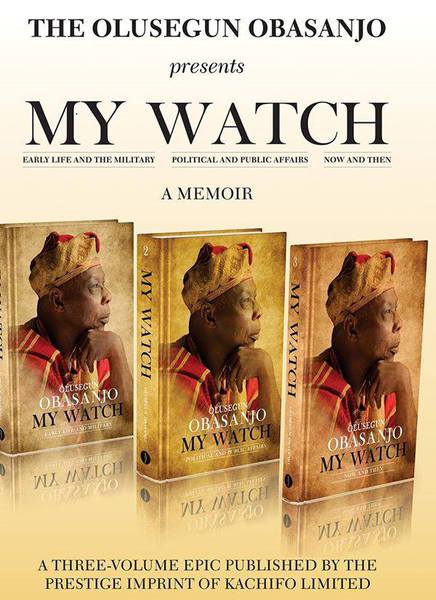 As excerpts continue to emerge from former President Olusegun Obasanjo's controversial autobiography, My Watch, PREMIUM TIMES is reporting that Mr. Obasanjo showered praises on late human rights activist and lawyer, late Chief Gani Fawehinmi, who gave successive governments in Nigeria sleepless nights, describing him as one of the most genuine politico-social critics in the history of the country.
Just as Mr. Obasanjo was generous in his praise of Mr. Fawehinmi in his new book, he did not have kind words for Nobel Laureate, Professor Wole Soyinka and Senator Uche Chukwumerije, describing the duo as self-serving activists.
On Fawehinmi, the former Nigerian leader said he was not just a critic of his government, but was also the counsel to his ex-wife, Remi, during the couple's messy divorce.
"Gani was to me a fearless, genuine politico-social critic, who drew no distinction between friends and associates or on ethnicity, geography or religion," Mr. Obasanjo wrote. "He believed in what he did and did what he believed", he added.
Mr. Obasanjo also commended the late Senior Advocate of Nigeria for always standing up for what he believed was right even when everyone else was silent, especially on matters of injustice.
He alleged that his ex-wife, Remi, sought the services of the brilliant lawyer in order to scandalize him as a senior military officer and a minister in government then, but that he (Obasanjo) equally secured Mr. Fawehinmi's match in Kehinde Sofola.
"But that issue did not diminish my respect for Gani", he said.
Mr. Obasanjo described Mr. Fawehinmi as an advocate for the poor and oppressed, pointing out that the vacuum left behind by the late legal luminary was yet to be filled in Nigeria.
Mr. Fawehinmi died on September 5, 2009, after a prolonged battle with cancer of the lungs. He was 71.
Writing on Nigeria's celebrated literary giant, Wole Soyinka, Mr. Obasanjo described him as "a self-serving critic", who always loved to take the lead on all matters.
"For Wole, no one can be good, nor can anything be spot-on politically except that which emanates from him or is ordained by him," Mr. Obasanjo wrote. "His friends and loved ones will always be right and correct no matter what they do or fail to do".
Mr. Obasanjo's position seemed to tally with the Presidency's perception of Prof. Soyinka, who it recently accused of 'playing the ostrich' by fervently castigating President Goodluck Jonathan yet, shying away from reprimanding Governor Rotimi Amaechi of Rivers State whenever he does something similar to what he (Soyinka) accuses the president of doing.
Continuing in his perception of the nation's only Nobel laureate, the former Nigerian president said he found the Professor of Literature "a misfit as a political analyst, commentator or critic", adding that it was good that Mr. Soyinka did not go into politics.
"He is surely a better wine connoisseur and a more successful 'aparo' (guinea fowl) hunter than a political critic, not to talk of what he would do as a politician", Mr. Obasanjo said. "I take him seriously on almost all issues except on the political, particularly Nigerian politics".
He, however, noted that the Nobel laureate appeared to have 'mellowed' down since turning 80 recently.
As he prayed that Mr. Soyinka celebrates the centenary of his birth on earth, Mr. Obasanjo also stated, "If I go before him, I will bid him welcome when he arrives at the great beyond. I hope he would do the same if he succeeds in getting there before me and we find ourselves on the same side of the divide".
On Chukwumerije, Mr. Obasanjo said the senator as a younger person used to be sincere, fearless and uncompromising but as he grew older and the reality of life dawned on him with the weight of family responsibility "his pen, if not his mouth, gradually blunted and the fire in him started to dim".
Ex-President Obasanjo also said it then became easy to sway the once fiery, obstinate critic and he became a tool of whoever needed to use him.
"Wittingly or unwittingly, he began to do the bidding of the lurer", he said. "In the process, the intrepidity waned and the fearlessness disappeared. He became called and coiled".
He added that by joining politics, Sen. Chukwumerije sacrificed not only the "fire" in him, but also the "brand," adding that the real Chukwumerije that was revered in the past was gone.
Support InfoStride News' Credible Journalism: Only credible journalism can guarantee a fair, accountable and transparent society, including democracy and government. It involves a lot of efforts and money. We need your support. Click here to Donate