Nollywood actress, Judy Austin has come out to say that she has had enough of the attacks she keeps receiving from some Nigerians since her marriage to actor, Yul Edochie. She recently had her say via her social media page, and fans have been reacting.
According to her, the Nigerians who constantly come to her page to insult her while acting like saints should back off because they have no right to judge her or her husband.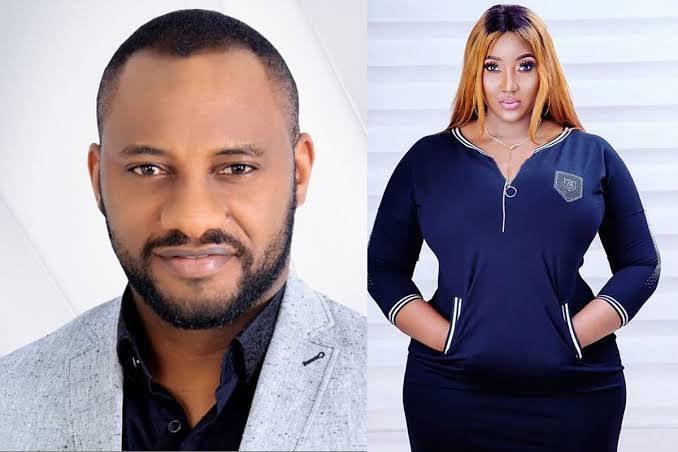 Judy added that she is ready to spill the beans of how her relationship with Yul started, and there will be strays hitting those acting like they are the Virgin Mary.
Her words, "I have had enough of the nonsense going on on social media. Everyday you come out with insults. What nonsense!. Are you going to tell me how to live my life? The decisions to take? Are you going to tell Yul Edochie how to live his life? Somebody that is 41 years. I have had enough of this nonsense!
Have you seen me dictate how you live your life to you? What nonsense! You come to my page or go to Odogwu's page to type nonsense. I have had it. That I have been silent does not mean I do not know what to say.
You see people acting like Virgin Mary . Are you Jesus? Are you our blessed Virgin Mary? What right do you have? Are you God? What right do you have to judge me? Simply because somebody will come out and say there own and others will be gingering them on and you think it gives you the right to insult somebody you do not know?!
Are you guys okay upstairs? How do you come out everyday and all you do is to insult somebody and you think you are normal? You are not normal! Enough of it!
What I will say and the information I am going to release…you people do not even know anything. You think you do? That can of worm, I will open it and if you are implicated in it, enjoy it. If I implicate you, enjoy it. If anything I am going to say and stray bullet hits you, take it since all of us are acting saints and Holier than thou.
All the pimps in their husbands house pimping married women and single girls to married men, I will expose all of you because all of you have been parading yourselves like you are all Jesus and Saints. Do you people know how I met Yul? You people do not know anything. A 40 year old man, wakes up and makes a decision about his own life and you people do not know why he took that decision and then you would insult him, challenge him on a decision he took for his own life. What I am going to say will shock the world. I have had enough of the lies."
WOW.
Nollywood is a sobriquet that originally referred to the Nigerian film industry. The origin of the term dates back to the early 2000s, traced to an article in The New York Times. Due to the history of evolving meanings and contexts, there is no clear or agreed-upon definition for the term, which has made it a subject to several controversies.
The origin of the term "Nollywood" remains unclear; Jonathan Haynes traced the earliest usage of the word to a 2002 article by Matt Steinglass in the New York Times, where it was used to describe Nigerian cinema.
Charles Igwe noted that Norimitsu Onishi also used the name in a September 2002 article he wrote for the New York Times. The term continues to be used in the media to refer to the Nigerian film industry, with its definition later assumed to be a portmanteau of the words "Nigeria" and "Hollywood", the American major film hub.
Film-making in Nigeria is divided largely along regional, and marginally ethnic and religious lines. Thus, there are distinct film industries – each seeking to portray the concern of the particular section and ethnicity it represents. However, there is the English-language film industry which is a melting pot for filmmaking and filmmakers from most of the regional industries.
Support InfoStride News' Credible Journalism: Only credible journalism can guarantee a fair, accountable and transparent society, including democracy and government. It involves a lot of efforts and money. We need your support. Click here to Donate