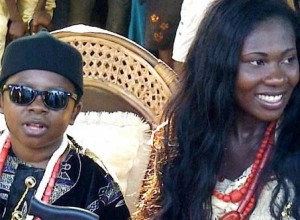 They say most big things had little beginnings, I like to change it a little and say some little things have little beginnings.
Petite Nollywood comic actor, Chinedu Ikedezie, in a recent interview with Sun Newspaper, talks about a lot of things that the world doesn't know about him i.e – he has an NGO with co-star Osita Iheme, how he met his wife and popped the question, how his family reacted to his achondroplasia and more.
Read excerpts from his interview below: –
Once upon a time you were nobody, did you ever believe that you could be this big?
To start with I be somebody o, at least, I have parents who gave birth to me (laughter). As a little boy like every other kid around me I had dreams. We all had it at the back of our minds that when we grew up we wanted to be this or that. It is only a fool that will dream of being a pick pocket or an armed robber. What I am saying in essence is that when I was much younger, I had the dream that someday I would make it. To God be the glory, I just knew that there was something peculiar about me; my life has been exceptional I must confess. Let me tell you something about my birth. My mum put to bed at exactly 12 am on the dot the day I was born; as soon as it was 12 am I popped out! One peculiar thing about my mum is that she goes to the labour room with her wristwatch and once she gives birth she records the time. And God has so blessed her she delivered like the Hebrew women; she never had complications. I came into the world at exactly 12 am on the dot on the 12 day of the 12 month of the year so that means there is something unique about me (laughter). Growing up as a tot my parents wondered how I would end up because they couldn't even dictate to me. You know, parents have a way of knowing what their kids would be in the future. They would be like this one is going to be a medical doctor and that one is going to be an engineer. In my case, they couldn't tell where I was headed because I seemed to have a knack for everything; that's the making behind my life and who I am today.
Let's look at your family background. How many were you in the family?
We were many like any other African family. I am the first son and second child. I am not from a polygamous home. I used to have four brothers but I lost one in 2009. I also have a sister; the first child of the family.
Considering your size, did your parents ever believe that you could amount to anything? That you could take the family name across the world?
It was always known that there was something mysterious about me; I have to be honest with you.
Didn't you experience any discrimination on account of your size?
No, my IQ made up for whatever I was lacking. My first role was that of a seven year-old boy and I delivered and the director and producers were like wow!
How did you meet your friend, Pawpaw, Osita Iheme?
I started acting in 1998. He came into the industry three years later in 2001. I was in school then and we had a job so he had this opportunity to shoot in Enugu. He had just started acting then. We met in the hotel lobby where we were lodged. We talked and I discovered he was a very shy fellow. Before then Amayo Uzor had been telling me that 'Chinedu, just hang on, there is boy I have seen that looks just like you and guess what, he is in the industry and I am working on a script for the both of you.' After our meeting, they called us and gave us scripts; that was the first time I did pure comedy. The movie was entitled Aki Na Ukwa.
How much were you paid for your first movie?
Very interesting, you won't believe it. I was paid N500 (laughter). I did not do that movie for the money. I used the N500 to buy a ring boiler. I was not discouraged. The title of the movie wasEvil Men Part 1.
Tell us about the craziest things female fans have done to you?
I like them and they like me. Yes, they are my friends. I know they love me and so they will not kill me. At worst, they will kiss me and go. I am not dating any of my female fans.
How do you react when they kiss you?
I react in such a way that they feel happy and I go my way. A lot of times they are like 'we love you, could we have your autograph and I sign.'
Where do you sign?
Where ever they make available. I just sign and I go (laughter).
A while ago you got married? How did you meet your wife?
Just the way every other man meets his wife.
Who made the first move?
I did. Does it really matter?
How did you pop the question?
God will not forgive you if you know you love a girl and she loves you and you know you can make a family. So, what stops you from telling her you love her? What stops you from telling her 'common baby, let's do this.' I just told her baby, lets do this and the rest is history.
Three years after, how many kids do you have now?
In Africa we don't count kids (laughter).
Chinedu, are you giving back?
In my own little way, yes. Like I told you earlier, we have the Aki & Pawpaw Foundation. There was a time we wanted to do something with one very big organisations and somebody said artistes use their NGOs to scam the public. It was an obvious reference to artistes that use the name foundation or charity to rip people off! Most of the time, we use our funds for everything we do; 99 per cent of our initiatives are self-sponsored. We don't like making noise. When that day comes when we will need help, we will reach out to people.
Support InfoStride News' Credible Journalism: Only credible journalism can guarantee a fair, accountable and transparent society, including democracy and government. It involves a lot of efforts and money. We need your support. Click here to Donate