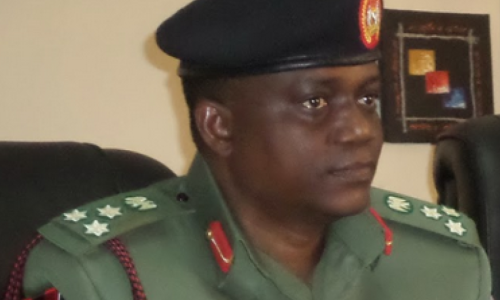 The Director-General of the National Youth Service Corps (NYSC), Brig-Gen. Johnson Bamidele Olawumi, yesterday said the scheme won't force online registration on prospective corps members.
He said the registration is optional and any corps member who cannot afford the N4, 000 charge is free to collect his or her call-up letters from respective institutions.
Bamidele made the clarifications while responding to questions on the new Online Registration Policy of the NYSC in Abuja.
He said: "The initiative was designed with all sense of fairness and sensitivity. It is not extortionist, as extortion implies the use of open or subtle threat.
"No open or subtle threat is involved here. It is not compulsory and non-use of it carries no sanction. It is only for those who choose to exercise the option after doing their own cost-benefit analysis.
"NYSC is sensitive to the fact that not everyone needs or can afford this. Both those who need and can afford it and those who don't need it or can't afford it are given options to choose from. The initiative is thus both fair and sensitive".
Asked why the NYSC cannot maintain the status quo, Bamidele responded: "Contrary to claims, the status quo remains. NYSC has not abolished the practice of prospective corps members going to their schools to pick call-up letters. That is still allowed.
"What has happened is that an extra option has been introduced, which prospective corps members may choose or may not choose to exercise.
"Closing this new option will not necessarily be at zero cost to those who prefer the status quo, as prospective corps members have always been responsible for picking their call-up letters.
"But closing the option will be at the expense of those who will prefer it as this will rob them of their right to choose".
The NYSC boss also explained how the management team arrived at the N4, 000 rate and the inherent advantages.
He added: "The N4000 is not just for printing call-up letters. It is for the entire package of online registration, which requires the deployment of IT hardware and software and personnel to orientation camps all over the country, but which also gives those who subscribe to it the advantage of processing their registration online, saving time during registration at the orientation camps and allowing them to use their thumbprints to identify themselves in case they lose or are dispossessed of their call-up letters.
"In the past, corps members who lose or are dispossessed of their call-up letters had to go through a cumbersome process of swearing affidavits, getting validation from their schools which takes time and may force them to enlist on another batch.
"With online registration, those who are unfortunate to lose their letters can identify themselves with their fingerprints. So the N4, 000 fee is for the entire process and package of benefits.
"It is not true that corps members are being asked to pay to serve their country. Far from it. The NYSC and the government appreciate the enormous sacrifice that corps members have made, and continue to make, for the unity and the development of this country.
"The Scheme will continue to explore ways to ensure that corps members serve the nation in safety and with ease. This latest initiative was conceived in that spirit.
"Based on feedbacks and requests from past corps members, the initiative was designed to lessen the costs and risks associated with corps members traveling to their schools to pick up call-up letters".