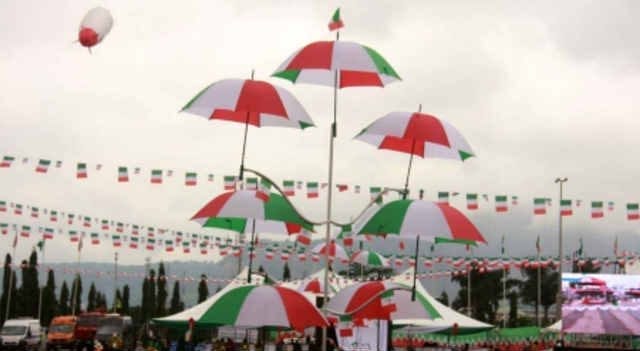 The Akwa Ibom State chapter of Peoples Democratic Party Youth League (PDPNYL), have called on associates and aides of the governor of Akwa Ibom State, Mr Udom Emmanuel and those of the Senate minority leader, Senator Godswill Akpabio, to sue for dialogue and desist from issuing public statements that will jeopardize the cordial relationship that exist between the governor and his predecessor.
In a statement signed by the Secretary-General of Akwa Ibom state Chapter of PDPNYL , Udo Rosemary, and made available to journalists, the youths called on leaders of the party at all level to avoid making utterances and commentaries that would create division, but conduct themselves in a manner that promote unity between the amiable Governor and his awesome predecessor.
The statement read in part;
"Our attention has been drawn to some public commentaries by Aides and associates of the two impeccable leaders of Akwa Ibom state PDP, Governor Udom Emmanuel and Senator Godswill Akpabio. We are disappointed that rather than comport themselves in a manner that will further promote unity between the two illustrious leaders, these aides and associate are busy with chanting war songs and misleading the public into believing that all is not well with the PDP in Akwa Ibom state.
"We state therefore, without iota of contradiction that the relationship between Governor Udom and Senator Akpabio is cordial and unbreakable. We urge political leaders in Akwa Ibom state to desist from making political capital out of a non-issue and support both leaders in their drive to make Akwa Ibom the number one destination in Africa".
Rosemary further stated that the reelection bid of Governor Udom Emmanuel and PDP at all level in the state in 2019 is signed, sealed and waiting to be delivered at the appropriate time. She expressed confidence that Senator Akpabio will once again be at the forefront of the reelection bid of the governor like he did in 2015.
When contacted on phone, the Akwa Ibom State Coordinator of PDPNYL, Mr. Victor Ntia expressed confidence in the Udom-led administration and the political leadership of Akpabio.
He stressed that, Akwa Ibom state is a family that sees everyone as brothers and sisters irrespective of whether he is from Ikot-Ekpene, Eket or Uyo Senatorial district. Mr. Ntia who is from Abak Loca government in Ikot-Ekpene district like Senator Akpabio, gave the Governor an excellent score in his development stride across the three senatorial zones.
"In all fairness, Governor Udom should be given distinction for his developmental stride across the three senatorial district of our state. I must also state that Senator Akpabio also performed excellently in this regard while he was governor. I have all the assurances that the government of Udom and the political leadership of Akpabio will take Akwa Ibom to the greatest height", he stated.
Credit: Sarafa Ibrahim