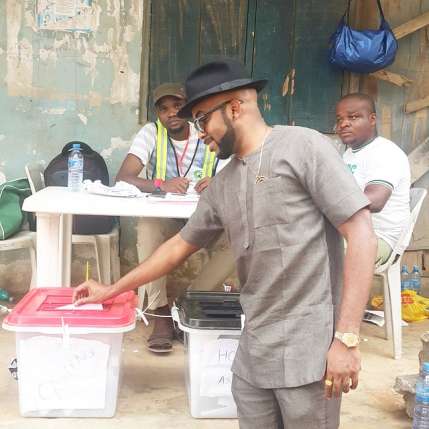 Banky W has unexpectedly responded to the ladies who threw jabs at him a few days over his car.
It is no longer news that Banky W was dragged on social media a few days ago after two yet to be unidentified ladies threw jabs at him over the state of his car. He took to his blog where he gave a very lengthy response as to the reason he still drives the said old Range Rover.
"Dear Stalker, In response to the cringe-worthy, creepy video you made about my wife and I, I think there are some things you need to know. First of all, poverty will never be my portion in Jesus name. Also, it is a 2008 Range Rover Sport, not a 1999. Amen and Lol. Oh, and additionally, it's currently for sale to the highest bidder. I had decided last month that I'd sell it, and whatever I got for it, I'd hand over to the "Vocational School for the Blind" in Oshodi and the "Pink Oak Cancer Trust Fund".
"My Aunt volunteers at the school, and she reminded me that they were still trying to raise some money to care for their students, so I came up with a plan. I told her that I'd give my followers the background history of my old car, and get all my celebrity friends who'd sat in it at some point or another to autograph it, and then put it up for an online auction. I figured that since I didn't need the money from the sale to buy a new one, we could just auction it off and hopefully raise a decent enough amount of money to give back to those in need.
"You see, I've never found it necessary to own more than one car. Mostly because I can only ever DRIVE one car at a time; and when I bought the car in 2011, I promised myself that I would never buy another car until I owned the home I live in. To me, owning a nice car might help me LOOK like I was doing okay, but owning a nice home would help me KNOW. The way my mind is set up…what good is owning a Rolls Royce, if I'm still paying rent on the house I park it in?
"Over the years, as my car went from being kind-of-trendy to being just plain old, people around would occasionally wonder out loud about when I would finally buy a nicer one; I'd just smile and say to myself "not until I own my house". I eventually did buy an additional much smaller car (a Kia), but that was only because I wanted to use it on "Uber", so my driver could earn extra bonus money for himself and us, in his free time. I wonder how shocked and horrified you would have been if you'd seen me driving that smaller car instead (which, by the way, I do drive, occasionally).
He went to reveal that he had ordered for news cars for his wife and himself and they will receiving them soon and will be driving them for a long time.
"You might be happy to know that I've now FINALLY ordered a newer, nicer, personal car, and my wife has too. We paid for them a month ago, but we will probably never show them to you, because we don't want you to stalk us again, but also because that's not really any of your business – much like my old Range Rover wasn't. The cars we are getting are relatively new this year, but the way my mind is set up, we will probably drive them for as long as possible, until we have stashed away enough money for our future kids' complete University Education, and until we have secured a hell of a lot more real estate for them to inherit. I'm not sure how long that will take…I'm just grateful that my wife's mind is set up a lot more like mine, than yours.
Support InfoStride News' Credible Journalism: Only credible journalism can guarantee a fair, accountable and transparent society, including democracy and government. It involves a lot of efforts and money. We need your support. Click here to Donate