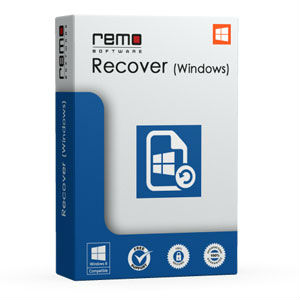 Remo Recover Windows Media Edition is a top-notch software application to resort to when you face a challenge with media file recovery on your Windows PC. I received a license for the software for review purpose and gave it a trial. Let me not deceive you, the software performed wonderfully well and helped me recovered some of the already deleted media files. I was wondering what kind of magic exercised considering the speed of recovery and ease of use. I indeed recommend Remo Recover Windows Media Edition. A trial will certainly convince you.
With Remo Recover (Windows) – Media Edition, you can enjoy:
Fastest recovery of deleted / lost photo, music and video files
Easy-to-use software to recover all popular media files
Recover photos from hard drive, flash memory cards, USB external drives, iPods
Powerful recovery engine to recover digital RAW photos
More so, uncertainties like accidental file deletion, memory card corruption, abrupt camera turn offs, etc. can happen at any point of time. If you are being a victim of these situations then you don't have to get panicked because Remo Recover (Windows) – Media Edition is the ultimate solution for recovering all types of media files. This software easily recovers all deleted / lost multimedia (Photo, Audio & Video) files from your multimedia storage devices like hard drives, iPods, SD and SDHC cards, Flash memory cards, external USB hard drives, etc. Additionally, it efficiently recovers videos from professional camcorders such as Canon, Nikon, Sony, etc. It has extremely flexible and intuitive interface designed specifically for most common computer users where less or no technical skills are required to use the software.
Here are some 12 prominent features you should not miss:
It has a strong intelligent scanning mechanism that scans and recovers photos, videos and audio files from the selected drive in a quick span of time.
It recovers and restores all deleted audio, video and photo files that gets deleted due to various file deletion scenarios.
Recover all multimedia files from formatted hard drives (SATA / SCSI / IDE etc.), FireWire drives, USB devices, Flash memory cards (SD, SDHC, SDXC, XD, MMC, Memory Stick etc.) etc.
It supports recovery of popular audio file formats (MP3, MP4, AMR, etc.) , video file formats (AVI, MP4, MOV, MPEG, etc) and Photo file formats (JPEG, JPG, TIFF, PNG, GIF, etc.).
Supports file recovery on Windows 7, Vista, XP, Windows Server 2003, 2008.
Easily recovers deleted files from FAT16, FAT32, NTFS, NTFS5, ExFAT partitions.
Rescue and recover files from drives having bad sectors.
Recover photos from PC where you have even re-installed Windows.
Special built-in algorithms supports recovery of RAW photo files from wide range of professional cameras such as Nikon, Canon, Olympus, Minolta, Sigma, etc.
Systematically preview recovered files before data restoration to select what needs to be restored.
Option to create save recovered data in compressed Zip file format helps you to save the disk space.
Resume the recovery and saving process of the file at any point of time by the help of previously Saved Recovery Session.
Why Remo Recover to recover media files?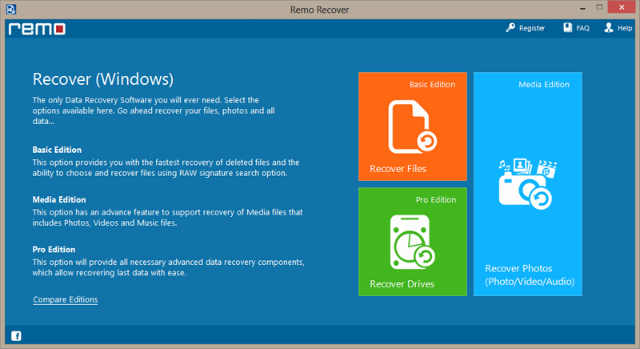 Free Trial Version

: Evaluate the competency level of the software by using the free version of this software. Remo media file recovery tool not only recovers your lost / deleted media files but also provides you the previewing option.

Largest and Widest Support On File Types

: Remo Recover – Media Edition has support for various digital cameras, video camcorders and music players. The supported file types cover several hundred various types of media files. Intelligent built-in scanner in the software ensures recovery of the complete file without compromising on the quality of the file type recovered.

Malware / Spyware and Virus Free

: No chance of system getting infected because all the products are digitally signed and are scanned using latest Antivirus software before packaging. It has an automatic update wizard that automatically updates the application to the latest version. You can always refer to the properties of our installer package in order to check the authenticity and product worthiness.

24×7 Technical Support

: You can always contact us 24×7, if you are facing any technical difficulties. We have a group of technical experts who will resolve your queries with the minimum timeframe. Feel free to contact us at any time as we are here to HELP you.
System Requirements:
Operating System – Microsoft Windows 8, Windows 7, Windows Vista, Windows XP, Windows 2003 and Windows 2008
RAM – 512 MB (Recommended, 1 GB RAM)
Free Disk Space – 50 MB (for installation)
Supports 32-bit, 64-bit PC
Log in as Local System Administrator to your Windows PC to install and use this software
I have no doubt in recommending the software application to you. Quickly visit the link below to download a copy of the software, install and test while sharing your review with us:
Download Remo Recover Windows Media Edition.