The Centre for Human Rights and Social Justice (CHRSJ), a human rights organisation, has exposed the extra-judicial killings of innocent people of the ancient town of Ihunbo in Ipokia Local Government area of Ogun State by the men of the Nigeria Customs Service (NCS) and Nigeria Police Force (NPF) in the area before the national protest campaign against the Police brutality and extra-judicial killings of men of Special Anti-Robbery Squad (SARS) through the #EndSARS protests.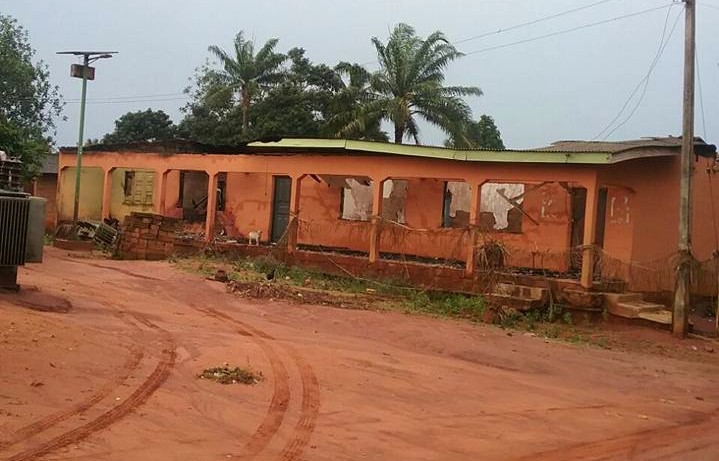 The rights group now called for a credible, unbiased, honest, thorough and transparent investigation into the alleged brutality and extra-judicial killings of Customs, Police and Soldiers in Ihunbo town.
It also urged the State Governor, Prince Dapo Abiodun to set up Special Judicial Panel of Inquiry to investigate the burning of the Ihunbo ancient Palace in 2016 by one Mr Joseph Olamide Adesiyan, a land grabber, bunker and smuggler and his thugs led by Alhaji Fatai Isiaka (aka Jabala Esan Ake) and Titus Babajide, alias Oppressor for possible prosecution of the perpetrators for arson, adding that the burning of the ancient Palace, left the town with no monarch since passing away of Oba Jacob Tolagbade Fase on 23rd of March,2014, till the present moment.
CHRSJ refers to its Petition Letter dated Monday 1st of June, 2020 and signed by its Executive Chairman, Comrade Adeniyi Alimi Sulaiman, which the copies were made available to newsmen on Thursday. The Petition Letter was forwarded to President Muhammadu Buhari, Ogun State Governor, Senate President, Speaker House of Representatives, Inspector General of Police, Comptroller General of Nigeria Customs Service, among others. Supol Emmanuel Alasa, a Superintendent of Police from Force Headquarters, Abuja was in charge of the case now.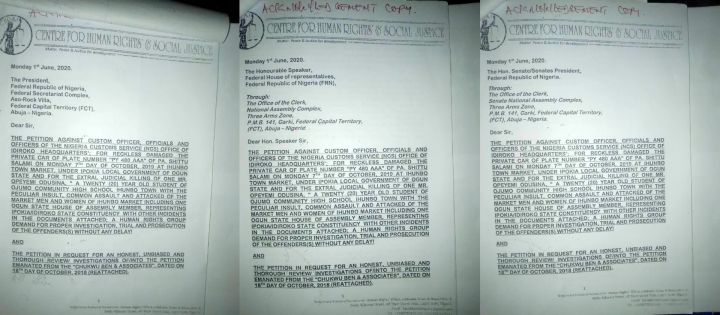 It insisted that the men and officers of Customs Service, Nigeria Police Force and Nigeria Army had been the tools in the hands of certain individuals, particularly, a land grabber, bunkers and smuggler, one Mr Joseph Olamide Adesiyan to vandalize many properties and killings of innocent citizens of the area, stating that the burning of the palace was carried out by no fewer than 46 thugs with the support of 21 Soldiers attached to the 192 Battalion of the Nigeria Army in Owode-Yewa, Ogun State in 2016.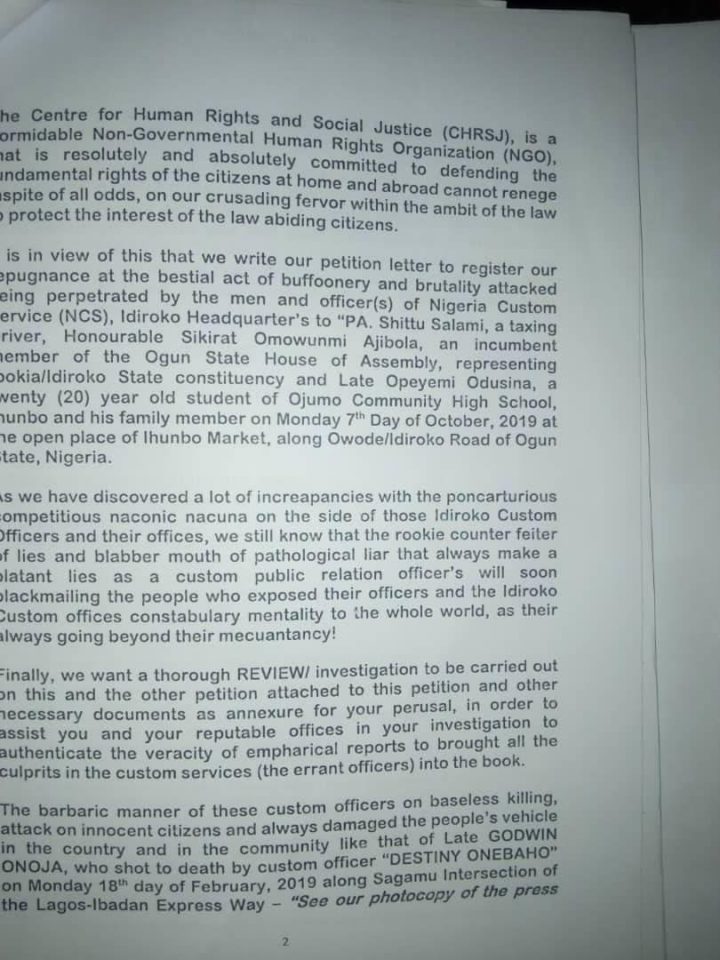 Recalling that on 16th of August, 2017, one Police Inspector Wasiu Ayinla Lawal attached to the Federal SARS in collaboration with Ope Fashola who is a resident of Ilase town shot and killed a resident of Idi Iroko who was identified as Elder Paul Danton Hodewu, the deceased was an Automobile Engineer who lives at Agbede House beside the General Hospital in Idi Iroko town, adding that the killing was authorized by a traditional ruler, the Onilase of Ilase town, Oba John Adewale Olaifa (Who is popularly known as the THIRD LION.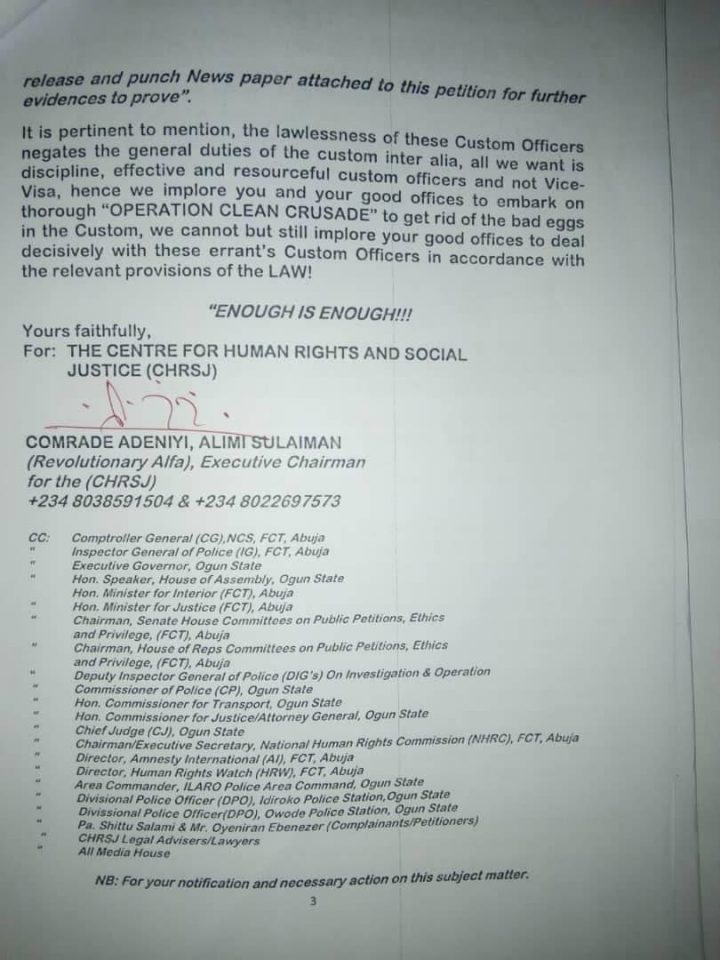 "From our findings, Oba Olaifa instructed Ope Fashola and the Police to 'deal' with Elder Hodewu for having the temerity to demand his land or to secure a refund of his money. Hodewu was severely beaten by Fashola at the instance of thugs working for Onilase and he died immediately at the palace of Onilase when a gunshot from a Police Inspector Wasiu Ayinla Lawal pierced through his body", Sulaiman stated.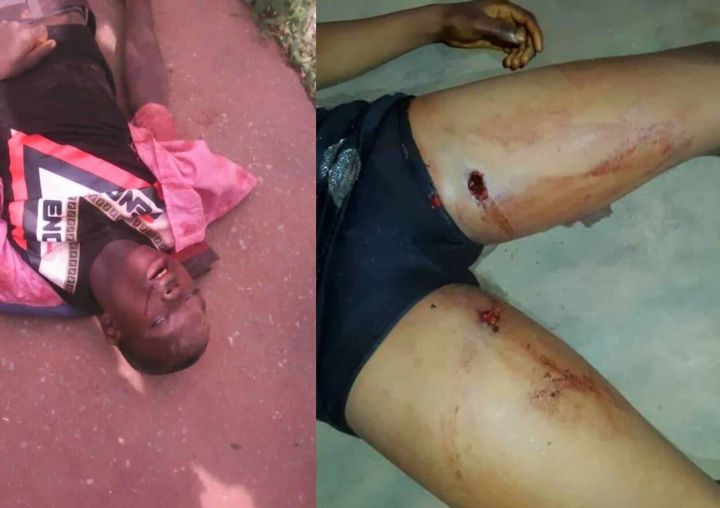 According to CHRSJ; "It is because of this that we wrote our Petition Letter to register our repugnance at the bestial act of buffoonery and brutality attacked being perpetrated by men and officers of Nigeria Customs Service (NCS), Idiroko headquarters to PA Shittu Salami, a taxi driver, Honourable Sikirat Omowumi Ajibola, an incumbent member of the Ogun State House of Assembly representing Ipokia/Idiroko State Constituency and Late Opeyemi Odusina, a twenty (20) year old student of Ojumo Community High School, Ihunbo and his family members on Monday 7th Day of October 2019 at the Open Place of Ihunbo Market, along Owode Owode/Idiroko road, Ihunbo.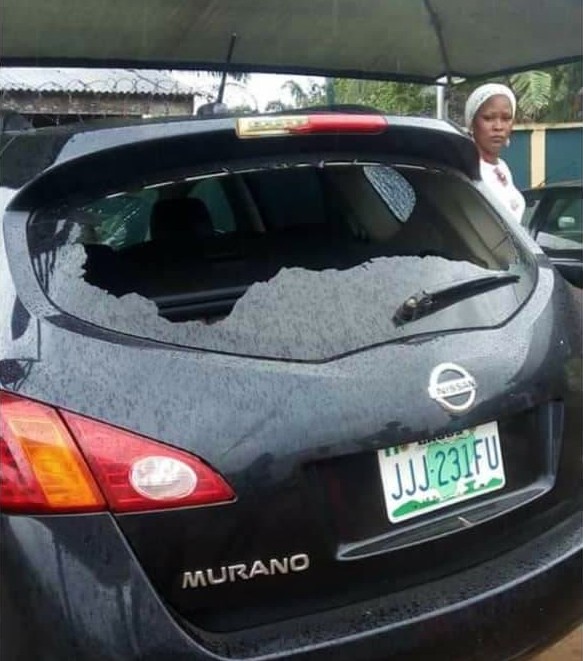 "As we discovered a lot of discrepancies with the poncarturious competitions naconic nacuna on the side of those Idiroko Customs officers and their offices, we still know that the rookie counter fetter of lies and blabbermouth of a pathological liar that always make a blatant lie as Customs Public Relation officer, will soon blackmailing the people who exposed their officers and the Idiroko Customs constabulary to the whole world, as they are always going beyond their mecuantancy!.
"All the culprits in the Customs Service should be brought to book. The barbaric manner of these Customs officers on baseless killing, attack on innocent citizens always damaged the people's vehicle in the country and the community like that of late Godwin Onoja who shot to death by Customs officer "DESTINY ONEBAHO" on Monday 18th day of February 2019 along Sagamu interchange off Lagos-Ibadan Express Way".
It, therefore, urged the authorities in Nigeria to embark on operation clean crusade to get rid of the bad eggs in the Customs Service and other security apparatus in the land for effective and efficient service.
Signed
Comrade Adeniyi, Alimi Sulaiman