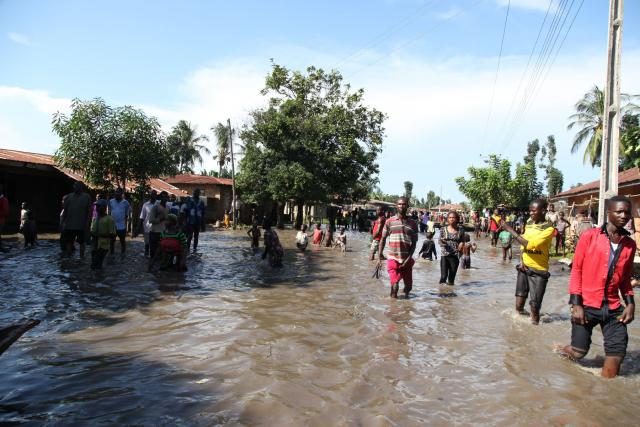 …charges government on adequate disaster management mechanisms
Elites Network for Sustainable Development (ENetSuD), a Kwara-based Civil Society Organisation (CSO), said she has found it highly necessary to join the Nigeria Hydrological Services Agency (NiHSA) and the Kwara state government in the call for immediate relocation of residents of communities in Kwara state along the banks of River Niger; Lafiagi, Patigi, Jebba, amongst others
The NiHSA has listed Kwara, Niger, Kebbi, Kogi, Anambra, Delta and Bayelsa as states that should be on the watch out and advised them to make necessary preparations to relocate people within the floodplains to safe and higher grounds in the event of flooding. This call by NiHSA emanates from her observation that River Niger is still rising with likelihood of occurrence of River flooding.
In a statement signed by the CSO's coordinator (Dr. Alagbonsi Abdullateef) and made available in Ilorin to Journalists, ENetSuD appreciated the statement by government, which provides citizens with early warning system that is important in prevention of disaster events.
However, we found the government's statement as insufficient towards addressing the current issue. For instance, how the government will ensure strict compliance as she claimed was not disclosed in her statement: is it by enforcing the communities' relocation or by facilitating it? There is no clear indication and plan on how the government wishes to relocate the people in those affected communities. It is too complacent of any responsible government to just give danger alert without discussing the future of such important communities and phenomenon. The ENetSuD will be happy to know the government's "preparedness and mitigation plans", which will give us ideas of the mechanisms she has in place in case of imminent disaster. In addition to the fact that these concerned communities pay taxes and revenues, and take part in the democratic processes by casting their votes, they also substantially contribute to Kwara state economy with their fishing and farming activities, which are their main occupations and sources of livelihood. Events of disaster may cause serious havoc and render them homeless and jobless, which is against the agenda of current government that strongly advocates for diversification of the economy from Oil to Agriculture. Because an elected government is supposed to be for everybody, the lives, properties and interests of these riverine communities ought to be considered and protected by government as well.
Furthermore, ENetSuD is of the opinion that River flooding and displacement of residents are supposed to have been a forgotten story in Kwara and Nigeria at large, considering the huge amount of ecological funds that Federal government has been allocating in the past and in recent times. Corruption that surrounds the utilisation of this fund (which needs to be thoroughly investigated) could be the major reason these funds have not significantly solved the National ecological problem. The public may wish to be reminded of flooding incidences that occurred about 2 month ago across many parts of Ilorin, including Okekere, Oloje, Ode Adana, Okelele, Dada area, Aduralere, Alagbado, Amilegbe, Akerebiata, Kuntu-Oja road, Harmony estate, Mubo street, and many other communities in Kwara state where thousands of people were displaced and properties were destroyed. In our press statement made available to Journalists on the 24th June, 2018, we attributed the flooding in Kwara state to negligence on the part of Kwara state government due to non-implementation of the Kwara state master plan for environmental management, a view that was corroborated by the press statement of a former Kwara State Commissioner on Environment and Tourism, Dr. Bola Olaosebikan. Instead of joining hands with the state government to provide a lasting solution, the senator representing Kwara Central Senatorial District and President of the Nigeria Senate (Dr. Bukola Saraki) was reportedly distributing stipends as relieve materials for the victims, a step that could not forestall future reoccurrence of this menace
The ENetSuD urged the Kwara state government to call for a local meeting with the concerned communities and visit the sites for strong preparedness and contingency plans in the event of the disaster. The government should also make adequate arrangement and take full responsibility for the relocation of residents in the affected riverine communities, as this natural disaster (river flooding) is not their making. Again, we call on the Kwara state government to promptly take steps towards the implementation of the State Master Plan for Environmental Management. As the government has taken tax collection a serious government business, Kwara state environmental issue should also be taken with more seriousness due to its important and direct impacts on all Kwara citizens and residents.
Credit: Nwaorgu Faustinus
Support InfoStride News' Credible Journalism: Only credible journalism can guarantee a fair, accountable and transparent society, including democracy and government. It involves a lot of efforts and money. We need your support. Click here to Donate