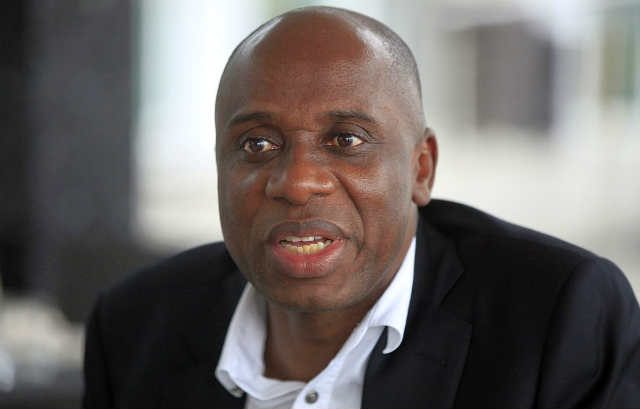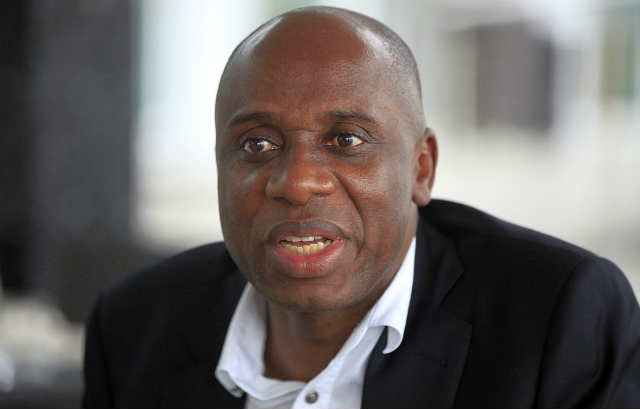 "Amaechi believes in transparency and accountability. He was the first governor in this country to begin a Stewardship Account. He was the first governor to publicly say to people, this is what we have received, this is what we have spent; this is where we have spent it. He was the first governor in this country to take over the payment of primary school teachers, which is a local government function. Rivers State under Amaechi was the first state to have its own Procurement Act. The World Bank not only commended, but asked other states to go and see the Implementation of the Due Process regime in Rivers State and adopt the great works of Amaechi accordingly. He was the first governor to pass the Fiscal Responsibility Law to check government officials and exclude himself from award of contracts throughout his tenure as Rivers State Governor; this is the fellow that Wike is presenting in borrowed robe"..
Amaechi: Man Ahead of His Time and His Audacity (Part 3 and Conclusion)
Preamble
On 17th June, 2017, political associates, friends, colleagues, family members within and outside Nigeria of Rt. Hon z gathered in Port Harcourt, capital of the oil Rivers State and one of the mainstay of the economy of Nigeria, to celebrate him under the auspices of the Conscious Reformers Assembly (CRA), in collaboration with some other associations in a colourful event tagged the 52nd Birthday Lecture and Symposium of a living legend entitled Amaechi: The Man Ahead of His Times.
During this epochal event, different classes of professionals both from the academia, politics, religious leadership and youths were carefully selected to dissect different parts of this great son of Nigeria and, depending on whom were talking, these great minds did their best in x-raying Amaechi to the best of their abilities. Amaechi to me is like the proverbial elephant being examined or x-rayed by some blind men, each describing the elephant from the point of view of what he feels about the part of the elephant he was examining. The fact remains that no matter the efforts of these blind men they could not come to terms or conclusion of what the elephant truly is. I think it was based on this challenge that Dr Innocent Agu a Social Commentator based in Owerri stated, "Chief Eze, to me Rt. Hon. Chibuike Amaechi means a lot. As much as I commend you for your efforts and inspiring articles on him, I must confess that Amaechi's worth cannot be contained in any write up done by any mortal. For it is so numerous to be reduced in a book. He is an institution and as long as you study, you know more. I join in prayers for GOD to keep on guiding him towards the noble path of being the change agent he symbolises.
Throwing more light on the inability of any writer to actually dissect this living legend, the Vice President of the Federal Republic of Nigeria, Prof Yemi Osinbanjo stated, Ameachi is also a man of big ideas and very insightful, he understands how to live long in the hearts of men. His education policies in Rivers State and all of those children he gave real hope and opportunities will always keep him alive in their hearts as Amaechi will be remembered long after he left this earth." In thesame vein, Admiral Murtala Nyako, the then Executive Governor of Adamawa State once challenged me and stated: "Chief Eze, don't mind the simplicity and unassuming nature of this man; he is the most influential politician we have in Nigeria today."
Not minding this obvious challenge coupled with the fact that this epochal event was beamed live to the entire world through Channels Television and other national networks, I noticed with nostalgia that most of the findings, thinking, presentations and postulations by these great thinkers that were opportune to dissect this living legend who have made governance in Nigeria not only exemplary but as a way of life was not properly reflected and captured in most of the social and natural media, for reasons I couldn't fathom.
It was based on this shortcoming that I was inspired as an authority on political issues pertaining to Rivers State with bias to the legend, eccentric and maverick politician called Chibuike Rotimi Amaechi, to embark upon this project of attempting to unravel this gem and hero of the current poetical dispensation in Nigeria to the entire world, through the article I titled "Amaechi: A Man Ahead of His Time and his Audacity." I have done part one and part two of this treatise and, now though difficult, this is the part three and conclusion of this attempt.
Issues so far discussed in Parts 1 and 2
Amaechi's contributions to the growth of the judiciary in Nigeria and his celebrated Supreme Court ruling:
The Supreme Court ruling of November, 2007 made Amaechi the only Nigerian that was on exile during the 2007 general elections, and was declared governor of Rivers State and sworn in November, 2007, after five months that his cousin, Sir Celestine Omehia, was illegally sworn-in as governor of Rivers State, on May 29, 2007, in his stead. His inputs towards the growth of judiciary in Nigeria remain unprecedented. Details are contained in part one of this treatise.
The Greater Port Harcourt City
Amaechi's creation of the Port Harcourt Mega City, to decongest the Port Harcourt city and building of one of the best modern stadiums and other edifices only obtainable in modern cities of Europe, placed him truly as a man ahead of his time. Amaechi's Greater Port Harcourt City was to spread to eight local government areas, including Port Harcourt, Okrika, Obio-Akpor, Ikwerre, Oyigbo, Ogu-Bolo, Etche and Eleme, with total population estimated at 2,000,000 as at 2009, making it one of the largest metropolitan areas in Nigeria.
Port Harcourt as UNESCO World Book Capital 2014
Port Harcourt – the capital of Rivers State of Nigeria, under the watch of Amaechi – was declared World Book Capital City 2014.
For full details on the Part One of this treatise, visit this media link: https://www.theinfostride.com/2017/07/rotimi-amaechi-the-man-ahead-of-his-time-and-his-audacity-1/
In Part 2 of this treatise the following was discussed:
Unseating a sitting president, a feat that positions Amaechi as a unique leader in Nigeria
It was not a mere feat when this Trojan led the struggle that ouster the PDP administration of Dr Goodluck Jonathan, a feat that still defers understanding in the political space of Nigeria. A risk by this enigma of a man took in salvaging Nigeria from the hands of looters whose intention was to loot the common patrimony of our nation with impunity. With the high level of corruption exposed by most of the key actors in Jonathan's administration, Amaechi need to be celebrated almost on daily basis as a man that truly is ahead of his time.
The unique solution to the sewage challenge in Port Harcourt
He embarked upon the N1.3 billion Sewage and Biogas plant project that made Port Harcourt one of the cleanest and healthy city in Nigeria
Educational revolution in Rivers State
Apart from signing several critical bills into law to revolutionise education in Rivers State, the administration of Amaechi recruited about 13, 200 teachers and targeted building 700 model primary schools, with 350 completed – each with 20 classrooms costing about N116 million each and equipped with ICT facility, modern library, science laboratory, football field, basketball pitch, volleyball pitch and nursery playground. These model primary schools were built to the standard of the United Nations, as obtainable in developed parts of the world.
Offer of free education up to secondary school level, abolition of all fees in schools, annual oversees scholarships in strategic branches of knowledge, establishment of skills acquisition institutions to draw attention to self-employment and entrepreneurship and, above all, the outsourcing of management of schools in the state.
Reaction
Reacting to part two of this treatise, Hon Anele Ken Omuma a chieftain of APC in Rivers State whom seems to have captured the minds of most people that read this revealing part two stated and I quote, "Chief Eze, the holistic touch you approached our leader's achievements as a man ahead of his time can only be called a revealing sermon, if you were on the pulpit, a dissertation if a PhD thesis or a treatise (lengthy discourse) as you rightly described it. It is not every person that will reorganise the worth of CRA, in this wicked society of ours that is full of betrayers. CRA should work with few that are reliable and trusted. I think we have some dependable persons around. Just like I responded in one of your posts, CRA to me is likened to a burning candle on the table .Some see the light, appreciate it and use it, others see and prefer to remain in the dark. That is the scenario we find ourselves. CRA is grown beyond local politics, should therefore face his new calling of delivering the dividend of his office to the nation as he is currently doing. For you , only God can fully reward you for filling the gap for us positive progressives. More grease to your elbow, for sure, we will soon be there by the supreme power of the Almighty God, in Jesus Mighty Name, AMEN. God will continue to hold and keep you for us and continue to empower you to maintain this tempo of good work"
Read all that you need to know about Part Two of this treatise via the media links below: https://www.theinfostride.com/2017/08/rotimi-amaechi-the-man-ahead-of-his-time-and-his-audacity-2/
AMAECHI: THE MAN AHEAD OF HIS TIME AND HIS AUDACITY PART THREE AND CONCLUSION
I intend in this concluding section of this treatise, present and discuss some other hard issues that only men that are ahead of their times could venture into: The Port Harcourt Monorail, strategies adopted to arrest the insecurity in Rivers State, Agriculture, the prudence management of public funds and if time permits, discuss Health and his current feats in the Transport Sector of Nigeria.
Amaechi and management of Rivers State Finances:
To demonstrate the seriousness of Amaechi's careful management of the resources of Rivers State, he immediately on assuming office in 2007 constituted his cabinet with men and women of integrity and seeing the decay in infrastructure in the state commenced his task by initiating and signing into law, Road Maintenance and Rehabilitation Agency Bill No. 3 of 2008, Sustainable Development Amendment Bill No. 1 of 2008, Procurement Public Bill, Saving Public Fund Bill, and even a bill excluding the office of the governor from signing and awarding of contracts. The fact remains that no other State in Nigeria has such laws in operation, excluding the governor from interfering and awarding of contracts and saving part of its revenue for the rainy days. With the enactment of these bills, Amaechi demonstrated early enough the type of governance he intends to bequeath to the State: Governance premised on accountability, service delivery and people-oriented government for the greater good of Rivers people.
According to Amaechi, "In order to lay a strong foundation for positive change in governance in the state, the administration has taken it upon itself to initiate very critical bills on fiscal responsibility to the State House of Assembly and virtually all of which have been passed into law and assented to by me. The Executive arm of government so far has credit for having at least 60 per cent of all bills passed by the House of Assembly, saying that virtually all the bills were designed to deal with the age long problem of financial irresponsibility and rascality and as far as the existing laws on fiscal responsibility are concerned, anyone in government who tries to have an over sight of the due process mechanism in the state would surely run into problems."
"Amaechi believes in transparency and accountability. He was the first governor in this country to begin a Stewardship Account. He was the first governor to publicly say to people, this is what we have received, this is what we have spent; this is where we have spent it. He was the first governor in this country to take over the payment of primary school teachers, which is a local government function. Rivers State under Amaechi was the first state to have its own Procurement Act. The World Bank not only commended, but asked other states to go and see the Implementation of the Due Process regime in Rivers State and adopt the great works of Amaechi accordingly. He was the first governor to pass the Fiscal Responsibility Law to check government officials and exclude himself from award of contracts throughout his tenure as Rivers State Governor; this is the fellow that Wike is presenting in borrowed robe"..
His astute leadership in striving for financial transparency, accountability and inclusive governance has earned the State a lot of accolades, numerous awards and recognitions by international bodies and corporations, including the ability to attract a B+/AA Fitch investment rating to the State, boost economic and structural development as well as enhance content development in all sectors of Rivers State.
1.B. Further test of Amaechi's Prudence of Public Finance
Some politicians who thought by labelling this man with corruption toga in order to earn relevance but he has continued to prove them wrong by most of his actions. As Minister of transportation, Amaechi has once again demonstrated his sagacity and prudence in management of public finance by saving a whopping N134.4 billion for the nation (using N168 to $1 as it was in 2014, when the contract of the rail line from Cross Rivers State to Lagos State was first signed), by negotiating downwards the planned 1,402km coastal rail-line project already approved by the administration of Dr Jonathan at a huge cost. "Rt Hon Amaechi has by this singular act demonstrated to the entire world that he utilised the resources of Rivers State prudently and wisely during his tenure as the governor of Rivers State,"
Apart from the above feat, Rotimi Amaechi instilled financial discipline in the ministry of transport and its agencies and provided safety measures at the nation's airports.
Agricultural feat
Amaechi's administration embarked upon many unprecedented projects, including setting up of the Songhai Farms that employed over 2,000 workers and the N20 billion Agric Scheme that revolutionised agriculture in the state include setting up the Banana Farms that created jobs for over 2,000 persons, and revived Risonpalm, which was dead when he came in, and has employed over 5,000 workers., while four Fish Farms in strategic locations were completed by his administration.
Throwing more light on his feats in the Agriculture Sector Amaechi stated, "We have four fish farms at Buguma, Andoni, Opobo and Ubima. Banana Farm in Ogoni-100 hectares have been done out of the total 250 hectares. Therefore is among the big farms we have started to create jobs for rural dwellers. It will employ about 500 workers. Rivers Songhai learning initiative has a centre for training, agricultural production, research and development of sustainable agricultural practices. The farm project sits on a 314-hectares land in Bunu-Tai, an agrarian community in Tai Local Government Area of the state. It is about 20 times the size of the Songhai model in Porto Novo – an integrated farm which combines livestock, arable farming, fishery, snail farming and poultry. There is a 2,000-hectare farm in Etche with a total available land space of 3,000 hectares. The farm is projected to cost $140 million. The state is investing $100m; the foreign partner $40 million. The farm would have 300 farming houses, agro processing and 3,000 hectares for cultivation. The 300 houses would accommodate 300 farming families who would live and work on the farm. If this man with such a revolutionary ideas is not a man ahead of his time then tell me sincerely who is a man ahead of his time?
Sadly shortsighted Governor Nyesom Wike has ensured that all these agricultural feats were either abandoned or sold to his cronies instead of improving on them to create wealth and employment for Rivers State and her people.
PRACTICAL SOLUTION TO INSECURITY CHALLENGES IN RIVERS STATE
To Rotimi Amaechi, "inability of elected leaders to provide adequate security for the citizenry is an impeachable offence. The first offence governors commit is when they are unable to provide adequate security for the people. This is because the first oath taken by elected leaders is to protect life and property. It is the responsibility of the government to provide security for the people."
3.A. THE TYPE OF RIVERS STATE INHERITED BY FORMER GOV CHIBUIKE ROTIMI AMAECHI!
According to records, Port Harcourt, the State capital of Rivers State that Amaechi inherited was more like a war zone or aptly put a jungle where the fittest determines the fate of the lesser animals. It sounds pretty surprising but not unexpected that the city of Port Harcourt, a once very glamorous city, was ranked among the three most dangerous cities in the world by then. The human resources unit of New York-based Marsh & McLennan Cos. had ranked Port Harcourt with Baghdad, Yemen's capital of Sana'a and Khartoum in Sudan, as the world's most dangerous cities. Going by the ranking published by Bloomberg, Port Harcourt ranked with Baghdad as one of the world's most dangerous cities for foreign workers as criminal gangs and militia groups seeking greater control of energy revenue step up attacks.
Ahamefula Ogbu, a Journalist with Thisday Newspapers described one of the scenes in the State at this period in these words 'Rambo could not have done better. With automatic rifles in their hands and hate, revenge and murder hanging around their necks, warring cultists took Port Harcourt, Rivers State, by storm yesterday for the second day running. Pandemonium broke out as residents ran for safety. It was sorrow, tears and blood. At the end of it all—or, more aptly, at the interval, for no one knows the end yet—15 persons had been dispatched to their early graves' and true to this unsung prophet nobody knew the end as the next few days saw about eighty innocent souls wasted by an agitation uncommon to our people in the Niger Delta.
3.B STRATEGIES ADOPTED TO ADDRESS THE MENACE OF INSECURITY
Explaining on how former Governor Amaechi handled the security challenges of the State at this period, Dr Dakuku Peterside stated as follows, "When I had the privilege of serving in the government of Rivers State under the leadership of Governor Amaechi, I observed that he placed high premium on security because he believed that security was the foundation upon which progress in every other facet of development depends. This is aside from government's proactive disposition which drew substantially from intelligence gathering, surveillance and the fact that law enforcement agents could reasonably predict potential crime with near perfect accuracy.
Another interesting aspect of the Rivers model is the deployment of technology. Without sounding immodest, I can confidently say that the state's security network is driven by excellent modern technology. Rivers was the first state to acquire a mobile scanning van known as back scatter. Around the Port-Harcourt metropolis, there are Gantry Scanners at strategic entry locations in Onne- Eleme Road, East-West Road, Choba Road, Oyibo Road, Ikwere Road, Aba Road and Mbiama Road among others".
Throwing more light on the postulations of Peterside, a security expert and CEO, MPD Security Systems, Engr. David Meyer stated as follows, "The first step we took in Rivers State was to raise capacity among selected police personnel, over 200, through local and overseas training in Israel and other parts of the world on modern crime fighting techniques and intelligence gathering," Meyer explained. Working with modern gadgets and substantial logistics including an Israeli trained concealed weapon detecting dog, these crossbred police team had since been strategically placed at main outskirt check posts witnessing mass movement in and out of Port Harcourt City. Others lead a number of metro patrol teams responding to security emergencies around the town and environs. These are far as the public can see.
Beyond public view, as part of Rivers current long term vision of security, Meyer pointed to underground application of ICT aided security hardware and software helping the police to sense and react to security situations with dispatch. This network of technology managed by experts from a hub which Meyer would not disclose its location for security reasons, employs the C4I urban surveillance cameras watching over the city and active 24hrs of the day in Port Harcourt and environs.
The interactions between the seen and unseen infrastructures, according to Meyer, account for the recent security operatives swift bursting of some of failed organized crime operations, including an attempted raid of a bank in the Mile 4 area of the city last year. "These measures have been working well and while the public may not know, it has lead to several arrests and we have gained convictions against suspects on account of the improved network", he emphasized.
Supporting the views of Hon. Chief Peterside and Engr. Meyer, His Excellency, Rt. Hon. Chibuike Amaechi stated,. "We have done a lot about security. We are doing more. Before we came to office, kidnapping was a serious challenge. We have dealt with it substantially. We are finishing December, 2012 without a single report of kidnapping or armed robbery. We have specially trained policemen handling security. Barring any unforeseen circumstance, any moment from now, the Rivers State Government's security web would be two surveillance helicopters stronger, laying foundation for a standing air wing to give the state 24-hour security coverage.. He said the helicopters; costing $30m (N4.5bn) with surveillance cameras to fly all over the city of Port Harcourt and other parts of the state would arrive at the end of December and commence operations in January, 2013. He stated that Rivers now has in place a technology reliable for tracking criminals and their hideouts. But sadly, Chief Nyesom Wike and former President Dr Jonathan ensured that these helicopters never arrived Rivers State until few weeks ago in 2017. Today, Governor Wike has turned this peaceful State into Rivers of Blood where human beings are beheaded almost on daily basis.
3.C. The impact of peace under Amaechi's watch in Rivers State
The peace that prevailed in Rivers State under the watch of Gov Amaechi resulted not only to the attraction of foreign investments but also Port Harcourt becoming the haven of both National and International events. Apart from hosting one of the best organised National Sports Festival ever in Nigeria, the School Sports and the Police Games by March 2013. Port Harcourt apart from Abuja and probably Lagos is the only State to have hosted US-Nigeria biennial National Conference, Pan African Parliamentary; Garden City Literary Festival, hosted CARNRIV involving several foreign countries to showcase the rich culture, potentials and beauty of her people, the 2nd Dr Claude Ake Memorial Lecture, Rivers State Investment Forum and Governor's Interactive Session with Rivers State Youths.
Other major events hosted by Rivers State under Amaechi's watch include the ION Film Festival where the world best Film Producers were feted with the hospitality of Rivers State, Miss ECOWAS Pageant, Garden City Literary Festival, Guild of Editors, Commonwealth Women Parliamentarians (CWP), a trade delegation from the Economic Community of West African States (ECOWAS) on an enlighten mission for private companies within the South-South zone on how to access business opportunities available within the ECOWAS sub region among many other major events hosted by the Rivers State Government. The State is the UNESCO's World Book Capital 2014. What a feat and what an accomplishment.
The Port Harcourt Monorail
Most of the men that were ahead of their times were men that are always misunderstood and one of the areas that Amaechi's policy is very misunderstood, misconstrued and castigated is the Port Harcourt Monorail. This program first of its kind in Nigeria which upon completion would transport 40,000 passengers daily was initiated to easy and assist in the transportation challenges of Port Harcourt, create employment and raise revenue for the State.
Throwing more light on this project, the former Commissioner for Transport in Rivers State, Hon. George Tolofari in an article he titled, "The Rivers Monorail Project: A Great Vision For Rivers People" stated for the umpteenth time that the Rivers Monorail project was a well-conceived idea by the Amaechi administration and that it was aimed at boosting the economy of Rivers State and make it the primus destination for business, trade and commerce in the South-South. He further stated that, this is a project that will take Rivers State farther than where we are today, if only the present administration headed by Barr Wike had not played politics with it.
"The vision of the Amaechi administration as regards the Rivers Monorail is to take it all the way to the Port Harcourt International Airport. To achieve this, it was broken down into phases. What we all currently see is phase 1A of the project which is 2.6 km. Phase 1B would take it to Garrison which would bring it to a distance of 6.5km. The other phases or routes will see it veer off from UTC Junction along Ikwerre Road to UST Rounderbout, Abuja lane, Olu Obasanjo to Waterlines. Another route would continue from Garrison to Waterlines, from Garrison it veers off to Trans-Amadi through Elekahia, Stadium Road and terminate at Air Force Junction. While it also continues from Waterlines along Aba Road to meet at Air Force Junction. From there, it moves to the Airport.
There is also the route that continues from UST Junction along Ikwerre Road to Rumokoro Rounderbout to the Airport. The route plan and survey is domiciled with the Rivers State Ministry of Transport. It's a total distance of about 22km.
"The monorail is still an on-going project and any person who believes in the future of Rivers State will, without hesitation, work hard to see to its completion. What I can see is bitter politics and bitter politics has never taken a state or nation anywhere. No real development takes place in an environment of bitterness, rancour and acrimony.
"Here in the South-South Nigeria, the Calabar Monorail was conceived and kick started by Donald Duke, former Governor of Cross River State. He didn't finish it after his two terms of four years each in office as Governor. Imoke took over as Governor and continued the project from where Governor Duke stopped it. Imoke did his bit for another eight years yet didn't finish it. Then came Ben Ayade in 2015, he continued it and just recently the Calabar Monorail was completed and commissioned for use. Successive governments never abandoned the Calabar Monorail. Today, Cross Riverians and indeed other Nigerians are enjoying the benefits of modern monorail transport system. That is good thinking pursued by successive progressive-minded Governors.
The Light Rail project in Lagos was started by the former Governor of Lagos State, Asiwaju Bola Ahmed Tinubu. Babatunde Fashola succeeded him. He continued the project. Akinwunmi Ambode succeeded Fashola. He continued from where Fashola stopped. Today, the Lagos Light Rail has moved from Badagry to Marina. They are succeeding because bitter politics is nonexistent in Lagos State. They also accessed foreign credit and the contractual obligations in such credit-granting arrangements would not allow for abandonment and wastage".
The vision behind this great idea was aptly captured by a respected social commentator, Mr. George Kerley who in an article titled, ".is the Port Harcourt monorail really a waste? Queried those who are criticising this policy, "That is if those who call themselves political leaders decide to keep their ego and then their partisan proclivities aside. You see, nothing is impossible when we all choose to put our State before our Ego…. Our political leaders need to stop thinking about their own political survival and focus on the business of making Rivers State a better place for all. If we can do something about that monorail, then we can do anything…".George Kerley concluded his treatise with this quote, from J.K. Rowling, "We do not need magic to change the world, we carry all the power we need inside ourselves already: we have the power to imagine better,"
But sadly, due to the myopic nature of Governor Nyesom Wike who forgot that government is an exercise in continuity have castigated this project and sworn that Rivers State people will never see the completion of this great idea that would have gone a long way to ease the suffering of residents and visitors to Port Harcourt so far transportation is concern.
HEALTH:
The philosophy of the Amaechi's administration remains the need to create easy access to healthcare through preventive healthcare delivery policy, disease control, boosting access to primary healthcare facilities to reduce pressure on the secondary healthcare centres (General Hospitals), and reduction of foreign medical trips by establishing world class health facilities in the state.
According to Amaechi, "Our programs in healthcare these seven years promoted child and maternal mortality. We committed personnel and resources to a better healthcare delivery for our people. Thus, we are proud of such milestones as 436 additional doctors, 400 additional nurses employed; 160 modern primary healthcare centres built, Kesley Harrison specialist hospital built; The Maxilo-Facial specialist medical facility at Garrison Junction; Self-Destruct Syringe factory; 1000-bed hospital ongoing; The war against malaria especially the bio-larvicidal factory that is ongoing; the total war against epidemics such HIV/AIDS, Polio and Ebola; and tackling Glaucoma and Cataract.
Amaechi and his Endless persecutions
Amaechi's monumental humiliation by the Jonathan's Administration: The plane of the Rivers State Government during Amaechi's tenure was grounded for no just cause, the PDP Structure in Rivers State was taken away from him, and his election as the Chairman of NGF duly certified and acknowledged worldwide was annulled by ex- President Jonathan and his cohorts. As if that was not enough, Amaechi was suspended from PDP. Indeed, if not for divine providence, he would have been illegally impeached by five legislators in a House of 32 members; a Police Commissioner by name Mr. Joseph Mbu was posted to haunt, insult and abuse him publicly, calling him a despot. What is more, some ex Governors that came to visit him were stoned by Wike's boys! Amaechi was ambushed and refused entry . . . into Ekiti by military personnel acting on orders from above and was made to turn back and return to Akure where his chartered aircraft was parked but was chased and rounded by armed soldiers and security personnel in Odudu, Ondo State. According to the captain who led the operation, he had orders not to allow the Amaechi entry or exit." There was also an attempt later made to detain him at the Mallam Aminu Kano International Airport, Kano, when he went to felicitate with the then new Emir of Kano, HRH Alh Sanusi Lamido Sanusi. If such a haunted fellow could come out unscathed then tell me what it takes for a man to be ahead of his time. Rita Levi-Montalcini a Nobel award winner with Amaechi in mind stated, "If I had not been discriminated against or had not suffered persecution, I would never have received the Nobel Prize" to encourage Amaechi that he should not be dismayed as one day Nigerians will gather to celebrate him for offering himself as a rallying point to ouster an administration that never meant any good for this country.
CONCLUSION
Though there are many issues like Amaechi's feats in Power, the current transformation and revolution going in the Transportation sector, how he managed to survive the plots and menace of Wikisim and many other issues that will assist to properly present Amaechi as a man ahead of his time that can't be accommodated in one treatise.
The fact remains, and let me be unequivocal about this: Amaechi is one of the few Nigerians that can be comfortably addressed as a living legend and a man ahead of his times. A humanist, administrator par excellence, visionary, egalitarian, radical, respected, a pragmatist and exemplary leader and an alumnus of the University of Port Harcourt in Rivers State and the only Nigerian living who have been a two-time Speaker of a State House of Assembly for eight years when he was elected as the Rivers State Speaker of the State House of Assembly from 1999-2007; chairman, Conference of speakers of State Houses of Assembly in Nigeria (1999-2000); governor of Rivers State (2007-2015); two-time chairman of the Governors' Forum in Nigeria, from 2011 to 2015. An international figure of repute, a winner of several awards, including recipient of the prestigious national award of Commander of the Order of the Niger (CON). An Associate Fellow of the United Nations Institute for Training and Research (UNITAR), Geneva, Switzerland, a living legend and currently the Minister of Transportation of the Federal Republic of Nigeria.
Amaechi!!! Let Me Reiterate That No Matter The Stand Of Your Opponents You Are Truly A Man Ahead Of Your Time. If You Are Not Celebrated Today, Don't Be Dismayed, A Day Is Coming When You Will Be Celebrated And That Time Is Not Very Far!
---
Eze Chukwuemeka Eze Is a Media Consultant based in Port Harcourt and can be reached through ezemediaconcept2020@gmail.com
Support InfoStride News' Credible Journalism: Only credible journalism can guarantee a fair, accountable and transparent society, including democracy and government. It involves a lot of efforts and money. We need your support. Click here to Donate