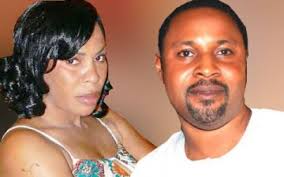 Saidi and Fathia Balogun might have began moves to forgive each other and reunited based on new reports.
The pair have been spotted in public having companionable chats at some events. One of their notable discussions was at a memorial service organized for late actress Moji Olaiya.
Death can truly have a calming effect on bitter rivals it has shown. Until recently, the pair had been in an unsociable relationship that lasted over 10 years. The differences between the former couple who divorced in the year 2006, has seen them avoid each other even on screen.
Fathia Balogun, now 50 years of age, seemed to have mainly focused on her career as opposed to relationships in the past few years. Such cannot be said about Saidi however who was rumoured to have had an affair with Funke Adeyisan.
Saidi Balogun had earlier said in his reaction to a rumour suggesting that they were getting back together that he will never reconcile with her.