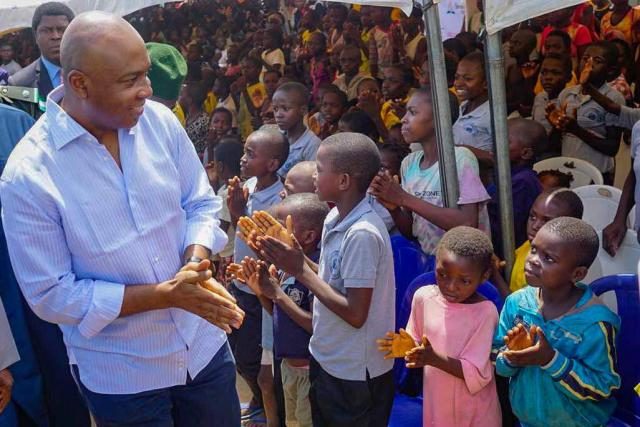 President of the Nigerian Senate, Dr. Abubakar Bukola Saraki, on Sunday celebrated the 2018 Children's Day with children at the Abegena internally Displaced Persons (IDP) camp in Benue State.
Saraki who was accompanied on the visit by the Senators Barnabas Gemade, George Akume, Emmanuel Bwacha and Fatimat Raji-Rasaki, was received by the Governor of Benue State, Samuel Ortom who led the delegation to the camp.
The President of the Senate while commiserating with the people of Benue over the loss of lives and property occasioned by incessant attacks by bandits, reiterated the call of the Senate for increased funding for security agencies to enable them combat violent crimes across the country.
In a statement by his Chief Press Secretary, Sanni Onogu, Saraki said that killings in parts of the country must stop because they are an abomination to civilized values that cannot be tolerated.
Saraki said: "I decided to mark the 2018 National Children's Day here in Benue, with those who, due to no fault of theirs, find themselves in an Internally Displaced Camp on a day set aside for the nation to celebrate her greatest assets, the children.
"In previous years, I have spent Children's Day in the comfort of my office with children visiting the National Assembly, and that was fine enough. This year, however, I decided to come here, not just to celebrate the day but to let the people of Benue know – especially the children who need us now more than ever – that you are not alone in this ordeal.
"This visit is also emblematic of our deep concern and sympathy for children and other IDPs in many other parts of Nigeria – in places such as Borno, Yobe and Adamawa – who have fallen victim to many conflicts that are destroying entire communities.
"We recognise that there are many other children and adults who do not even have the meagre luxury of IDP camps in many places in Kaduna and Zamfara States – fellow citizens who are daily exposed to bandits, robbers, kidnappers and rapists, as well as the elements.
"We chose to visit Abagena IDP Camp, to spend some time with the children and inspect the facilities, in continuation of the Senate's search for solutions to multi-faceted crises that are stretching our security and law-and-order assets beyond their limits.
"Just last week, the Senate received detailed briefings from Service Chiefs and other security agencies on the nature of our current security challenges, and the ways in which we can contribute to finding solutions.
"The Senate also received the Report of the Security Summit it organised in February this year, an event that tapped into a very wide spectrum of national assets with knowledge, experience and responsibility in improving citizen, community and national security.
"What is clear is that we must fund our security agencies. We must equip and support them, if we are to bring to the barest minimum those situations that cause people to be internally displaced. The killings going on in many parts of this country must stop. They are anathema to civilised values and cannot be tolerated," he said.
He said the visit was important to tell the people of Benue that they are not alone in their moment of trial.
"Benue State, in particular, has suffered terribly as a result of these senseless and murderous activities," Saraki said. "It was therefore important to come here in solidarity with the people of this state, to say: we stand with you, we are one."
He said that the Senate has been gravely concerned about the situation for several months now the reason it sent an Ad-hoc Committee on Security to Benue immediately after one of the major atrocities, earlier this year.
He said: "Our interventions culminated in the briefing by Service Chiefs last week; and we remain committed to ensuring security in this state in particular. Our efforts towards supporting effective solutions to the deteriorating security of the nation as a whole, shall be unrelenting.
"The condition of children caught in conflicts, many of whom we see here today, is particularly challenging, but the nation must never resign itself to living with this problem. This cannot become the new normal.
"Beyond millions of children in the North East who have missed out on education and vital social support for many years, there are others being deprived daily of parental care, development and security in many parts of the country. The fate of the Nigerian child today should spur all leaders into action, to bring an end to conflicts that make victims of the most vulnerable among us.
"We need to rediscover the vision that emplaces the young as the centre piece of national development and all endeavours. A nation that does not invest in its young by protecting it, investing in its health and education and skills and hope –or building economy that should make it productive – is doomed.
"Conflicts that make women and children prime targets, sap the national energy needed to resolve them. Every adult who is confined to IDP camps represents a waste of productive resource, and resources spent on running the camps are regretfully diverted from vital investments in human capital and infrastructure.
"Internally displaced persons are taken out of productive circles and activities, and they risk becoming permanently dependent. Rebuilding lives and communities become more challenging and costly the longer the conflicts last and occupy more space in our lives.
"I appeal to us all to use this National Children's Day to intensify efforts at finding lasting solutions to conflicts which give rise to camps such as this one. I strongly believe we can find these solutions; and that military and police presence and activities and IDP camps are not the only solutions we need," he said.
On his part, the Governor of Benue State, Samuel Ortom, thanked Saraki for the visit and the the National Assembly for approving more funding security agencies.
Ortom also thanked President Muhammadu Buhari, for approving a full military operation in the state which has so far brought relative calm and peace to troubled areas.
Credit: Olu W. Onemola
Support InfoStride News' Credible Journalism: Only credible journalism can guarantee a fair, accountable and transparent society, including democracy and government. It involves a lot of efforts and money. We need your support. Click here to Donate