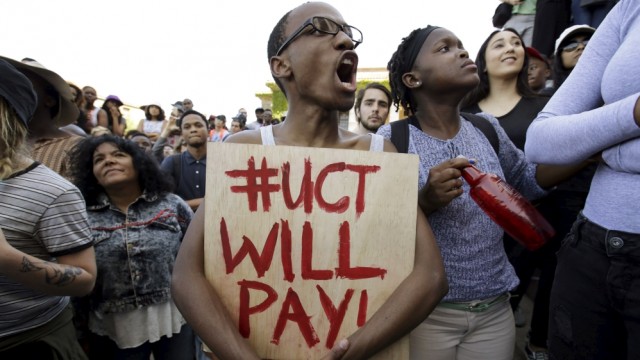 South African President Jacob Zuma has said he will meet student leaders and university authorities to discuss planned hikes in tuition fees that have provoked more than a week of sometimes violent protests nationwide.
Critics say the increases would further disadvantage black students, who are already under-represented in universities.
Zuma has not spoken publicly about the protests before and on Wednesday students stormed the parliament precinct in Cape Town to try to disrupt the reading of Finance Minister Nhlanhla Nene's interim budget.
Referring to plans for fees to rise as much as 11.5 percent, Zuma said in a statement on Thurday that: "Nobody disagrees with the message that students from poor households are facing financial difficulties and possible exclusion."
He said he would meet the student and university leaders on Friday.
Protests continued on Thursday, with thousands of students from Wits University and the University of Johannesburg marched through South Africa's commercial capital and gathering outside Luthuli House, the headquarters of the ruling African National Congress (ANC).
"There has been an awakening of sorts," protester Shaka Sisulu told Al Jazeera.
"There has been an increased amount of activism, particularly on campuses this year and it has increasingly been informed by an ideological position that is really positive – that is talking about a young South Africa."
---
RELATED: Students breach South Africa parliament during fee protest
---
Al Jazeera's Fahmida Miller, reporting from Johannesburg, said ANC leaders came outside on Thursday and blamed university administrators for the higher fees.
"The ANC say a unilateral decision was made – with no thought to the plight of students," she said.
"But it is the government who funds the national student financial aid scheme, to the tune of $4bn."
At least 15 of about 20 South African universities countrywide have been hit by the protests dubbed #FeesMustFall on Twitter.
A major protest was also held in Cape Town on Thursday, where students clashed with police.
[Al Jazeera]
The post Zuma to meet #FeesMustFall leaders as protests continue appeared first on African Media Agency.