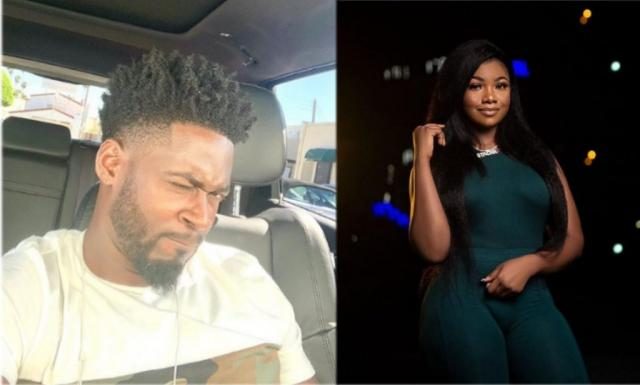 A Nigerian Facebook user, Joy Isi Bewaji has jumped on social media to say she feels the relationship between BBNaija's Tacha and her new management headed by Teebillz, will not end well.
According to her, Tiwa Savage's ex-husband is not the best man to manage her and he will most likely do his job like he is managing a singer.
She added that even if she looks forward to a TeeBillz comeback after his past sagas, it will not happen with this current project.
Her words, "So one of the housemates of BBNaija, Tacha, is being managed by Teebillz.
OK.
I'm not trying to knock anyone's hustle, but this will end in tears.
There would be the attempt to be very professional with her brand."
She is a reality star, she doesn't need that much calculated branding. She needs to be organic, almost as if things are happening around her and she's in awe. The brand has to remain untreated with an element of artlessness.
Teebillz is going to try and build her like he is building a real artiste. She is not an artiste. She is a reality star.
And the fact that it is such a publicised management is a problem. She is going to miss out on a few things because people do not like Teebillz. It's a fact.
The management at some point will become the problem instead of solving the problem.
I checked her IG page and it is boring. She needs to do randomly themed photoshoots that are stunning, just for the heck of it. Portraying other types of women – women she probably admires across history OR women her management wants her to admire.
People need to see her in more beautiful clothes. Brands need to see how she plays up her best features, and find some hidden talent within those pictures that will resonate with their brands.
Teebillz is going to use his contacts to try and make her popular or get her endorsements. His contacts in the last two decades were mainly in entertainment, particularly in music. Again, Tacha is not an artist."
"He can have a role to play in her brand, but to be the one in charge of what she becomes as a figure after a show like BBNaija, is not a feat Teebillz can pull.
He can try, because he needs to redeem himself, but you can't give what you don't have.
I don't even think corporate Nigeria likes him very much. It'll be a problem for her own brand. She'll be carrying this man's wahala along. Tiring.
I think she needs to be organic. I really think so.
Look at the crowd that met her at Festival Mall the other day. I saw the video and I couldn't believe it. Not even Cee-C could pull a crowd like that.
She needs to be organic. It has to be natural. She needs to also embrace a bit of her original self."
"Her IG journey has to be a story from flawed to unmerited success.
The demerit of management, however, is the ambition to polish her too quickly. Even in first world countries, there's a small delight to see celebrities act flawed."
"Her page doesn't have any personality. It is too polite, too appropriate, it takes away the element of what her fans like about her.
I still haven't watched what made them disqualify her (and I won't), but she is loved, and she didn't get all that love from TeeBillz branding, she got it because she is flawed. That "flaw" needs to be fine-tuned, not completely erased.
.
There's also the fact that TeeBillz likes being in the centre of what's going on. He too likes the camera and the fame.
It is always a bad idea to work with a publicist or manager that likes fame.
A company I worked for a long time ago, I remember telling my boss to stop hiring people who want fame. It's tough, because the camera is supposed to be on ONE person. Everybody has to take a backseat. It is probably why I get along with all the actresses I have worked with. I am not in competition with them. They are the celebrities, I am the writer. Our assignments are very different.
Not too many people understand that. Soon Teebillz may be walking down the red carpet with her, trying to revive his own hunger for the spotlight.
And there's the whole history with Tiwa, the mismanagement of funds, the lau lau spending, things like that.
I wish Tacha would just follow the Cee-C route and own this narrative, get endorsements and spoil us with beautiful pictures made for brands.
Olaide, my friend, talks about her all the time, so I had to pay attention.
I really wish her well.
But I don't trust a Teebillz management to look out for her, not because he wouldn't want to, but mainly because he probably doesn't understand what a woman like Tacha needs to project as a brand.
By now she should have a lot of brands queuing up to endorse her. Things are moving too slowly. She has the highest number of followers of any of the housemates from this season on IG (as I read, haven't seen the others).
That number of followers took Cee-C months to gather! Tacha gathered in days!
No. This management is wrong for her.
I'm all for TeeBillz come back o! But not with a Tacha brand"
Do you agree?
Big Brother Naija, formerly known as Big Brother Nigeria, is a Nigerian reality competition television series, based on the Big Brother television franchise, in which 12 to 21 contestants live in an isolated house and compete for a large cash prize worth $171,428.57 equivalent to 60,000,000 Nigerian Naira, and other material gifts, at the end of the show by avoiding being evicted from the house by viewers. The first season of the show first aired on DStv Channel 37 from March 5 to June 4, 2006. The voting results were verified by the auditing company of Alexander-Forbes. A second time of the series premiered on January 22, 2017, a third season premiered on January 28, 2018 and a fourth season debuted on June 30, 2019 in Abuja, Nigeria.
Support InfoStride News' Credible Journalism: Only credible journalism can guarantee a fair, accountable and transparent society, including democracy and government. It involves a lot of efforts and money. We need your support. Click here to Donate