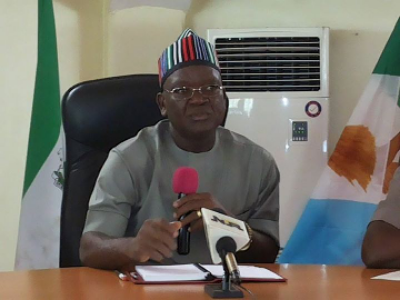 Samuel Ortom, and respected Benue leaders have rejected President Muhammadu Buhari's plan to create cattle colonies in the state during a stakeholders meeting on Monday, January 15, 2018.
The governor, who's always opposed the plan, said that the Minister of Agriculture and Rural Development, Audu Ogbeh, who is proposing the idea, explained that the cattle colonies are a combination of several ranches.
He said, "Like I told you the last time I came here, I did not understand what colonies meant. Today, I was privileged to meet him (Ogbeh) and he did explain to me that a colony is many ranches out in one place, restricted in one place.
"So for us in Benue State there is no 10,000 hectares, they are looking for 5,000 hectares we have no 10 hectares to allow it for that kind of a thing to take place. So people are free.
"Other states have the land but we in Benue State we don't have and that was what led to us enacting this law."
In attacks allegedly carried out by Fulani herdsmen in Guma and Logo Local Government Area of Benue between Sunday, December 31, 2017, and Tuesday, January 2, 2018, 50 people were reportedly killed.