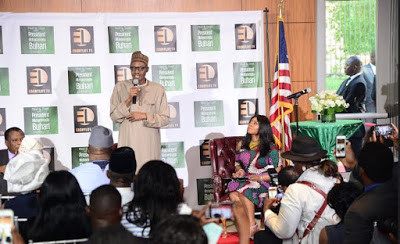 President Muhammadu Buhari said on Wednesday that his government was examining pieces of evidences that would lead to the arrest and prosecution of some former ministers and other government officials for stealing Nigeria's crude oil.
Mr. Buhari said this at the Nigerian Embassy in Washington while answering questions at a session with Nigerians in the Diaspora. He said it will take at least 18 months to revive the economy.
He lamented that some of the affected officials were involved in illegal sale and diversion of crude oil monies belonging to the Federal Government to multiple private accounts abroad.
"We are now looking for evidences of shipping some of our crude, their destinations and where and which accounts they were paid and in which country.
"When we get as much as we can get as soon as possible, we will approach those countries to freeze those accounts and go to court, prosecute those people and let the accounts be taken to Nigeria.
"The amount of money is mind-burgling but we have started getting documents.
"We have started getting documents where some of the senior people in government, former ministers, some of them had as much as five accounts and were moving about one million barrels per day on their own.
"We have started getting those documents. Whichever documents we are able to get and subsequently trace the sale of the crude or transfer of money from Ministries, Departments, Central Bank.
"We will ask for the cooperation of those countries to return those monies to federation accounts and we will use those documents to arrest those people and prosecute them. This, I promise Nigerians".
The President frowned at the way and manner the Nigerian National Petroleum Corporation was mismanaged, saying his administration would check the excesses of the corporation.
He said his administration was carefully studying the issue of oil subsidy.
Mr. Buhari said he would not be a party to taking decisions that would further impoverish Nigerians in the name of removing oil subsidy.
"When people ask you to remove subsidy ask them to define it. Who is subsidizing who? Let me make it clear. The people are gleefully saying 'remove subsidy'".
"They want petrol to cost N500 per litre. If you are working and subsidy is removed, you can't control transport, you can't control market women, the cost of food, the cost of transport.
"If you are earning N20,000 per day and you are living in Lagos or Ibadan, the cost of transport to work and back, the cost of food. You cannot control the market women they have to pay what transporters charge them.
"If there is need for removing subsidy, I will study it. With my experience, I will see what I can do. But I'm thinking more than half the population of Nigeria virtually cannot afford to live.
"Where will they get the money to go work? How can they feed their families? How can they pay rent?
"If Nigeria were not an oil producing country – all well and good. Our refineries are not working. We have a lot of work to do".
On the appointment of ministers, Mr. Buhari dismissed those accusing his administration of being too slow in taking crucial decisions relating to governance and appointment of political office holders.
He cited the immediate past PDP government, which he said spent more than two months to settle down during its 16-year rule.
"In some quarters they are now calling me 'Baba Go Slow'. I'm going to go slow and steady".
Mr. Buhari also pledged to study the Diaspora Bill with a view to signing it into law as requested by the Nigerians in the Diaspora.
He advised Nigerians living abroad and searching for government jobs back home to suspend their ambition as the nation's economy is in a bad shape as it would take his administration at least 18 months or more to resuscitate it.
The president, however, promised that some of the job seekers would be engaged by the Nigerian Government as consultants to enable them contribute their quota to the nation's development.
All those who spoke at the interactive session expressed their readiness to assist the APC-led administration of Buhari to achieve its campaign promises for the benefit of Nigerians.
They also called on Mr. Buhari to sign into law the Diaspora Bill.
(NAN)
The post We'll Arrest, Prosecute Some Former Ministers For Stealing Crude Oil, Says Buhari appeared first on INFORMATION NIGERIA.
Support InfoStride News' Credible Journalism: Only credible journalism can guarantee a fair, accountable and transparent society, including democracy and government. It involves a lot of efforts and money. We need your support. Click here to Donate