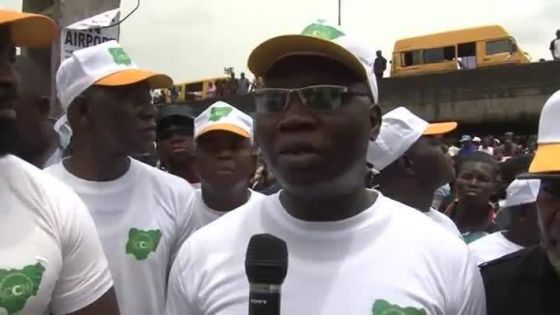 National Coordinator of the Yoruba militant group, Oodua Peoples Congress, Chief Gani Adams, has said his group's grouse against former Lagos Governor, Asiwaju Bola Tinubu and his party, the All Progressives Congress, stems from Mr. Tinubu's instruction to governors of the South-West states under the platform of the party not to deal with or empower the OPC.
Mr. Adams said this at a press conference in Lagos on Tuesday in reaction to reports that the OPC has been paid to disrupt the forthcoming general elections in the South-West.
He said while Mr. Tinubu plotted to destroy the OPC by denying it of government patronage, President Goodluck Jonathan, who is seeking re-election on the platform of the Peoples Democratic Party, PDP, has been generous, awarding pipeline protection contracts to leaders of the organization and other militants across the country.
"Deliberately Tinubu instructed all the governors (South-west governors) don't work with OPC, don't empower OPC, don't associate yourself with OPC", Mr. Adams said.
"Ask our people from the south west, if you treat us very well, why should we get an opportunity from your enemy? If you gave us jobs, if you empower us, we would turn down the offer from the federal government. Because you neglected us, you don't want the organization to exist anymore".
Mr Adams admitted that he, founder of the OPC, Dr. Frederick Fasheun, and another militant leader from Ondo state were given multi billion naira contracts to protect pipelines, saying as Nigerians, they have a right to share from the nation's commonwealth.
He said, "They alleged that some ethnic militia collected nine billion. What I know is that President Goodluck Jonathan gave us a contract to protect pipeline and in that pipeline contract, the analysis is that Nigeria is losing 1.3 trillion naira every year to vandals. And when you see how much they will pay us for a year, in six zones- we have three zones in south west, three in South-South. I have only one in South-West; Dr. Fasheun has one and another guy in Ondo has one.
"The entire money NNPC will spend for us to protect the pipeline is not up to four billion for the six zones. You know what happened? They intentionally wrote the propaganda to affect the rally of last Monday, and at the same time, they haven't given us a dime for the contract. President Jonathan has not given us money; we are just planning on how to start the job now. You cannot get money, it's not a contract of buying something.
"As a Nigerian, we have a right to share from the commonwealth and that does not mean they have induced us. Tinubu is the chairman of Oando, and it's an oil company and hardly will you see any governor in Nigeria that does not have interest in oil business. Hardly will you see any that minister does not have interest in oil business. Look, the south-south has been benefiting from the Amnesty package from the past four or five years. We have never benefited from it".
The OPC leader described the APC as a party that thrives on propaganda, adding that his organisation wants the country to move forward and has decided to support the re-election bid of President Jonathan.
"We are not saying because we are supporting President Jonathan, we should be an enemy of other political parties. When you watch carefully, you will realize that nothing less than 23 political parties partially support President Goodluck Jonathan; so we are not here to harm any other political party", he said.
Speaking on the protest by the OPC for the removal of the Independent National Electoral Commission's chairman, Prof. Attahiru Jega, which many Nigerians, particularly the APC termed a violent protest, Mr. Adams denied the allegation, saying it was one of APC's many lies.
"We deliberately kept quiet for one week to make sure that they lied to the extent that we would come out to tell the world that 85 per cent information coming from the APC is fallacy.
"You can't win an election based on fallacy or propaganda and they have used their strength to concentrate on CCN protest rather than to go from house to house to campaign.
"If you watched (sic) newspapers, you will see some parasites signing different press releases that Gani Adams should resign, you will see Shina Akinpelu, and then you see Monsuru Akande again, so you see the level of propaganda? We even investigated; the second press release was released from the state (Lagos) secretariat in Acme, coordinated by Ajomale. Why are they doing that?"
He stressed that the protest was not against Mr. Tinubu or the APC.
"We did not protest against Tinubu or APC. Why are they supporting the wrongdoing of Jega? I think most of them are product of free and fair election of 1993, so we should upgrade the conduct of our election and what happened yesterday has justified our protest.
"I don't see why you should deny 19 per cent which is 12 million registered voters of their right to enfranchise. And if you recall, in the June 12, 1993 presidential election, the number of Nigerians who made the difference for MKO Abiola was 14 million. By the time you deny 12 million people the chance to exercise their right, certain signal is coming, but I'm appealing to Nigerians, they should not allow Jega to provoke them. Let us accept the faith but let the history run against Jega".
Mr. Adams insisted that his group is not a threat to the coming elections and was not sponsored by President Jonathan.
"Well, we have witnessed 1999 election, we didn't get involved in violence, we witnessed the 2003, we didn't disrupt the election, 2007 same thing happened, 2011 same thing happened, why should we disrupt election?
"We challenge them, let them take the pictures to the police to investigate and identify those who destroyed that billboard. The picture that was first sent to the internet was a picture of an event held on eighth of December by Dr. Fredrick Fasheun. So I'm appealing to concentrate on how to win the election and the heart of the electorate and not to be concentrating to destroy the character of anybody who supports President Goodluck Jonathan
"We have been funding our organization before election; you will realize that we have not less than 25 programs in a year. Who is funding those programs? Why should they insinuate that anything that comes from us because of our belief to support President Jonathan that it's because of money?"
Support InfoStride News' Credible Journalism: Only credible journalism can guarantee a fair, accountable and transparent society, including democracy and government. It involves a lot of efforts and money. We need your support. Click here to Donate