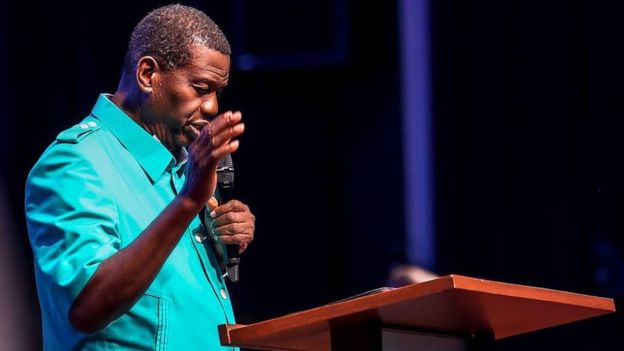 Popular Nigerian pastor, Pastor Adeboye has come out to talk about what sets him apart from other pastors.
The man of God recently said holiness has been his secret for a long time because it matters the most to every man and will forever be the key to everything.
According to him, living a holy life has led to his success because, without total obedience to the will of God and his commandments, human beings will always fail.
He added that younger ministers should keep getting closer to God because the majority of them are beginning to forget that Jesus is coming back with their misrepresentation of the gospel of grace which is leading people astray.
His words in a recent chat, "1. Holiness is master key
2. Holiness is complete obedience to God
3. 90% thanksgiving and praise is a secret
4. Spend quality time with God in the secret and He will show up with you in the open
5. Never take God for granted
6. You must have a vision and be specific on how you intend to win
7. There is a need to be Adaptable while still maintaining your core
8. Make new friends (silver) and keep the old ones (Gold)
9. We must live our lives looking forward to the return of Jesus (we must stay rapturable). We are only pilgrims here."
On what sets him apart, "I want to thank God that early in life in my Christian walk, I learnt that holiness is a matter of must and that it is the key to everything. I learnt that if you want to succeed in life and want to amount to something you need to live a holy life. I learnt that holiness is the nature of God. But that on our own part it is obedience to the will of God and his commandments. I saw that in Deut 28v20 that if you obey the Lord he will prosper you. So it dawned on me that with holiness no one will tamper with my promotion and my progress in life. That is why I dedicated myself to a lifetime of holiness."
His advice to young ministers, "I think they should do as we do in the RCCG. We regard ourselves as one family. No one is the boss and nobody pushes another. We show the way to follow by leading by example. If I ask my children to fast I make sure I fast myself. I take the lead in doing whatever I ask them to do."
"The most worrisome thing I see among the younger ones is that majority are beginning to forget that Jesus is coming back again. In our younger days we were always expectant of the coming of the Lord. And in fact we used to greet ourselves in that direction. We were always looking forward to when the Lord would come back. We also always prepared for the rapture and we ensured we did not do things that would make us miss rapture. But today people are more concerned about prosperity. They are beginning to forget that we have a home in heaven. I am concerned about this generation also because of the misrepresentation of the gospel of grace which is leading people to careless living. It is true we are saved by grace. But then we have been called onto holiness. My prayer is that God will help us to finish well."
Support InfoStride News' Credible Journalism: Only credible journalism can guarantee a fair, accountable and transparent society, including democracy and government. It involves a lot of efforts and money. We need your support. Click here to Donate