As February 2022, slated for the national convention of the ruling All Progressives Congress (APC) draws nearer, many aspirants have thrown their hats into the ring to contest for the national chairmanship position of the party.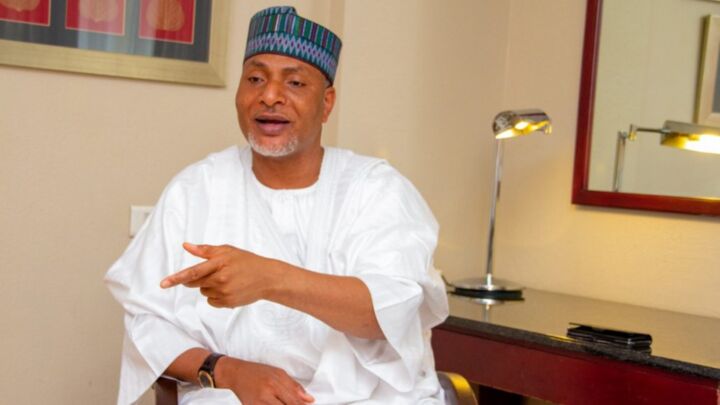 They are not just going around the country to sell their agenda to the party members but espousing various sentiments that may help them to achieve their ambition.
Saliu Mustapha, former national deputy chairman of Congress for Progressive Change (CPC) is not just one of those eying APC's national chairmanship office, he is imbued with many attributes that are working in his favour. Young and determined, the 50-year old politician is highly favoured by critical stakeholders of APC to lead the party to general elections in 2023.
To him, the time has come for young people to take important positions in political parties because of their numerical strength, which he put at 80 percent of the voting population in Nigeria. The #EndSARS protest of last year is an eye-opener, which any party willing to win elections cannot ignore.
Making reference to the decision of the opposition Peoples Democratic Party (PDP) that elected a 25-year old member as its national youth leader, Mustapha said his party should do better than PDP by electing him as national chairman of APC.
He said, "Today in Nigeria, we have to come to the realisation of the fact that 80 per cent of the total vote cast in this country belongs to the younger generation, we had a nationwide protest by the youths called #EndSARS; that protest became an eye-opener to other things in this country. The younger generation now knows that the voting tool is now in their hands. PDP has elected a younger person as their national youth leader, hoping to harness from that 80 per cent voting population. APC can do better, if the party found me worthy and make me the chairman, why would the youth go on protest when they have someone like them in that office, they would probably support APC and be part of the party."
His mien and age betray his long voyage into politics and the experience he has gathered as somebody who has been active in politics at a very young age.
He said, "I'm not new in politics. I have paid my dues in this terrain. I have always tried to build. Maybe that is why we are not recognised because we have always been in the background. But as I said, I was the Deputy National Chairman of CPC. I was number two in the whole hierarchy of the party nationwide. Before then, I was in ANPP, APP. I worked very well with the late Prince Tony Momoh. And I think I was the youngest then in that movement."
For Mustapha, who has spent over two decades in politics, he believed he has acquired enough experience to foster unity and carry all members of the party as one family to achieve what they have promised Nigerians in their manifestoes. Seeing himself as a problem solver, Mustapha believes that various challenges facing the party are surmountable and he is optimistic that those challenges will make the party stronger.
"I don't think there is any new trick one has to learn again, rather than to be just and fair in this game. And that is why in my own politics, it is not a do or die affair. That is why you are right to say I'm coming out like a gentleman. Yes, politics should be for gentlemen. We shouldn't behave like touts or be rough in it. It should be a game of decorum.
"Politics should be the most civil thing. That is why sometimes, you see how beautiful the British Parliament operates. Even in America, you see how questions are being thrown to leaders; they don't take offence, because they are there to serve. They don't arrogate to themselves monopoly of arrogance or knowledge."
Mustapha, who is the fourth Turaki of Ilorin is vying for the topmost party position at the time APC in his state is completely polarised between the loyalists of the state governor, AbdulRahman AbduRazaq and Minister of Information, Alhaji Lai Muhammed. Kwara APC did not only hold parallel congresses but has two factional secretariats in the state.
But the rancorous position of the Kwara APC did not give Mustapha a sleepless night as he sees the disagreement between the two factions as what he would resolve as soon as he occupies the office of national chairman of the party.
He said, "I am one of oldest members of the party in the state because I led CPC to the merger that formed APC. We know the genesis of the crisis and we shall resolve it and make everybody happy. Disagreement is normal in politics, so also dialogue to resolve differences."
Mustapha is very clear of what he wanted to achieve if voted as the substantive national chairman of the party. He believes he has the capacity to sustain the winning streak of APC and make the party more accountable to Nigerians in terms of delivering on its manifesto and promises to the people.
He said, "First and foremost, it is an ideological path for me to be in APC and also in a progressive party. I am in the race to contribute in a positive leadership for all and help to bring about a disciplined, stable, focused and purposeful party for all with new ideas, and a fresh face that resonates with the younger generation.
"I will also become a bridge between the different strata of our society. I intend to bring about my long-standing abilities in party administration to help create an enabling environment for all so as to have a party and candidates that would deliver on good governance and also continue with the good works of the present administration led by our leader and father, President Muhammadu Buhari. So, I believe there is a need for an equally strong successor leadership not only at the national and sub-national levels but also at the party level that is the vehicle through which the successor government would emerge. This is what I envision and this is why I am in the race for the national chairmanship of APC."
Undoubtedly, the contest for the office of the national chairman of the ruling party will be tough, given the calibre of eminent party leaders that have indicated an interest in the office. At the moment no fewer than eight APC leaders consisting of former governors and senators will slug it out with Mustapha, the youngest but highly favoured to continue from where Yobe State Governor Mai Mala Buni, who has been directing the affairs of the party in an acting capacity, will hand over the mantle.
But Mustapha said he was not intimidated by the pedigree of his co-contestants but looking forward to collaborating and drawing from their rich experience as national chairman of the party.
He said, "It is not about title, it is about what I can offer. I cannot be intimidated by the name of former this, former that. What is important for me is what I have to offer. I am only appealing to some of them to give me their endorsement because I know I have something to offer, it is about ideas and what you have to offer, not about previous positions you have held."
Support InfoStride News' Credible Journalism: Only credible journalism can guarantee a fair, accountable and transparent society, including democracy and government. It involves a lot of efforts and money. We need your support. Click here to Donate