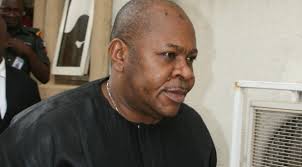 Reprieve came the way of Lagos lawyer and prominent socialite, Fred Ajudua Wednesday, after a Lagos High Court sitting in Ikeja discharged him of an allegation of defrauding two Dutch businessmen of $1.69 million proffered against him by the Economic and Financial Crimes Commission (EFCC).
Ajudua was arraigned alongside one Charles Orie for the same offence.
The anti-graft agency had alleged that the defendants defrauded the victims by claiming that the money was for help to facilitate a contract worth $18 million on behalf of the complainants.
It would be recalled that the duo were first arraigned before Justice Joseph Oyewole in 2003 for allegedly defrauding Remy Cina and Pieere Vijgen (two German businessmen) of $1.69 million, but jumped bail in 2005 until their reappearance in 2013 after an arrest warrant was issued by Oyewole.
Ajudua and Orie were alleged to have conspired with Rasheed Adekunle, Abisola Fawehinmi and Stephen Joiner, who are still at large to commit the said crime between 1999 and 2000.
The case, however, suffered various setbacks as the EFCC failed to produce some foreign witnesses in the matter since 2003 when the case was first instituted.
At the resumed hearing yesterday, counsel to the EFCC, Mrs. E.A Sanusi, told the court that some of the principal witnesses in the matter had vehemently refused to come to Nigerian to testify on the matter because of the recent outbreak of Ebola in the country.
She further said that in the circumstance, the EFCC has no other option but to ask for the withdrawal of the charge.
Granting the request, Justice Kudirat Jose ordered that Ajudua and his co-accused be discharged of the charges. The judge, however, did not acquit them of the charges.