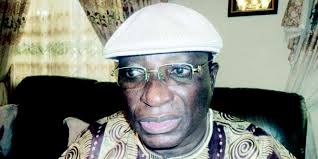 A former Governor of Plateau State, Ambassador Fidelis Tapgun, on Friday berated the leadership of Peoples Democratic Party (PDP) in the state for disowning him and also for describing him as an "impostor".
The state PDP had in a statement signed by its Secretary, Prince Pam Sale, warned Tapgun and another former Governor of the state now Senator, Chief Joshua Dariye, to stopparading themselves as members of the party, describing them as impostors.
"They are those who had left the party to other parties, fought the party in the last elections and today want to contest without being officially received as returnees", the statement said, adding that it was "totally unacceptable".
While insisting that the former governors were not members of the party having deserted it in the past, the state PDP urged them to save themselves from embarrassment by not getting involved in any of the party's activities but should rather wait until after the party's primaries are over before they can nurse the idea of returning back to the party.
But Tapgun, in his reaction to the PDP's position, described it as "self-deceit".
The former governor, who had already purchased his nomination form to contest the 2015 governorship election under the party's platform, said that what the state PDP has failed to realize is that it cannot operate independent of the national PDP, which not only recognised him and others as bona fide members of the party, but also sold the nomination form to contest the Plateau governorship election to him.
His words: "The Plateau PDP should know that it is not operating in isolation of the national PDP. Since 2012, I have revalidated my membership of the party. If this is not so, the party would not have sold the nomination form for me to contest the governorship election.
"And the people are behind us because we are on course. So the state PDP cannot be innocent or mischievous to claim otherwise and as such people should disregard their antics whatsoever".