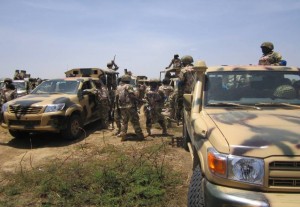 Nigeria's military, Monday said that it had driven out Boko Haram from Yobe State, after reclaiming the town of Goniri.
"We announced the reclaiming of Goniri today," defence spokesman Chris Olukolade said via twitter. "That was the last stronghold of terrorists in Yobe … #YobeIsFree."
Yobe is one of the three states that have been the epicentre of the Boko Haram violence that has killed more than 13,000 and displaced 1.5 million people since it began in 2009.
Last week, the military said Adamawa state had been cleared of Boko Haram fighters.
"Adamawa is free, Yobe is free, Borno is soon to be freed by our able military," Olukolade wrote in another tweet.
Last week, the government said 36 towns in the three states had been recaptured as part of the operation.