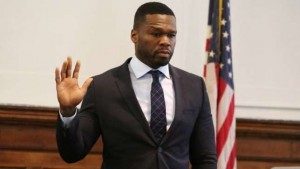 50 Cent hasn't slowed down with his attacks on Meek Mill and during his recent concert in New York City on Saturday, January 30, the 'Candy Shop' rapper had the crowd chanting "f**k Meek Mill".
The G-Unit boss performed at B.B King's Blues Club to promote the release of his new mixtape 'The Kanan Tape', and took the opportunity to add more fuel to his long-running feud with Mill by bringing up Meek's girlfriend, Nicki Minaj.
At one point during the show the crowd began yelling "F**k Meek Mill," and 50 Cent joked, "From now on, no more competition with n**gas that didn't sell over one million records."
The rapper then went on to insinuate that Mill uses his girlfriend Minaj to fight his battles for him, adding, "All you can do is run to Nicki."
As we earlier reported, both rappers engaged in an Instagram battle earlier this month, in which 50 Cent also used Minaj to get in a dig at Mill.
After Mill released his new single, 'Gave 'Em Hope,' in which he insinuates 50 Cent might be gay, 50 Cent shot back on Instagram, "LMAO Hey sh*t head, your career is over already. You better focus on getting Nicki pregnant so you can at least get child support girl."