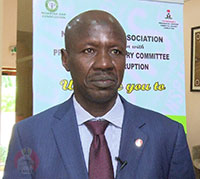 A Civil Society group has condemned the Senate over the rejection of Ibrahim Magu as the substantive chairman of the Economic and Financial Crimes Commission (EFCC).
The group, Muslim Rights Concern (MURIC), said the lawmakers are refusing to confirm Magu because they have something to hide.
The Senate last Wednesday refused to confirm Magu for the second time in three months.
In a statement released on Saturday, March 18, the group's director, Ishaq Akintola, said corruption is the underlining reason Magu is being rejected.
"Senate has shown that it is not fighting corruption. On the contrary, it is fighting for corruption by rejecting a firebrand anti-graft boss, it has exposed itself as an institution with skeletons in its cupboard," the statement read.
MURIC quoted Senator Godswill Akpabio of saying, 'Magu wants us to confirm him so he can use some of us for peppersoup.'
It said: "Akpabio's alleged utterance confirms our worst fears. This senate will not confirm any EFCC boss who refuses to withdraw cases involving its members. This Senate will not confirm any anti-graft boss who is not ready to treat senators as sacred cows even if they are corrupt.
"Our suspicion has been confirmed by senator Akpabio. Now we know why senate rejected Magu. It is simply because our senators hands are not clean so they fear a no-nonsense anti-graft boss."
ALSO READ: Magu joins Buhari at Friday's Prayer
The group said the "senate has demonstrated its readiness to kill EFCC and any other anti-corruption agency that has the temerity to investigate its members.
"The issue is not even Magu this time around. We also entertain the fear that these senators will not allow any other EFCC boss to function effectively even if Magu is removed.
"Senate does not want any agency investigating fraud anywhere around the red chamber. Senate wants its members to be untouchable.
"The first rejection of Magu was meant to serve as a yellow card from the senators and the message was clear, "Back off or we will never confirm you.
"The excuse used by Senate to deny Magu that confirmation is neither here nor there. Somebody somewhere is playing Jekyll and Hyde."
MURIC urged Nigerians to vote the 'corrupt' lawmakers in the next election.
"Nigerians should reject this crop of senators at the next general election. With the exception of a few senators, we are constrained to conclude that these are not the true representatives of the people," it said.
The group said for the war against corruption to be thorough, anyone facing corruption trial should not be allowed to contest in elections.