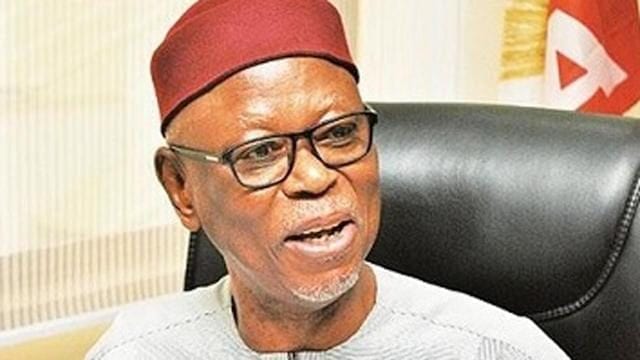 The national chairman of the All Progressives Congress (APC), John Odigie-Oyegn says President Muhammadu Buhari came to power 'when Nigeria was about to collapse.'
Oyegun said this at the APC National Secretariat in Abuja on Thursday, August 3, 2017, when he received political leaders from Delta Central Senatorial district who defected from the Peoples Democratic Party (PDP) to the APC.
"Economically, things are difficult, there is no question about it. But in spite of that people of your quality sat down and still want to join the boat, because you have seen the future and you know the future belong to a changed country. A country that produces, not only consumes." Oyegun said.
He continued: "In the last sixteen years of previous administrations, we just consumed. Thank God this nation brought President Buhari at the point it was about to collapse and all we are doing today is putting the pieces back together again. It is a difficult experience and as a result of that our people are going through some hardship. But there is no question at all, that you can see the silver lining that is on the way.
"By the end of this year, we will be net exporters of rice, today we have started to export formally yam.
Today we are about certain that all the grains in this country can be produce locally. These are all part of the building blocks towards the Nigeria that we foresee in another year or two.
"So, tremendous is progress is being made to reverse the road at which we were travelling, to build a new economy, an economy based on what we can produce. An economy based on agriculture, based on our solid minerals," he added.
"It is clear today that oil is gone. Britain has declared that in 40 years, vehicles that consume fossil fuel will be phased out. The United States of America and other countries of Europe have made similar declarations.
"So it is fortunate that President Buhari is today in office taking us painfully through the process of change such that this nation will be counted in another few years as one of the industrial power houses of the African continent." Oyegun said.
"I cannot resist but speak like somebody from the South-South on this very special occasion even though I belong to the nation as APC National Chairman. The point about us is that we are not tribal. The South-South is perhaps the strongest pillar for unity in this nation.
"The reality about the South-South is because we believe in the unity and oneness of this nation so strongly, we are ready to work with anybody who stands for one nation and one Nigeria.
"Today, two years now we have a new regime of change. Unfortunately to a large extent, we missed the boat. We have only one state in the entire South-South, Edo State. It is our resolve here at national headquarters to bring the South-South back into the mainstream of Nigerian politics.
"Because at the greatest point of danger for this country, it was the South-Southerners that stood firm at risk to themselves, at risk to their lives that this nation must remain one," he said.