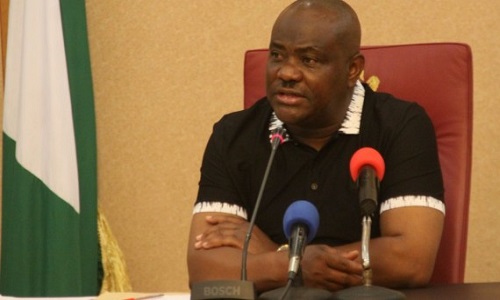 The Governor of Rivers state, Nyesom Wike has confidently mentioned that his government is in possesion of evidence of Rotimi Amaechi's fraudulent activities while he was Governor of the state.
Wike said this while addressing the 106th Quarterly Meeting of the Rivers State Council of Traditional Rulers in Port Harcourt.
According to reports, the Governor said Amaechi also accepted he paid $39m for a fictitious Justice Karibi Whyte Mega Specialist Hospital.
Wike said "All the documents that proved Amaechi's corrupt acts are authentic. We never forged documents.
The former governor himself admitted that he paid out $39m to Clinotech, without a single block laid anywhere. Is that a document he claims was forged? Where is the hospital?
"He has agreed in different interviews that he sold the state gas turbines for $309m. Convert $309m to naira and you will understand the level of fraud. Amaechi left only $204,000 in the state account.
"The bank statements of the pattern of withdrawals from that account are there for all to see. Can that be forged? The dates and amounts withdrawn are clearly written."
In a quick reaction, the spokesman of the Rivers state chapter of the All Progressives Congress (APC), Chris Finebone said "Continuously talking about sale of power stations by the former governor, Rt. Hon. Chibuike Amaechi, suggests that Governor Wike does not know what to do with his time. We ask: is it that Governor Wike has not heard of governments selling off assets before now? Even a child knows that governments sell assets based on cogent economic considerations.
"In the case of Rivers State, it didn't make sense to build, operate, maintain power stations then upload electricity to the national grid at great cost to the Rivers taxpayers without refund from the FG at the time when legal issues prevented the taxpayers from enjoying same electricity hence the sale of the power stations and the funds paid into the treasury as all funds must be appropriated.
"Let Governor Wike provide evidence that due process was not adhered to as stated here. It is really disturbing to hear a governor speak as if governments sell assets and spend the money outside the appropriation. All monies realised from the sale of various assets by the Federal Government are paid into revenue fund, which is eventually appropriated by the parliament.
"Governor Wike should provide proof that monies realised from the sale of power plants were not paid into the coffers of Rivers State. There is no doubt that the decision by Amaechi to approve the sale of the power plants was in the best interest of Rivers people whose resources would have been further spent providing electricity for others."