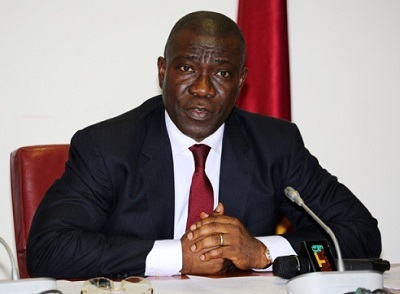 Senator Enyinnaya Abaribe has called for a thorough investigation into the alleged assassination attempt on the life of the Deputy Senate President, Ike Ekweremadu.
On Tuesday, November 6, 2018, Ekweremadu escaped an alleged assassination attempt on his life when gunmen reportedly invaded his home in Apo Quarters.
According to reports, Abaribe accused the police of covering up its findings.
He said "The deputy Senate president apprised this Senate with an alleged assassination attempt just as Nigerians were grappling with the implications of such an incident to happen to a person that represents Nigeria at the topmost level.
"The police last night came out to report in which it said that it was not an assassination attempt after a preliminary investigation of a few hours and now stated that it was a mere burglary.
"We have all noted and we know that these days are very ominous days for politicians in Nigeria.
"These days are very difficult for most of us especially for those who are politically exposed. For the police to quickly without even interviewing the person for whom this incident happened to. That is the deputy Senate president, wife and son and came out that it has already determined it to be a burglary.
"This actually boggles the mind. This is because what it tells us is that anything can happen to each and every one of us and, police will immediately come out to say Oh! this is what happened.
"But we know that in this country, Bola Ige was killed in his home. We know and also is a fact that the former gubernatorial candidate for PDP in Lagos state, Folunsho Williams was also killed in his home. And the investigation is still going on till today.
"For the police to quickly and willy-nilly dismiss this home invasion that could have led to a fatality and, say Oh! it was just a burglary. And what was their proof- because somebody else was burgled around the area. And nobody knows how they came with such a conclusion.
"So I would like this Senate not just to dismiss this matter but to ask for a thorough investigation to be carried because I know if we want to do investigation, we will do it.
"I know that in this country, an Army General that was killed, they investigated until they found his remains and where he was buried. That means that if we insist on doing the right thing, we will do it.
"So, our fear today is why is the police engaging in a cover-up. Why is the police continually at any time that it concerns people that do not have presidential oversight or presidential cover, they quickly come out and have a report very very ready.
"We must go beyond this mere surface dressing and, look into this matter".