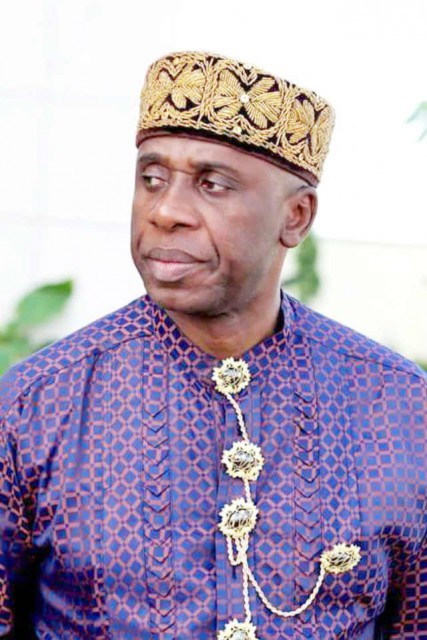 Rotimi Amaechi, ex minister of Transportation has spoken to Vanguard about the state of Nigeria and how her democracy can be more concrete by allowing an Igbo man to become president.
He said even if the Igbos weekend their chances by not exercising their franchise in favor of Buhari, they still deserve the slot in 2023.
On if Buhari's government has reduced poverty, he said, "Not even three or four administrations in Nigeria can do that because the level of poverty is deeply rooted. Look at it this way if an economy is running purely on agriculture and a new president comes and say no, no, that it won't continue, we have to re-gig the economy to create productivity. Before you cannot finish creating such products, it would take more than 15 years because at that point you are not just talking about agriculture, you are talking about industrialisation, you are talking about power, you are talking about roads and transportation.
Now, the president is focusing on roads, power, and transportation. Look at the railway, If we do Lagos to Kano for $8.3 billion. Of the $8.3billion, N5 trillion is for just 1,500 km of railway meanwhile our budget is just N8trilion. If you remove N8.5 trillion from our budget on rail lines, what about salaries and other sectors of the economy? So no one government can fulfil all that. It is a gradual process and that is why we are taking the railway project in several segments.
And then we are under political pressure from everybody who wants rail lines in their side to be done. We have done Abuja to Kaduna, we are doing Lagos to Ibadan, we have asked for a loan for Port Harcourt to Warri and then Benin to Onitsha while also trying to complete Ibadan to Kano."
On the Presidential election in 2023, "I had made my views clear when I spoke before the election. I encouraged the Igbo in a lecture I delivered in Awka where I said Nigeria's politics is not about merit. I think we can choose the best president from the Igbo this time because they have not been elected as the president of Nigeria.
That is the only part among the three majority tribes that have not produced the president and I feel it is their turn. After the election, I made another comment that if they had voted for President Buhari, it would have been easy for you as a people to make a demand on the presidency. These were the two comments I made and since then I have gone to sleep."
"Because it is a lot easier to convince the ruling party that you brought in your votes and therefore you should be considered to produce the presidential candidate for the office. In the same way, is it the best for Nigeria to produce the president on a zonal basis? I don't think so but since we have not grown to look for the best material that we have in any part of the country, it would have been right to say let the Igbo have a shot at the presidency and that does not mean they don't have a good hasnd. You would certainly see a very good material in that area for the presidency."