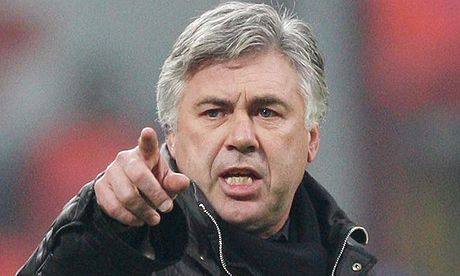 Napoli manager, Carlo Ancelotti is not happy with the poor state of the club's San Paolo stadium.
He recently talked about how the dressing rooms were an epitome of "inadequacy and unprofessionalism."
The popular old ground is owned by the Comune di Napoli, Naples' city council, but is synonymous with the Serie A club, who have been playing there since the construction of the stadium happened in 1959.
At the end of the recent season, San Paolo underwent fresh rebuilding efforts as it was host ground to the Summer Universiade games, which accomodated its capacity reduced to 55,000 spectators.
Howeever, despite being told that work will be completed after the start of the Serie A season, Ancelotti was not happy with seeing Napoli's home in shambles.
Ancelotti said, "I saw the conditions of the San Paolo dressing rooms. I am speechless," the veteran coach fired in a statement published on Napoli's official website.
"I accepted the club's request to play the first two matches of the season away from our home, so that the work could be completed, as promised."
"You can build a house in two months and they were unable to refurbish the dressing rooms! Where are we supposed to change for the matches against Sampdoria and Liverpool?"
"I am outraged by the inadequacy and unprofessionalism of those who had to carry out this work. How could the Region, Municipality and Commissioners disregard the commitments they made to us?
"I see contempt and a lack of care for the team, club and the city. I am dismayed for that."