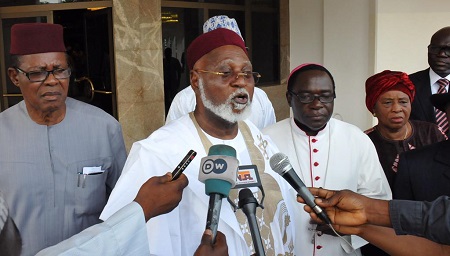 Members of the National Peace Committee for the 2015 General Elections led by former Head of State, Gen. Abdusalami Abubakar (retd.), are currently holding a closed door meeting with President Muhammadu Buhari at the Presidential Villa, Abuja.
Buhari and former President Goodluck Jonathan signed a peace accord ahead of the March 28 presidential election at the instance of the committee.
Those who are attending the meeting alongside Abubabakar and Buhari include the Sultan of Sokoto, Alhaji Sa'Ad Abubakar III; the President of the Christian Association of Nigeria, Pastor Ayo Oritsejafor; Primate of the Church of Nigeria, Anglican Communion, Most Revd. Nicholas Okoh; Catholic Archbishop of Abuja, Cardinal John Onaiyekan; a former President of the Nigerian Bar Association, Mrs. Priscilla Kuye; and Senator Ben Obi among others.
The meeting might not be unconnected with Jonathan's secret visit to Buhari last week amid speculations the ex-president is seeking a soft-landing in light of recent revelations of monumental stealing of public funds by officials of his administration.