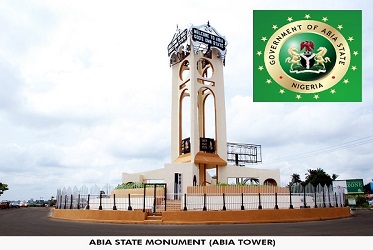 Former governor of Abia State, Orji Uzor Kalu, is a man in constant pains. The only moment he gets temporary relief is when he indulges in discrediting the landmark development efforts of the visionary Governor of Abia, Chief Theodore Ahamefule Orji. Kalu engages in this ignominious past time through his characteristic grandstanding or getting any of his hirelings like one Ebere Wabara to do it on the pages of his propaganda tool, The Sun newspaper. Wabara was at his elemental parroting of his master's voice in an article published in the Daily Sun edition of Thursday January 30, 2014 entitled "Kalu: T.A. Orji's self-delusion". If anything the writer ended up drowning in the arcane hollow ritual of mouthing that nothing is working in Abia. This trite lyric, which is only music to the ears of Kalu and his blind converts like Wabara has become meaningless to the people of Abia and those that value development.
The pains that Kalu is suffering today can easily be located. He does not need to visit the ultra modern diagnostic centre built by Governor Orji to find out the source of his pains. Orji has made Abia to rise from the ground where Kalu left it sprawling in underdevelopment. If Walter Rodney were to write a sequel to his famous book, 'How Europe Underdeveloped Africa' he would have found a fitting subject in Abia State under Kalu and come out with a book titled, 'How Orji Uzor Kalu Underdeveloped Abia State'. But a new dawn has been ushered in by Ochendo. God's own state is now moving in leaps and bounds thereby rubbishing the inglorious eight years of Kalu's mamacratic administration. That is the main cause of Kalu's pains. Wabara painted a fictitious picture of Abia as state in decadence, especially in the major cities of Umuahia and Aba, the commercial hub. But as usual he did not give his readers the benefit of making comparism with the standard set by his principal when he left office in 2007. One would have expected the man who described himself as media adviser to Kalu to point out the specifics. Which good road did Kalu bequeath to the people of Abia and his successor allowed it to decay? Wabara, you claimed to have traversed Aba and Umuahia during the last Christmas, now tell us if anybody pointed to a hospital or even a health centre built by Kalu which has now gone in ruins because Ochendo could not "sustain the institutionalized growth ethos in the state."
One can only but sympathize with Wabara and others blindfolded by Kalu. This crop of people doesn't even know what development is all about hence they can not recognize it when they see one. Kalu hated development with passion and he made sure that Abia under his care did not witness any. He antagonized both the federal government and donor agencies and frustrated every development programme meant for the state. Kalu as governor behaved like the biblical Pharisees who did not want to go to heaven and blocked the road for those who want to go. Moreover the sorry state of security was enough to scare away investors from Abia. So there was no development in Abia during Kalu's locust years of governance. Wabara should be excused for his ignorance about development indices as his principal did not leave any legacy for which Abians could remember him. Look around the other states in the South-east and see what Kalu's contemporaries left behind. In Imo State Chief Achike Udenwa built a befitting secretariat, among other infrastructures. In Enugu State Dr. Chimaroke Nnamani built a university, teaching hospital, Ebeano tunnel, among others. In Ebonyi State Dr. Sam Ominyi Egwu pursued aggressive man power development of his people, churning out thousands of professionals trained in foreign and local universities. What did Kalu do for Abia State for which he should be fondly remembered like his contemporaries in the neighbouring states? Let his spin doctors take up this challenge and point out any single structure in Abia State today with the signature of Orji Uzor Kalu.
The people of Abia have indeed breathed a sigh of relief because it is now that the state is witnessing development in its real meaning. Today, Abia State has a new secretariat for its ministries, international conference centre, specialist hospitals and state of the art diagnostic centres, over 250 health centres across the state. The state capital has been made to drop in a hurry the inglorious garb of being referred to as glorified village. Umuahia is now a beauty to behold, thanks to the Ochendo urban renewal programme through which the main market, industrial market and spare parts market have all been relocated to modern structures built in the northern, eastern and southern sections of the capital territory thereby freeing the city for expansion in every direction.
So many infrastructures hitherto not seen in Umuahia have now sprung up. For eight years Kalu lived and presided over the affairs of Abia from a rented property as government house. He never saw any need to build a befitting government house for Abia but his successor has already gone far in executing this project. If Kalu had done any of these important projects Abia would have been better for it as his successor would have faced other developmental challenges of the state instead of laying a foundation for growth. Aba the commercial and industrial nerve centre of Abia has equally been made to undergo a process of renewal. The refuse heaps that Kalu left as a legacy have disappeared with Ochendo's sanitization broom. Most of the major roads and drainages that were in total decay have been rehabilitated so much so that Enyimba city was spared the perennial flooding last rainy season. Above all, the city and indeed every other part of Abia is now well secured for social and economic activities as the hard working and caring governor of Abia, Chief T.A. Orji has seen to it that criminals no longer have any foothold in God's own state.
It has become an anthem in Kalu's camp to enthuse that he was instrumental in making Orji his successor. In fact, it would have been a major surprise if Wabara had ended his gibberish article without singing this refrain. The simple answer to those who resort to this banality at every opportunity to justify the malefic administration of Kalu is that the emergence of T.A. Orji as the governor of Abia State was divinely ordained. Kalu had no control over whatever he did to fulfill God's plan for Abia. Orji was a man prepared by God to liberate the people of Abia from the idolatrous stranglehold of a political dynasty that held the state down for eight years. This pre-ordained plan from above was fulfilled in July 2010 when Orji proclaimed liberation for the people of Abia. Wabara was right when he noted that Orji was part of Kalu's government. Yes, the present governor was the chief of staff to his predecessor. It was that vantage position that made him understand the deceitful posturing of Kalu and his motion without movement style of governance. Governor Orji had already explained his participation in Kalu's administration as "the story of an innocent man who joined the wrong gang". Nevertheless at the appointed time God's plan for Abia came to pass. Governor Orji was buoyed by the encouraging sounds of the voices of the good people of Abia State to finally break the evil spell and end the evil story.
Every person with a faint idea of how Kalu governed Abia knew that he elevated deceit, which he christened "gamji" to the high heavens. To him, it was a thing of pride to deceive people. He was and still is the gamji master. But Ochendo has elected to be different. He sees governance as a call to service hence he has been delivering quality service to the people of Abia who gave him their mandate. That is why Kalu is in pains. T.A. Orji has charted a new course for the development of Abia. Unlike Kalu he is conscious of leaving a legacy that would outlive him hence the concept of "Legacy Projects" which is shaping the new face of Abia. That is why Kalu is at pains. He left no legacy when he left office. Check Kalu's records: mamacracy, disunity, nepotism, kleptomania. This report card is so awful that there is no way Kalu's apologists can pass it off as good record. Yet Wabara had the effrontery to castigate Abia elders who have for once come together to speak with one voice and contribute their wealth of wisdom and experience for the development of the state. Kalu hates intellect. That was why he kept the highly cerebral elders at bay and created disunity among the political elites.
To Wabara Kalu's popularity knows no bounds as he is both a "business mogul and political juggernaut". He attempted to buttress his claim by citing the visit of Ohanaeze Ndigbo leadership to Kalu to ask him to drop his 2015 presidential aspiration "for strategic reasons that border on regional interest in the years ahead". Well, let me give Wabara a hard shove to wake him up from his self-indulgent delusion. Every discerning Igbo man knows Kalu as a spoiler in national politics and a betrayer of Igbo interest. That is why the President of Ohanaeze Ndigbo, Gary Nnachi Enwo-Igariwey and his group saw the need to tame Kalu before he runs amuck with his vaulting ambition. It is common knowledge that the South-east zone is strongly behind President Goodluck Jonathan in his second term quest and if Kalu is not reined in he could be a spoiler. An Igbo proverb says that if your kinsman is dancing badly in the village square you would be forced to develop itching around your eyelid. Therefore one may ask: does nuisance constitute political sagacity? Sadly political neophytes in the mould of Wabara easily equate nuisance with "political might" which according to him, Kalu possesses. He pretends to be unaware that Kalu is being courted for his nuisance value. Governor Orji has no need to enter into popularity contest with Kalu. By their works we shall know them.
In another feeble attempt to justify mamacracy Wabara resorted to referring to Engineer Chinedu Orji as "power drunk" and being the man behind the mask in the Ochendo administration. Nothing could be further from the truth. The son of Governor Orji has done what nobody in his status has done any where in Nigeria – empowering thousands of youths. In Kalu's time as governor Abia youths were used as thugs during elections and dumped thereafter. The energies of Abia youths were not harnessed and channeled to meaningful ventures during Kalu's era hence when the youths unleashed their energies negatively Abia had a bad story to tell between 2007 and 2010. But it has taken the commendable initiative of Ikuku Abia, who found a non-governmental organization, the Ochendo Youth Foundation (OYF) to make youths find new meaning in life with thousands now empowered to make their livings and shun crime. He needs commendation, not castigation.
If Wabara knows his job as a media adviser to Kalu he should make his boss understand that the media is not a tool to run down a hard working governor and a fast developing state like Abia. He should swallow his pride and applaud Governor Orji for transforming Abia. Propaganda would not help. Falsehood and blatant lies cannot change the course of development in Abia. If Wabara and his principal have complete senses they should either see, feel or hear the good news.
Ajunwa is the Chief Press Secretary to Abia State Governo
Abia State Government Press Release
Support InfoStride News' Credible Journalism: Only credible journalism can guarantee a fair, accountable and transparent society, including democracy and government. It involves a lot of efforts and money. We need your support. Click here to Donate