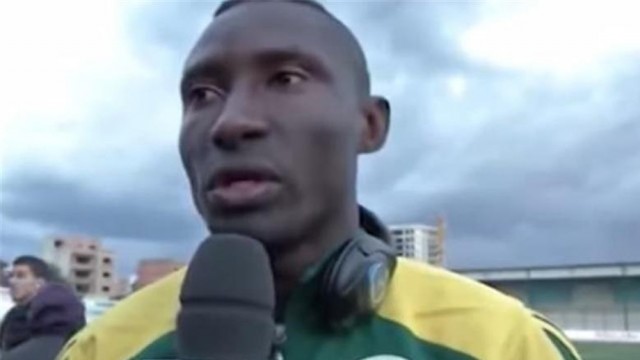 Cameroon striker Albert Ebosse died over a year ago after a domestic football league match in Algeria.
He was hit on the head by an object thrown from the crowd as the teams walked back towards the tunnel. The Algerian league was suspended. But 12 months on, his family is still looking for answers.
A very promising footballer on the brink of a move to Europe and a call-up to the national team, Ebosse's career was on a roll. The striker's 20 goals in 36 appearances for Algerian club JS Kabylie (JSK) had forced his name in the scouts' notebooks and the hearts of the fans.
But his sudden death after a home defeat by league champions USM Alger shocked the world.
The Algerian authorities announced, and still insist, that Ebosse died in hospital from head injuries sustained by objects thrown from the stands. In addition to the league suspension, JSK's home stadium was closed indefinitely.
A few weeks later, the club was barred from playing at home for the season and their fans banned from attending any matches – home and away – until the start of the year.
However, the story took a bizarre twist when his body was sent back to Cameroon and a local pathologist Andre Moune claimed that Ebosse's his injuries could only be explained "by a physical attack".
Moune carried out the tests at the request of Ebosse's family and reported the player received "a blow to the head" that caused "an indentation of the skull" that impacted his brain.
He also revealed that Ebosse had suffered upper body injuries indicating "signs of struggle".
His findings were sent to Algerian and Cameroonian authorities for further action.
At the time, Algerian Sports Minister Mohamed Tahmi insisted that Ebosse died after being struck by a piece of sharp slate but he has since refused to comment on the new test results.
'My son was murdered'
Algeria's Ministry of Justice announced it had opened an inquest into Ebosse's death last December but the results have so far not been published.
"A year has passed since Albert's death and I have received no official word from the club, the Algerian government or CAF [the continent's football governing body]," Ebosse's father, Andre Bodjongo, told Al Jazeera.
"There's nothing to contradict the fact that my son was murdered in Algeria. I've been waiting to know exactly what killed my son and the people responsible for his death.
"No father wants to bury his own child but I have had to do it twice in my lifetime because one of his brothers also died. We deserve to know what killed him for the sake of closure and his little daughter who is going to ask us about her father one day."
Bodjongo confirmed that the player's agent and lawyer had not received any response from authorities in Algeria. The Algerian Football Federation and the government paid Ebosse's family $100,000 in compensation.
"Those responsible for our tragic loss are still out there. They took his life but they can never take the fight out of me. He was a good, honest, charming son and did not deserve to die doing what he loved.
"His killers have taken a light out of our lives because Albert took care of us and his late brother's children."
The family lawyer Jean-Jacques Bertrand said no one has been brought to justice and the search will go on to find out what really happened on that day.
Bertrand, who is a high-profile sports lawyer, insists that the family deserves "answers" to a lot of questions raised by the post-mortem results in Cameroon.
"We have absolutely no answers from the Algerian justice officials," said Bertrand.
"This long silence and lackadaisical attitude is a lack of consideration and respect for the player even in death. The frustrating part is that we have no word on the entry of this case in Algeria as reported.
"A lot of people witnessed his death but no testimony from anybody. We must not stop. CAF have ignored this matter and that is a big disappointment, our hope now lies in FIFA and in a couple of days they will get all the necessary documents from us."
Ebosse's career started at hometown club Douala AC but he shot into prominence after a short stint in Malaysia with Perak FA. His scoring form there attracted interest from other places before he joined Algerian giants JS Kabyle in July 2013.
The club finished runners-up that season and he ended up as the league's top-scorer with 17 goals.
Prior to his death, Ebosse was on the brink of a call-up by Cameroon and was attracting interest from European clubs, according to his UK-based agent Sylvain Honnang.
"I was traumatised when I saw those pictures from the Cameroonian pathologist," Honnang said.
"I couldn't believe it was same Albert that was about to fulfil his dream of playing in Europe and for the Cameroon national team. There was police inside the stadium, his club officials were there and they have all been quiet for over a year now.
"The club president, someone Albert called 'Daddy', made promises to his family after his death but until now, there has been nothing from him."
Honnang added that the club had been avoiding his or the lawyers' calls and it still owed the player's family over $169,000 as he still had a year left on his contract.
"I am angry not as an agent but as a human. It is not just about the money but the answers and truth they have hidden from his family. They can't find peace because in Cameroon we often say death is no death especially the way Albert lost his life."
The late footballer's father was particularly irked by statements credited to the club president and has pledged to fight "until the end" for justice for his son.
"The truth is that no amount of money or denial can bring my son back," said the 75-year-old.
"Tests showed a rupture of cervical vertebrae and a wound to the shoulder. I want somebody to open his mouth and tell us why they killed my son and what for.
"They can never find peace until they speak the truth."
Al Jazeera's efforts to reach the club president Mohand Cherif Hannachi for comments and a response to the allegations were unsuccessful.
Follow Oluwashina Okeleji on Twitter: @oluwashina
Source:: Al Jazeera
The post No answers a year after Ebosse's death appeared first on African Media Agency.