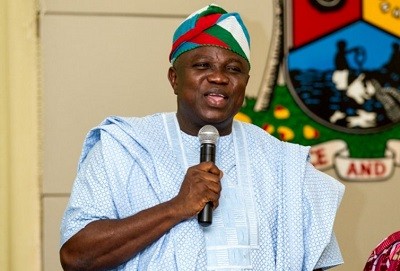 Lagos State Governor, Mr. Akinwunmi Ambode, on Tuesday urged residents in the state not to be afraid to speak out against s*xual and domestic violence, noting that it is the first step in waging a war against perpetrators of the act.
Ambode, who spoke when he received the Lagos State Domestic and s*xual Violence Response Team at the Lagos House, Alausa, Ikeja, pledged that the state government was ready to protect the identities of those who volunteered to report cases of domestic abuse and s*xual violence.
He said, "We just want to appeal to all Lagosians; they should not be afraid to speak out. We have our dedicated lines and we also know that we are going to give resources out; at any point in time, they should be ready to speak freely to us.
"We would protect the identities of everyone and the fact is that we should be the first point of call before we know the particular police station that we want our cases to go to."
Ambode, who expressed concern about the rampant cases of r*pe and domestic violence, also promised to put in place an institutional framework that would make the Lagos State Domestic Violence Law 2007 viable, saying he would stop at nothing to protect the interest of women and children in the state.
He added, "One of my cardinal programmes in the course of the campaign was that I was going to stand up for everyone and standing up for everyone is actually standing up for women and children. These groups in our society are more or less vulnerable and the weakest part of the chain in the society. So, we need an institutional framework, we also need to create institutions that can stand up and support them.
"The society has always been very uncharitable towards issues that relate to children and to women. Lagos State in 2007, we did pass a law on domestic violence. But again beyond that, the law cannot work by itself except we create the framework that enforces our laws. That is what we are standing for and in that respect, we talked about issues that relate to s*xual and gender violence."
Charging the Team to fashion out strategies towards arresting the trend, Ambode also assured the people that his administration would give adequate support to them.
He noted that the law could not work by itself except those who were saddled with the responsibility of enforcing it rose to the occasion.
"What I want to let you know is that together, whatever it is that we need to now reach out in a larger way and give support to those who have been victims, we have to go out there and let them know they have our support. That's what we are going to do together.
"This government will strongly enforce our laws; we would also continue in the tradition of the past administration and improve on everything that has been done in relation to gender violence and s*xual abuse".
The post Ambode Calls For Collective Action Against s*xual And Domestic Violence appeared first on INFORMATION NIGERIA.