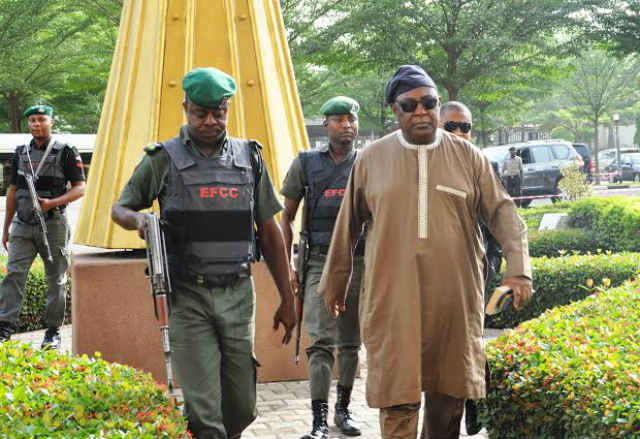 Hussein A. Umar, a private legal practitioner and a witness at the ongoing trial of the former Chief of Defence Staff, CDS, Air Chief Marshal Alex S. Badeh, on Wednesday, May 18 told Justice Okon Abang of the Federal High Court sitting in Maitama, Abuja how he assisted Badeh in the purchase of two properties in choice areas of Abuja.
Umar, who testified as PW3 while being led in evidence by counsel to EFCC, Rotimi Jacobs, SAN, told the court that he assisted Badeh and the erstwhile director of finance and accounts at the Nigerian Air Force, NAF, Air Commodore Salisu Abdullahi Yushau in the purchase of two properties situated at No 6, Ogun River Street, Off Danube Street, Maitama, and No 14, Adzope Crescent, Off Kumasi Crescent, Wuse II, Abuja for the sums of N1.1billion and N360million respectively.
According to him, "sometime in 2012, Yushau called me to his house to tell me that his boss (Badeh) was interested in acquiring a befitting retirement home in Maitama. He asked me to source for the befitting accommodation which I did. When I got the property at 6, Ogun River Street, Off Danube street, Maitama, we went for inspection and two days after, he (Badeh) met me at the said site at 8:30pm in a Toyota Tundra which Yushau drove.
"This was the first time I had ever met Badeh. He said I should go on with the process of legal searches on the property. After the search, Yushau and Badeh visited the property again, but this time with a lady who was introduced to me as the wife of Badeh; his son named Kam and his daughter, slim and smallish (in frame). They carried out joint inspections and they all were happy with the property. Yushau then gave me the go-ahead to negotiate with the owner of the property.
"The owner and I negotiated and agreed on an amount, N1.1billion. I reported back to Yushau, who said he would get through to his boss."
The PW3 further stated that, within a week necessary arrangements were made for the payment and Yushau called to tell him that the money was ready in US dollars.
"I collected $6.2million USD from Yushau.  I gave it to Bureau de Change Operatives who transferred the Naira equivalent of N1.1billion to the account provided by the owner of the property.
We concluded, and Yushau gave me the name to be used in preparing the deeds – Iyalikam Ventures", Umar stated.
Umar further added that Badeh, through Yushau, in appreciation of what he did offered him $100,000 USD, the equivalent of N15m.
Regarding the purchase of No 14, Adzope Crescent, Off Kumasi Crescent, Wuse II, Abuja, PW3, Umar also gave details of how the purchase was made.
According to him, "sometime in 2013, Yushau called to tell me that he wanted me to meet one Honourable Bature. He said there was a property that they had already negotiated, and that he wanted me to see Bature, get the details of the property and prepare the deeds of transfer and other documentation as he (Yushau) was travelling. I was given the name- Iyalikam as the purchaser.
"He left the sum of $2million with me; the equivalent of N360million and he instructed that I pay Honourable Bature as soon as the documents were signed, which I did.
"At the time when Yushau was retiring, I met the attorney of the first defendant (Badeh), Barrister Timothy at Yushau's house, in the presence of one Engineer Mustapha. Yushau said his boss had instructed that I hand over all the documents in my possession of No 14, Adzope Crescent, Off Kumasi Crescent. I handed all the documents which had been signed by
Honourable Bature (that still needed to be countersigned by the purchaser, Iyalikam), as well as the keys to the properties over to Barrister Timothy.
"I didn't see or hear from Barrister Timothy until February/March this year when he requested to see me urgently. He said that an ongoing investigation involved Badeh and that he wanted to know if I could claim 6, Ogun River Street, Off Danube street, Maitama as my own since the transaction had not been perfected at Abuja Geographical Information System, AGIS. I told him that it was impossible. He dropped the phone and since then I have not heard from him."
Umar further told the court that, Alex (jnr) also called him sometime between February/March, 2016, pleaded with him to assist in claiming the Ogun River property; a request he said was turned down.
After cross examination by counsel to the first defendant, Akin Olujimi, SAN, Justice Abang adjourned the matter for further cross examination and continuation of trial. [EFCC]
Support InfoStride News' Credible Journalism: Only credible journalism can guarantee a fair, accountable and transparent society, including democracy and government. It involves a lot of efforts and money. We need your support. Click here to Donate