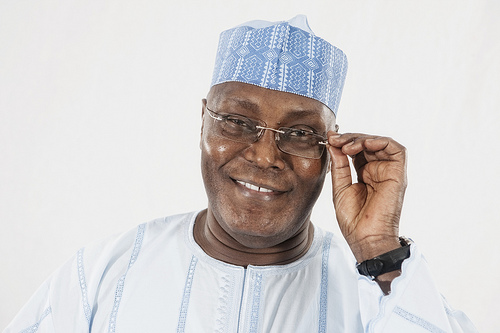 This piece is not borne out of sheer vain glorious imaginations or because I am the most lettered. But I consider this a great opportunity to write about this great achiever of our time. An opportunity that doesn't come too often. If there's ever a time in history, when the studies of the fundamentals of leadership should be added to the schools' curriculum, this can't but be a better time. Perhaps, the dearth of leadership rocking the steadiness of our nation's boat would have found a lasting solution. Or if the present crop of leaders will borrow a leaf from history and learn great leaders before them.
No doubt, Alhaji Abubakar Atiku ranks at the fore of a sparse assemblage of leaders in present day Nigeria. His monumental achievements continue to ring louder even after leaving office as Vice President of Nigeria. In real sense, it is easy to conclude that some leaders are naturally characterized by ideas, vision and the will to set a pace and to have their name boldly written on the sand of time. A vivid reference point is the leadership qualities exhibited by this noble man, the Turaki of Adamawa, which qualified him as the political reference of our time.
The starting point for this piece natutally fails to align because the achievements would be too numerous to mention. However, the qualitative leadership acumen and the sense of stewardship which Alhaji Atiku Abubakar possesses has been established, at least, at the highest level. He occupied the Second biggest office in the land and saw from that angle. He goes history lane as a disciplined politician with regard for the rule of law. He is an epitome of discipline, hard work and equity and fairness. His political philosophy has no regard for sentiments. An harbinger of egalitarianism. His affinity with both the high and mighty and the downtrodden is second to none. He leaves no stone unturned in grassroots developments, socio-economic worries and general political affairs.
Recently, his visit and fraternization with the IDPs underscores these sterling attributes.
Kindly permit me to scrutinize little out of the emulative background of this vibrant politician cum business man.
Alhaji Atiku Abuabakar was born on November 25, 1946 in Jada, Adamawa State, Nigeria. He was named by his paternal grandfather, Atiku Abdulkadir. They settled in Kojoli, a small village in Jada Local Government Council of Adamawa State. His father was an itinerant trader who travelled from one market to another selling imitation jewellery, caps, needles, potash, kolanuts and other nick-knacks which he ferried around on the back of his donkey. He also kept some livestock and cultivated guinea corn, maize and groundnuts.
His mother, Aisha Kande, was born in Jada. Both his father and paternal grandfather were learned men during that time where they gave free Islamic classes to adults and young people in Kojoli during their spare times.
Atiku Abubakar grew up in a wholesome environment of love and spirituality. His father saw him as a rare gift, a child of destiny. The young Atiku was registered in school by his mother's older brother, Kawu Ali who had received a little education through adult literacy classes, registered him at Jada Primary School in January 1954 as Atiku Kojoli. After completing his primary school in Jada in 1960, he was admitted into Adamawa Provincial Secondary School in Yola.
He joined 59 other young boys from Adamawa and beyond in January 1961 to begin a five-year high school journey. The school's motto is Tiddo Yo Daddo, a Fulani aphorism for "Endurance is Success". When Atiku was 15, he spent his school holiday at home, working as a clerk in Ganye from is holiday job earnings, where he bought a house for his mother in Ganye, the headquarters of the local government council. The thatched mud bungalow had two rooms plus a kitchen and bathroom and It cost him about nine Pounds Sterling. His mother was very happy and proud of him. He joined the department of Customs and Excise in June 1969. The invisible hand that has always shaped his life had once again steered him towards his destiny. He was tasked with collecting duties on imported and exported goods, stopping the entry and exit of banned items, and arresting and prosecuting smugglers. The young and vibrant Atiku was posted in 1972 to Ikeja Airport in Lagos and later to Apapa ports in Lagos. He was later posted to Ibadan in mid 1975 and promoted Superintendent of Customs and was nicknamed "Muritala Muhammed Junior".
As a business man who has a good nose for business, he established a small oil services company with an Italian business man in the early 1980s. He met Gabriel Volpi when he was working at Apapa Ports in 1982. The Genoa, Italy-born Volpi was a director in MED Africa, a shipping company. The company was registered with the Nigeria Container Services (NICOTES), operating from a container office at Apapa Ports. The company, now known as INTELS (Integrated and Logistics Services), has grown into a multi-billion Naira business providing over 15,000 jobs in Nigeria and other African countries, and paying hefty dividends to its shareholders.
Going into politics; a year before his retirement from Nigeria Customs Service in April 30, 1989. Alhaji Atiku Abubakar had started attending political meetings at Shehu Yar'Adua's house in Ikoyi, Lagos. In May 1989, the Babangida administration finally lifted the ban on party politics. During which period the Yar'Adua group immediately unveiled its political association, the People's Front of Nigeria (PFN), which had "the pursuit of justice, peace, and service" as its motto and "People First" as its slogan. He was elected one of the National Vice Chairmen of the party.
In 1999, he was unanimously picked as the PDP governorship candidate for Adamawa State. He won the January 9, 1999 governorship election, defeating his perennial rival, Bala Takaya of the All People's Party. The PDP held its national convention in Jos in January 1999 and Obasanjo defeated former Vice President Alex Ekwueme to become the party's candidate. Former president Olusegun Obasanjo picked him as his Vice Presidential candidate. A move that came as a surprise, as he had not shown any interest in the position. Obasanjo and Atiku were sworn into office as President and Vice President, respectively at a colourful ceremony in Abuja on May 29, 1999.
Their achievements for eight years cannot be over emphasized as their administration worked assiduously on all fronts to set the stage for a democratic Nigeria. The administration united the people, professionalize the armed forces, re-establish the country as a great and respected member of the international community, and reformed the lingering economic woes to become more productive, diverse and globally competitive. This reform package included fuel price deregulation, low and stable interest and inflation rates, privatization of inefficient government-owned enterprises, enthroning a culture of transparency and accountability, monetization of the benefits and entitlements of public sector workers, setting up a new pension scheme and growing the revenue base of the government through a fair and equitable, more efficient and easier-to-comply tax system.
In 2001, Obasanjo/Atiku administration successfully auctioned mobile phone licenses and by the time they left office in 2007, more than 70 million Nigerians had phones compared to the 400,000 landlines that the state-owned Nigerian Telecommunication Company Limited (NITEL) paraded throughout its existence. The Obasanjo/Atiku administration successfully negotiated a deal with the external creditors that saw Nigeria pay off a total of $14.48 billion in return for the cancellation of the remaining $18 billion debt. Upon leaving office in 2007, the economy was ranked 31st in the world in terms of Gross Domestic Product (GDP), which was estimated to be about $500 billion (estimate included both formal and informal economy). It became the second biggest economy in Africa.
According to Ronald Osborne "The people who succeeds are those that have the self-discipline to develop themselves". Successful leaders never plateau; they never become static. Atiku Abubakar is a great man, a philanthropist, a motivator, and a political colossus who has channelled his political power positively to help inspire others.
According to Steven Corvey, the celebrated author of "The 7 Habits of the Highly Effective People", he listed the abilities of understanding before seeking to be understood as one of the 7 habits. Atiku Abubakar is the perfect example. His desire for equity and equality continues to resound to high heavens.
In plain and simple term, I like to say well done to the Enigma called Alhaji Atiku Abubakar, Turaki Adamawa. Indeed your breed is rare and your stock is scarce.
Suleiman Ridwan writes from Kaduna
Support InfoStride News' Credible Journalism: Only credible journalism can guarantee a fair, accountable and transparent society, including democracy and government. It involves a lot of efforts and money. We need your support. Click here to Donate