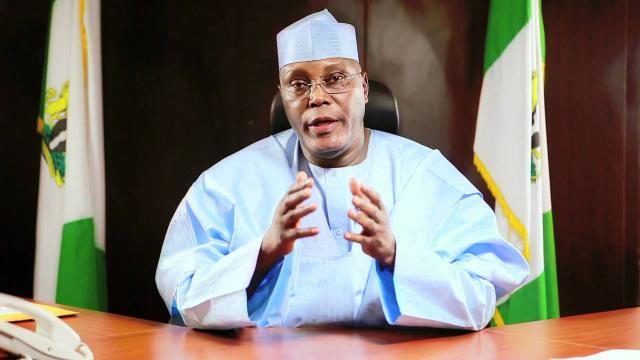 The ruling All Progressives Congress (APC) has advised Nigerians to vote wisely during the 2019 general elections.
In a congratulatory message to the Peoples Democratic Party (PDP) presidential candidate, Atiku Abubakar, the APC acting spokesman, Yekini Nabena, asked Nigerians to compare the track records of the aspirants.
Nabena believes Atiku is not the right man for the job.
The statement reads:
"The pertinent question to ask about Atiku is what his scorecard in public office was? Regrettably, Atiku's scorecard is abysmally low and he has proven to be an untrustworthy and unreliable character. A case in point is Atiku's revealing altercation with his former boss President Olusegun Obasanjo which exposed the level of corruption Atiku was enmeshed in.
"In the international level, Atiku has been reportedly placed on the global watch list of the United States of America and has avoided travelling to the US to avoid arrest and prosecution over a money-laundering and corruption case in that country.
"Really, is this the character and antecedent of a candidate Nigerians will be proud to vote for as our President, come 2019?
"Compared and contrasted with President Muhammadu Buhari consistent and principled stance on party affiliations, since 1999, Atiku has moved around different political parties – PDP, ACN, PDP, APC and now PDP, all in his blind and desperate pursuit of his ambition – The Presidency of Nigeria. It is therefore very clear that if Atiku loses the presidential election in 2019, he will again defect from the PDP to another political platform.
"Atiku is known as a super-rich Nigerian who entrenched the undemocratic practice of buying votes of delegates. During the APC National Convention in 2014, he spent several millions of dollars to buy delegates votes and emerged third, after Buhari and Rabiu Kwankwaso. On Sunday, he reportedly bought over virtually all the PDP delegates and was declared winner of the PDP presidential primaries. With these huge expenses expended to secure the PDP ticket, how will Atiku recoup his "investment" if not from the public treasury should he win the Presidency?
"Our dear President Muhammadu Buhari does not spend a kobo on delegates as he banks only on his proven personal integrity. In any case how did a retired Customs Officer acquire so much wealth to fund his several presidential bids? The source of his wealth is very questionable and his financial resources are definitely ill gotten.
"Nigerians have had enough of corrupt, cash and carry politicians. That was why in 2015 they came out enmasse and elected a clean and transparent man in Muhammadu Buhari to clean the Augean stable. The candidature of Atiku Abubakar will bring back the undesired lots and their practices which Nigerians have long rejected and forgotten.
"The Nigerian electorate deserves to be given a choice of decency, integrity and honour and not dirt, corruption, and infamy. The choice between Buhari and Atiku is one between light and darkness; between positive change and business as usual; between transparency and under the table dealings.
"As we prepare for the forthcoming 2019 elections, one thing is clear. If the choice is between a presidential candidate/change agent who is rebuilding the country and refocusing our national priorities and attitudes on one hand, and another candidate who along with his gang of co-looters stole the country's commonwealth and brought the country to its knees, that choice has already been made by the Nigerian electorate."
Support InfoStride News' Credible Journalism: Only credible journalism can guarantee a fair, accountable and transparent society, including democracy and government. It involves a lot of efforts and money. We need your support. Click here to Donate