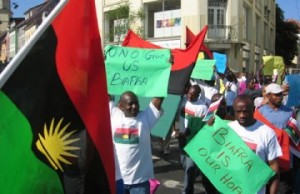 Ijaw Monitoring Group Coordinator, Comrade Joseph Evah, has criticized the way the Federal Government is handling ongoing agitations for the sovereign state of Biafra.
"The way the Federal Government is handling the Biafra agitation in the East is very dangerous. They are taking the wrong steps by ignoring the agitations that are going on. For the first time since the end of the civil war, we are seeing an organised agitation. The Igbo man cannot ordinarily abandon his business for something else, but now we are seeing Igbo men leaving their businesses in order to agitate," Evah told Vanguard in an interview.
"That tells you that they are serious. Seeing them sacrificing their time, energy and money, should be enough to make the Federal Government interested in the matter. Threats by the army, are not acceptable. We expect the government to tell us why they are detaining Kanu. Intimidation did not work when we had our Kaima Declaration during the military era. When they threatened us, we became resilient."
On whether the protesting Igbos have a cause, Evah said: "Yes, the Igbo have something to protest against just as the Ijaw man has something to protest against. Why are they denying the Igbo the right of seeing their son, who was arrested? They can't be denied that right. I went to court to stop the dredging of the River Niger during the military era because there was no environmental assessment. The government under Abacha awarded the contract through the Petroleum Trust Fund, PTF. I went to my lawyer, Femi Falana and we stopped the dredging through legal process."
"If the government had not obeyed the judiciary on the matter, we would have resorted to other alternatives which would not have been in the interest of the government," he said.
Evah also lamented that the President Muhammadu Buhari-led administration does not have fair representations from the Niger Delta.
"Niger Deltans are not well represented in the government and we don't know why they are doing that," he said. "Maybe it is being done because the region produced the immediate past president."
"But those, who may be thinking in that direction, do not have conscience. If you look at the way Jonathan worked, it will not be difficult to know that the north benefited more from him. He did that because he believed in the unity of this country.
"And the new administration has also started treating the Niger Delta people wrongly. For instance the Urhobo nation which is a sophisticated ethnic group has not been given any appointment. We have not seen any solid appointment that befits the Urhobo nation and we are asking them to correct this type of insult."
Evah also pointed out that when people in the South fail to unite, outsiders would find it easy to oppress them. He lauded the Igbos for forgiven the Niger Deltans fro betraying them during the civil war. "That was why I organised that (an event to celebrate Ojukwu) and thanked the Igbo for forgiving us because during the civil war, we joined outsiders to kill them. Today our son is the President, you Igbo decided to forgive us."
Support InfoStride News' Credible Journalism: Only credible journalism can guarantee a fair, accountable and transparent society, including democracy and government. It involves a lot of efforts and money. We need your support. Click here to Donate