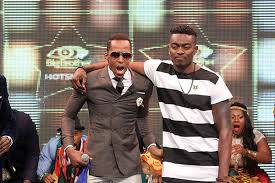 For two years now, there has been no Big Brother show in Nigeria.
The first season of Big Brother Africa (BBA), featuring 12 housemates from 12 different African countries, premiered to audiences in 42 African countries on Sunday, May 25, 2003. In 2015, M-Net put the reality show on hold for financial reasons. M-Net CEO, Yolisa Phahle, revealed in May 2016, that there were no plans for the popular Big Brother Africa show this year (2016).
Most TV lovers have been anticipating the return of the TV series. While they won't be getting "Big Brother Africa," they are getting "Big Brother Nigeria" (what difference does it make?) On Monday, November 7, 2016, Africa Magic announced that "Big Brother Nigeria" will be making its return to TV in 2017 as Big Brother Naija (BBN). The reality series which is based on the popular Big Brother series failed to make a return after its 2006 debut which ended with Katung Aduwak as the winner.
Following the announcement, one would expect an outpour of reactions; positive and negative on social media. However, the announcement slid with nearly no acknowledgement. After 10 years of no "Big Brother Nigeria" and two years of no 'Big Brother Africa," are Nigerians still interested in the reality series franchise? Will Big Brother Naija be a flop?
My response would be yes, Nigerians are still interested. No, BBN will not be a flop. Despite the moral reasoning in Nigeria, Nigerians are always ready for an enthralling drama, conflict, sexy moments and an opportunity to be a part of the minutiae of another's life.
It is evident in the social media bullying trend and the comment sections of most blogs; Nigerians are interested in their neighbours' and even a strangers' lives. They want to know why Toke Makinwa wore a blue shirt rather than a white dress or why Lilian Esoro didn't wish Ubi Franklin a happy birthday. Nigerians are simply curious, a curiosity constantly provoked by the social media era. That same curiosity is the reason why Big Brother Niaija will be a success. The opportunity to follow peoples' actions, emotions, and relationships than any stranger has a right to, is the reason most reality series are a huge success, and BBN will be no exception.
Every good story revolves around conflict and drama, and a reality series is no exception. The 2014 BBA failed to be as successful as its predecessors because it lacked the drama and conflict its audience craved. The previous seasons of BBA had the conflict, the romance, the sex scenes, the 'no holds barred' kind of contestants who understood the game and delivered to their audience. However, despite the backlash and negative reviews, millions still tuned in, followed and voted for Idris to emerge as the 9th BBA winner.
The success of Big Brother Naija is also dependent on the housemates, who we hope understands that their viewers are seeking an escape from the real world, and are not interested in a boring day-to-day lifestyle. As gentle, good and loving as housemates like Melvin Oduah and Geraldine were, they brought no action to the house. Despite how people felt about housemates like Elikem, Huddah, Pokello and O'Neal, they had something entertaining to offer – and that is all Big Brother Naija needs to be a success.
Most Nigerians will tune in because of the competition and more. The contestants are fighting to win the prize, but also, they are fighting to be the most interesting, to be likable, to be considered compelling enough by the audience. They pull different tactics to remain in the game; tactics that make the game more interesting to sit through. Tayo who represented Nigeria in BBA 9 chose to be antagonist and for some reason it worked for him.
Voyeurism… While some people watch reality TV series for perceived escapism and social affiliation, others are addicted because they are simply curious about others, their lives and their sex life. While some followed BBA religiously for 9 years because it was fun to watch their favourite housemates fall in love, others are addicted because shower hour was fun.
The 2006 edition of Big Brother Nigeria didn't have shower hour and there is no report on its availability in the upcoming season. But, the show was still a success. A chat with a colleague who followed the show in 2006 shows that the housemates found a way to make the season an engaging one devoid of sex and shower hour. But of course, they had the chemistry between Gideon Okeke and Maureen to look forward to.
The Big Brother franchise created a modern celebrity culture, where a star can be famous for nothing. It aroused an insatiable public appetite for the day-to-day activities of individuals. Memorable housemates including Richard, Tatiana, Ofunneka, Uti Nwachukwu, Karen Igho, Kevin Pam, Dillish, Emma, Beverly Osu, Angelo, Ebuka Uchendu, Gideon Okeke, Joan, Ify and Katung have been created off Big Brother shows. Most of these housemates and reality TV celebrities went on to create a brand outside Big Brother.
Gideon Okeke has featured in successful TV series and movies including "Tinsel," "Gidi Blues," "A Place in the Stars" among others. Uti Nwachukwu and Ebuka Uchendu are currently hosts of popular TV shows, "Jara" and "Rubbing Minds" respectively.
Reality TV series are not scripted. They are right about the most original production you get to see on television. There is also the off-screen conflict that ensues on social media after each episode or season. Supporters get into arguments over who should have won, who should have been evicted, who should have lost among other. The drama that comes with reality series like Big Brother makes it a perfect form of escape from the real world, recession and the various negative happenings associated with Nigeria and the world as a whole.
While Big Brother Naija will lack the diversity that comes with having contestants from different countries as in BBA, it is still a show worth anticipating.
It is a show that will be a success because there is a growing obsession with intruding into the private lives of others.
Support InfoStride News' Credible Journalism: Only credible journalism can guarantee a fair, accountable and transparent society, including democracy and government. It involves a lot of efforts and money. We need your support. Click here to Donate