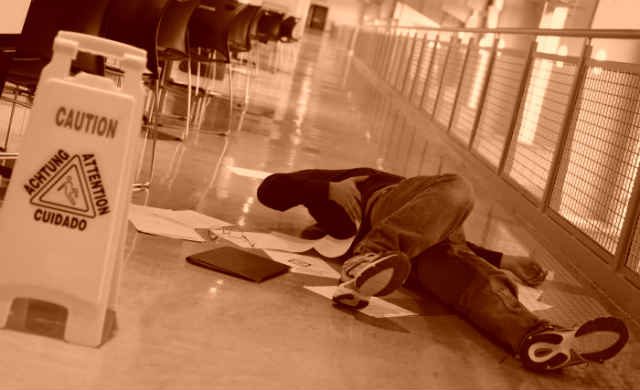 Accidents often happen, and we've all taken a few missteps in our lives. But, what if you make an on-the-job mistake that leaves you hurt and unable to work? Although worker's compensation covers many of these incidents, it doesn't apply in every case. Furthermore, some accidents occur due to an employer's negligence. Here's everything you'll need to know about when you can get compensation for a slip and fall incident at work.
Proving the Employer's Liability
When dealing with workplace slip and fall accidents, it's important to know that to sue an employer, you must first document their liability. This isn't as simple as it seems, and to be successful, you'll have to show that your employer either didn't act quickly enough to resolve an issue or they ignored it completely. For instance, if you slip on a wet floor and there are no warning signs put up, it may demonstrate your employer's negligence and lack of concern. Injury lawyers often suggest taking time-stamped pictures and video of the area where the incident occurred.
Showing That an Existing Condition Caused the Accident
When filing a claim for a workplace slip and fall, it's crucial to acknowledge the difference between an employer's negligence and your own carelessness. If you're suing your employer, it's your responsibility to prove that your own actions didn't contribute to your injuries. If you aren't paying attention to your surroundings or you ignore posted warning signs, you may be found partially responsible for an accident.
Demonstrating That You Didn't Cause the Accident
Certain incidents, especially those caused by an employee's own mistakes, cannot be used as the basis for a workplace slip and fall claim. For instance, if you are cleaning the floor, forget to put up a "Wet Floor" sign, and later slip on the floor, you may be held responsible for your own injuries. Documenting liability in a slip and fall claim is often difficult, especially when your own actions have helped to create the conditions that led to the accident. Examples of situations not created by an employee include:
Long-term hazards that an employer fails to address

A lack of signage alerting employees to a problem

Problems created by people other than the victim

Issues arising before an employee's arrival
When filing a claim for a workplace slip and fall accident, proper documentation will help your lawyer build a strong case and prove the employer's negligence. Be sure to note:
Where the incident occurred

How long the condition existed

The physical results of the accident

Accident-related medical diagnoses

Witnesses' names and contact information
The more you can demonstrate that you're not liable for an incident, the more likely you are to win a claim against your employer.
Consider Seeking Legal Advice
It can be quite intimidating to take your employer to court over a workplace slip and fall incident. You may be concerned about losing your job, but working for a company that allows an unsafe condition to continue is equally worrisome. An injury lawyer will help you document your employer's liability, build a case against them, and work toward a solution that keeps employees safe and gives you the compensation you deserve.
Support InfoStride News' Credible Journalism: Only credible journalism can guarantee a fair, accountable and transparent society, including democracy and government. It involves a lot of efforts and money. We need your support. Click here to Donate