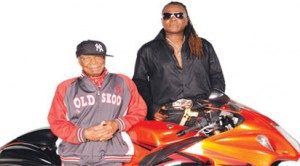 Popularly known as Area Fada, Charly Boy is best known for his alternative lifestyle, political views, and media productions, most notably The Charly Boy Show, Charly Boy has been president of the Performing Musicians Association of Nigeria, and in 2011 an Idol Series judge.
An unashamed activist, Charly Boy has been very vocal in his fight against corruption, oppression, division and the forces that seek to undermine democracy.
The controversial star was born into a Catholic household and is the cousin of Swedish musician Dr. Alban.
His most popular album "1990", was a reference to Nigeria's corrupt military government which was expected to hand over power to civilians in that year, although civilian rule did not start until 1999).
1990 earned Charly Boy mixed reviews due to its political nature and caused national controversy, and a number of radio stations refused to play the title track.
Despite this, 1990 was one of Ngeria's best-selling albums of 1988, and Charly Boy was credited with using his music to stand up to his government.