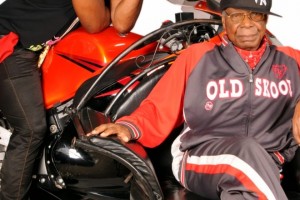 Area father of Abuja entertainment has become quite famous for his straight to the point open letters of recent. He lost his father weeks ago and decided to write one specially dedicated to him.
Read below: –
My Fada,
By Charly Boy
For you my people who have been following my stories on my dad and I, one of my many ways to escape trauma/frustration is through writing. This is the saddest one of all, losing my Best Friend. I guess I have just become the newest member of the fatherless club in Naija. Ever since I can remember, I have always had the ability to sense things before they happen. Sometimes some of my actions, unknowingly, are usually preventive of disasters in my path. I used to get worried about this gift of intuition, because in my teenage years many of my playmates made me feel bad about this special gift, as if something was wrong with me. I used to spook my friends sometimes with the things I would say, things that only them alone knew, naturally it made them uneasy in my presence.
From the 1st of May till the Black Sunday of the 4th of May, a certain unexplainable feeling seized me. I was so depressed, agitated and I had the feeling of butterflies fluttering in my stomach. I actually felt I was going to be sick. For almost 2 days I was holed up in my room till I decided on the morning of the 4th to go see how my Daddy was doing over at his quarters in the Punk Palace, hoping that seeing him that morning would brighten my day. As I entered his room, he was beckoning on me to come with what I believe was a smile playing on his lips. When I bent over to kiss his forehead while saying good morning, he said "I'm sorry". Surprised, I asked why and what he was apologizing for. "I know all the troubles my ill health has put you through", he said, "God knows how much you have spent so far". I couldn't believe what I was hearing. "Daddy please we want you to get better quickly. That's most important so we can have our evening discussions like we usually do. Ok, take your bath let me do same, when I come down again, we will both have lunch" I ordered trying to change the subject. Truth is I was taken aback by my father's words. I tried my best not to think about them but they kept on replaying in my mind no matter how hard I tried.
Na wa oh, bad news sure travels fast. My dad died at about 3:30pm on the 4th of May. I called all my loved ones, family and friends to give the bad news and as funny as it sounds, the more I called the more I wished it would bring him back. I really can't tell you how many calls I made or received within 30 minutes of my very, very sad loss. God punish MTN for making it worse with their horrible, terrible network, I found myself repeating myself a hundred times and screaming at the top of my voice as if that will make it better.
Well, telling my mother was the most difficult part of relaying the news to my relations, so, I made a wise decision. "I will just hold off till tomorrow" I thought to myself. Maybe then I will have the courage to face her and tell her that the love of her life, her best friend, her life partner, someone she's been with for almost seventy years had passed on. Hmmm e hard oh. I took her phone from her so she won't get any calls since we had told her that I took Papa back to the hospital. You trust my mama, James Bond, she took the nurse's phone who was taking care of them. She started calling us up and down. PI (private investigator). At this time we were in the comfort of my living room pretending we were still at the hospital. She kept calling tirelessly. That was when some friends and my darling daughter Yvonne said to George, my brother, and I that we had to tell her. There was no point waiting.
E no easy oh, we all set out on the journey to their side. The house I built for them. O boy how do we break this dreadful news to my mum. "Oya now stay in front" said my brother. "You nko", I retorted just as fast as he had commanded. Anyway I gathered everyman in me, had to be tough now, abi no be two people rolled into one. Haba! Here comes Mr. Macho I thought. I had just done up the house for them to make it cozier and more relaxing whilst he recovered from his illness. As we entered her room I almost broke down but I had made up my mind that I won't cry for my dad. He lived a good fulfilling life so it was going to be a celebration. I started by hailing her. "Mummyoooo, mama-mama", I began to stutter. Thank God for my sister in-law who stepped in at that moment. She said those four words "mama papa is gone". It was like a knife just pierced my heart again!
What followed afterwards eghn, I can't even explain my people. My mom cried like I've never seen in my entire life. I held unto her, kissed her, I held her so close she and I kept crying. "Difu, that's not what you promised me" she kept saying between sobs. "Mama, I know it's painful but it is a celebration of life" I said, trying to console her. "Charles", she said turning her face to me, "you will not understand". "Our marriage is not like any other in the world, black or white". "Hmmm dim (my husband)", mum cried endlessly. We tried sedating her and trust me it didn't work. What was I to do? I was helpless. My people for the first time I could do nothing to console my grieving mother. What love they shared, they were just too connected.
Me CharlyBoy, no be me dey solve people problems? No be me be adviser? No be me dey fight people battles? Na me dey calm people down naa, but here I am and I can't bring him back, I can't wake him up. Death has stung my old man. Oh death, why art thou so final. Papa, daddy, father, my friend and my inspiration I never knew it will be this painful.
Adieu my sweet loving father… My best friend.
Support InfoStride News' Credible Journalism: Only credible journalism can guarantee a fair, accountable and transparent society, including democracy and government. It involves a lot of efforts and money. We need your support. Click here to Donate