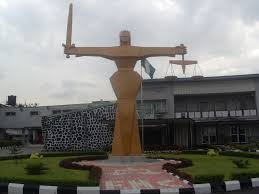 The Chairman of the Akure branch of Nigerian Bar Association, NBA, Mr. Lawrence Dare, has described the ongoing strike embarked upon by judicial workers as illegal, null and void.
The judicial workers, under the aegis of Judiciary Staff Union of Nigeria (JUSUN), had joined their counterparts across the country in a strike to protest the non-implementation of the Federal High Court judgment on the financial autonomy of the judiciary.
The Industrial Court, Court of Appeal, Federal High Court, State High Courts and other lower courts were not opened for activities in compliance with the strike action.
But Mr. Dare, while faulting the action, explained: "You cannot go on strike on a matter that is not related to an industrial dispute. The court has passed a judgment and the matter has been resolved.
"If you need to ensure the implementation of the judgment, you return to the court and, perhaps, sue for contempt. The strike action is illegal, null and void".
According to him, it is a contradiction that the same courts, which ruled in favour of JUSUN, have been shut down in respect of the judgment.
"If the court was closed down when they wanted to seek the interpretation to the provisions of the Constitution, how would it have been done?" He queried.
The Akure NBA chairman further rejected the clamour for financial autonomy that would put money in the hands of judges, saying such would corrupt members of the bench and make the system a laughing stock.
However, the Ondo State Chairman of JUSUN, Mr. Femi Ogunode, justified the strike, saying it was going to be total in the State.
He insisted that the strike would continue until their demands were met, noting that it was needful for stakeholders to respect the Memorandum of Understanding signed regarding the implementation of financial autonomy for the judiciary.
"It is a constitutional matter. We have gone to court to seek the interpretation to Sections 121(3) of the 1999 Constitution, and the court ruled in favour of the financial autonomy of the judiciary.
"We thought they would commence implementation December 2014, but that was not done. So, we are expecting the government to respect the decision of the court", Ogunode said.